by Brianna Crandall —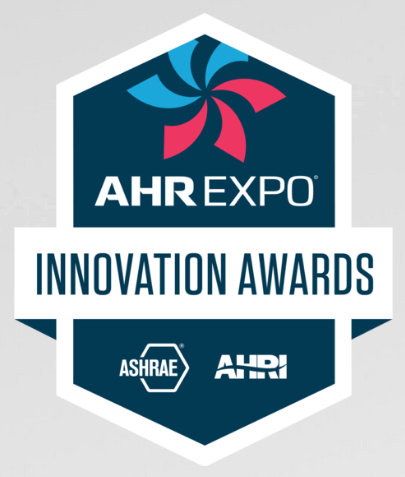 February 4, 2022 — The winners of the 2022 AHR Expo Innovation Awards were showcased in person at this week's AHR Expo (International Air-Conditioning, Heating, Refrigerating Exposition). Each year, winners are chosen in 10 industry categories to represent the most innovative products and technologies hitting the HVACR market in the coming year.
At the show, Danfoss' new Turbocor VTCA400 compressor was named the 2022 AHR Expo Product of the Year, edging out nine other Innovation Awards category winners. The compressor is said to be the world's first oil-free, variable-speed, magnetic bearing centrifugal compressor using a hybrid compression design that is optimized for use with low global warming potential (GWP) refrigerant R-1233zd in water-cooled chiller applications. The VTCA400's patent-pending hybrid compression design uses a combination of mixed flow and radial impellers, enabling both high-performance and a compact footprint. Its hybrid compression design allows for a compressor footprint that is half the physical size and weight of a conventional radial-only design while maintaining high efficiency levels.
Show Manager Mark Stevens remarked:
This past year was a challenge for everyone, and in unique ways, the HVACR industry. Our industry was called to the front lines to put our very best products and technologies to the test. The Innovation Awards purpose is to honor those that are pushing the bar to create innovative solutions to difficult problems. We are thrilled to celebrate this year's winners and what they bring to the industry, as well as to continue to champion innovation among our professionals.
The Innovation Awards encourage exhibitors to submit new products and technologies for recognition via review and selection by a panel of third-party judges made up of distinguished ASHRAE members. Entrants are evaluated based on overall innovative design, the creativity of the product or service offered, and application, as well as potential market impact.
Stevens continued:
This industry is tremendously exciting for its role in our everyday lives. Now more than ever we have the chance to show the world just how important HVACR is. Manufacturers on the AHR Expo Show floor are in tune with their stakeholders and the greater needs of the world and are responding by developing new tools, products and services that offer safety, efficiency, and sustainable smart solutions.
The Innovation Awards program serves as a metric to see the year-to-year growth in the industry. While the Awards officially recognize only a select few, the Show floor is a robust example of how manufacturers are growing the industry in exciting ways, say the organizers.
Stevens added:
AHR Show Management would like to formally congratulate each of our 2022 AHR Expo Innovation Award winners, as well as finalists and all our entrants, for their continued leadership and contribution to HVACR. We look forward to seeing these innovators in the marketplace in the coming year. . ."
The 2022 AHR Expo Innovation Award Winners and finalists were selected in 10 industry categories: Building Automation, Cooling, Heating, Indoor Air Quality, Plumbing, Refrigeration, Software, Sustainable Solutions (Formerly Green Building), Tools and Instruments, and Ventilation.
BUILDING AUTOMATION
Winner: iSMA CONTROLLI S.p.A., iSMA-B-MAC36NL Hybrid IoT Controller powered by Niagara Framework
Finalists: BrainBox AI, BrainBox AI; CUBE USA, CUBE Edge IOT
COOLING
Winner: Danfoss, Danfoss Turbocor VTCA400 Compressor
Finalists: Copeland Compressors and Condensing Units / Emerson, Copeland oil-free centrifugal compressor; Teqtoniq GmbH, Teqtoniq TRC150 Oil-Free Centrifugal Compressor
HEATING
Winner: Carrier, Infinity 24 Heat Pump with Greenspeed Intelligence
Finalists: HVAC Manufacturing and Technology Inc., SpaceGain Air Handling Units; Addison, FrostShield Defrost-Free Heat Pumps
INDOOR AIR QUALITY
Winner: Antrum, AntrumX IAQ Facilities Monitoring System
Finalists: LG Electronics USA, Inc., LG Split Rooftop DOAS (Dedicated Outdoor Air System) with Energy Recovery Wheel; TZOA, HAVEN IAQ
PLUMBING
Winner: Franklin Electric / Little Giant, Inline SpecPAK, Multi-Pump Pressure Boosting System
Finalists: Lochinvar, LLC, Lochinvar Commercial Heat Pump Water Heaters; Towle Whitney LLC, GEN-5 Platform
REFRIGERATION
Winner: ebm-papst Inc., AxiEco 630-910 Axial Fan
Finalists: Copeland Compressors and Condensing Units / Emerson, Copeland horizontal variable speed scroll compressor for refrigeration (1 to 4 HP); Johnson Controls, Inc., ZS series horizontal scroll compressors with R290 and variable speed compatibility
SOFTWARE
Winner: Bluon, Inc., Bluon Support Platform
Finalists: CoolAutomation, Service Provision App; Interplay Learning, SkillMill
SUSTAINABLE SOLUTIONS (formerly Green Building)
Winner: Enginuity Power Systems Inc, E/ONE Home Power System
Finalists: Caleffi Hydronic Solutions, Commercial domestic hot water (DHW) recirculation systems combine energy efficiency and water conservation; Danfoss, Danfoss Turboco TGS380 Compressor
TOOLS & INSTRUMENTS
Winner: Fluke Corporation, Fluke 378 FC Non-Contact Voltage True-rms AC/DC Clamp Meter with iFlex
Finalists: Climatech International S.A., F-100 Cordless Stud Welder Machine; RIDGID / Emerson, RIDGID PCS-500 Pipe Saw
VENTILATION
Winner: Aldes, InspirAIR Fresh
Finalists: Carrier, Carrier Aero 39M with ECM Direct Drive Plenum Fans; LG Electronics USA, Inc., LG Split Compact DOAS (Dedicated Outdoor Air System)
Stevens concluded:
It's always exciting to follow along as these products and services come to life in the marketplace. What's more, is to see others work to keep pace with innovation and develop new solutions.
Funds raised from the entry fees of the Innovation Awards competition are donated to a Vegas-area charitable cause.
To find out more about the AHR Expo Innovation Awards, or for photos and explanations of the winning innovations, visit the AHR Expo website.
The AHR Expo is a premier international HVACR event that attracts a comprehensive gathering of industry professionals from around the globe each year. The Show provides a unique forum where manufacturers of all sizes and specialties, whether a major industry brand or innovative start-up, can come together to share ideas and showcase the future of HVACR technology under one roof. Since 1930, the AHR Expo has remained the place for OEMs, engineers, contractors, facility operators, architects, educators and other industry professionals to explore the latest trends and applications and to cultivate mutually beneficial business relationships. This week's Show, co-sponsored by ASHRAE and AHRI, was held in Las Vegas, concurrent with ASHRAE's Winter Conference.