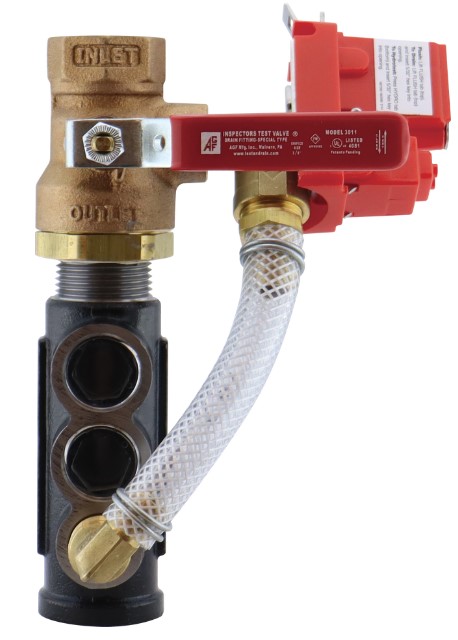 Posted by Johann Nacario — August 11, 2023 — AGF Manufacturing, a global provider of fire protection solutions, recently introduced the updated 3011A InspectorsTest Valve, which the company calls a "revolutionary" product that sets a new standard for efficiency and innovation in the fire protection industry. This cutting-edge design features an integrated sight glass and relief valve drain access port to combine of the best features from the 3011A and 3011ASG fire sprinkler valves, plus the new 7000L Pressure Relief Valve.
The 3011A InspectorsTest Valve represents AGF Manufacturing's unwavering commitment to delivering exceptional performance and reliability to fire protection professionals. By integrating the sight glass and drain port into a single fitting, AGF Manufacturing has eliminated extra pipe fittings and the need for a separate sight glass, providing a more streamlined and efficient solution for testing and maintenance of fire protection systems.
Furthermore, AGF Manufacturing announced that the 3011A InspectorsTest Valve will now include the new 7000L Pressure Relief Valve. The 7000L offers a lockout feature for hydrostatic testing and is available in 175, 200, 225 and 300 psi. This combination provides customers with a comprehensive and integrated solution for fire protection systems, ensuring optimal maintenance and testing.
Jim McHugh, president of AGF Manufacturing, stated:
We are excited to introduce the redesigned 3011A InspectorsTest Valve with its new integrated sight glass fitting, and the addition of the 7000L Pressure Relief Valve. This refreshed design represents our commitment to continuous innovation and providing our customers with unparalleled efficiency and performance in their fire protection systems.
The updated 3011A InspectorsTest Valve, along with the 7000L Pressure Relief Valve, are now available for purchase. To find out more about AGF's Inspector'sTest valves or to find a distributor near you, visit AGF.