by James Mylett — This article originally appeared in the November/December 2021 issue of FMJ
In a world that eagerly anticipates the next version of the smartphone, imagine being forced to use 40-year-old technology to get things done. The fact is, it already occurs in today's buildings, half of which were constructed before 1980. While mobile devices, software and applications provide grounding in the digital age, the aged infrastructure that exists in physical offices (and healthcare facilities, hotels and other industries for that matter), all too often holds things back.
Work is fast and automated; wireless and personalized. In contrast, many buildings are essentially unchanged since their original design and, therefore, struggle to serve the modern needs of digitally native occupants. Aged buildings lack the sustainability, hyper-efficiency, resilience and people-centricity needed to bring the world safely and quickly into the future — a reality the pandemic has magnified.
In Gartner's top tech trends for 2021, the firm touts "anywhere operations," i.e., digital/remote first but notes, "That's not to say physical space doesn't have its place, but it should be digitally enhanced." The point is, buildings of the future are needed now.
A window has opened, compelling a rethink of the archetype of buildings and the need to create strategies that enable yesterday's buildings to meet today's challenges. The good news is, evolving to buildings of the future is not as big a challenge as it might seem. The tools and technology needed are already here.
Four must-haves for buildings of the future
The pandemic has exposed much about what a building of the future should be. They will encompass all facets of human health including physical, emotional, intellectual, spiritual, occupational, environmental and social well-being. Companies looking to attract and retain top talent understand their facilities must be designed with these features in mind and built to inspire and enable their employees to do their best work.
Building owners or operators who build to a future-focused spec create spaces that benefit their building occupants, their company's bottom line and ultimately the health of the planet. The vision for buildings of the future is a balance between technology and people, built on four pillars: sustainability, hyper-efficiency, resilience and people-centricity.
1/ Sustainability over the long term will involve bringing together electrification and digitization by maximizing the impact of electrification through active energy management, positive energy buildings, resource-efficient design and sustainable retrofits. Plus, as renewables and IoT connections accelerate, more big data and smarter AI will generate new insights and automation to further support sustainability goals.
Creating sustainable buildings is particularly critical as they consume about 30 percent of the world's energy, according to the International Energy Agency, and account for almost 40 percent of annual global greenhouse gas emissions. Thus, as organizations look for ways to lead in this area, real estate has become one of the most visible ways to differentiate.
2/ Hyper-efficiency is realized from seamlessly controlled, end-to-end, and often autonomous, digital platforms. By connecting more equipment and assets to AI, real time decisions are enabled, positively impacting people needs, space resources, asset efficiency and energy cost.
An example is the University of Pennsylvania Medicine's (Penn Medicine) efforts in this area. The new Pavilion at Penn Medicine is designed and constructed with flexibility built in, allowing the facility to seamlessly advance with future developments in technology and medical practices.
3/ Resilient buildings are less vulnerable to natural and manmade threats, backed by proven strategies such as remote monitoring, increased power reliability and resiliency. For example, one of the largest glass manufacturers has maintained three years of uninterrupted power in its 750,000 square foot production facility through a digital power solution. Beyond power reliability, integrated, end-to-end cybersecurity strategies are also critical to the resiliency equation.
4/ People-centricity means buildings are designed to be responsive to humans — whether occupants, owners or operators. People-centric buildings are safer, healthier and enable greater productivity. Today's technology can help building owners and facility managers anticipate and resolve problems before tenants are impacted. Personalization can now be put in the hands of occupants to deliver similar functionality and control which they have in their homes, and which they expect in their buildings.
New York's 390 Madison Avenue is the epitome of a people-centric building. The space is 100 percent leased and features technology that facilitates advanced tenant experiences and can evolve with future innovation. Full system/subsystem integration allows for complete data-driven decisions leading to better business outcomes.
Why we aren't there yet
In recent years, consumer experiences have evolved dramatically, yet the way the world collectively experiences buildings haven't kept pace. Why? Perhaps the scale of digitally transforming a building seems too daunting or beyond budget reach.
However, in many cases, only change is needed. It is more about connecting seemingly disparate, existing technologies as opposed to blanket replacement. FMs often do not realize how many of their facilities are already connectable. Yet, the cloud connection is missing — a connection that enables scale.
Along these lines, the University of Iowa connected 49 buildings (6.7M square feet) across its campus, integrating all major HVAC equipment, air-handling units, heating/chilled water systems, pumps, terminal units and four different legacy building management systems. During the first year, energy savings totaled US$900K, and about 20 percent of HVAC related work orders completed were based on predictive maintenance.
What will it take?
This year has brought owners and operators the opportunity to put a strategy in place to safely reopen buildings, with the future in mind. Creating healthy building spaces involves active monitoring of temperature, humidity, CO2, noise, light and volatile organic compound (VOC) levels and managing space in a way that reduces the spread of germs. It also involves transparency, so occupants are confident that spaces are well maintained and safe — transparency enabled by apps and analytics.
The first step towards building health is an assessment to reveal data quality — checking for existing sensors accuracy and calibration, density and distribution and figuring out if additional sensors are needed. A significant number of buildings contain sensors and equipment that are either aging, not fully functional or improperly commissioned. Simple changes or updates could unlock or enable large data sets with little effort.
Determining and addressing these challenges early sets the baseline for the next step, which is analyzing all the data to get a full picture of the environment. Analytics can model the equipment performance, continuously check operations and help facilities plan proactive maintenance activities based on identified faults.
Then, it is time to take action and address any issues identified. The actions might include increasing fresh air ventilation, upgrading air filters and limiting capacity in specific rooms or arming occupants with mobile apps, such as touchless controls, building entry pre-assessments and hot desking.
How will FMs move the industry forward?
Remote work is not going away, but people still want and need offices as they are places where careers are built, lifelong friends are made, and co-creation is elevated. Healthy buildings are only the beginning.
Recent events have put the climate crisis afflicting the world into the forefront. This includes the landmark climate report from the United Nations that found there is a very small window for global coordination to stop adding carbon dioxide to the atmosphere by around 2050 to prevent sustained warming above 1.5 degrees Celsius. Leaders around the world must act swiftly to mitigate climate disaster, and ensuring facilities are "climate-ready" is a large part of this. The private sector plays a particularly large role here, and must accelerate sustainability initiatives — especially considering the age of current structures, and knowing two-thirds of them will still exist by the 2050 deadline.
It is the duty of stakeholders globally to move the buildings industry forward and FM's responsibility to transform the experience. So, whether optimizing existing spaces and systems or creating a plan from scratch, the focus must remain on achieving the right outcomes in buildings — sustainability, hyper-efficiency, resilience, and people centricity. The technology is here. Let the world reconceive, reshape, and reconstruct buildings for the future together.
About the Author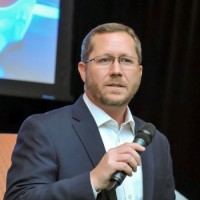 James Mylett leads the U.S. Digital Buildings business for Schneider Electric. A recognized pioneer in field services and the building management space, he is a leader in accelerating the digital service experience for commercial buildings.  With a career spanning over 40 years and having held positions ranging from the frontline to the boardroom, Mylett brings a unique perspective to driving strategic change in the industry. Prior to joining Schneider Electric, he held leadership positions at Comfort Systems USA and Johnson Controls.  Mylett earned his MBA at the University of Maryland.