by Chad Farley —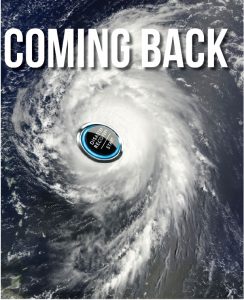 This article originally appeared in the March/April 2020 issue of FMJ
No one wants to experience a catastrophic event, but disasters seem to have become annual occurrences. The days and weeks after a catastrophe put even the most prepared organizations to the test. More than anyone, facility managers know the importance of a solid disaster recovery plan. But even with the best laid plans, it can take weeks or months to get a facility back up and running. If there wasn't a well-laid plan? That's going to take a lot longer.
Talk with any FM who has managed a recovery project, and it becomes clear there are certain steps that help the rebuilding process.  Here are five steps to keep recovery efforts on track.
1. Contact and coordinate with key staff
Whether an event is known in advance, like a hurricane, or strikes suddenly like an earthquake, most FMs have an emergency contact list. (Hopefully it's current and contains all key leadership.) During and after an emergency, stay in contact with key staff and make sure they're communicating to all personnel. Communication is key during rebuilding.
Remember that everyone will be dealing with the event personally, as well as professionally, so exercise patience in the early days after the event and beyond. Rebuilding takes time.
As soon as the facility can be accessed, communicate the state of the building and an estimate of how long it is expected to remain closed. Decide whether a temporary location is needed, and schedule temporary facilities or mobile offices as early as possible.
It may take weeks to evaluate damage, especially if there's a shortage of available contractors and claims adjusters (and there will be). A useful communications plan includes:
A status update as soon as possible after the event.
Regular updates to keep staff and tenants in the know.
An invitation to keep two-way communication open with staff and leadership.
Daily or biweekly updates will also cut down on being inundated with individual questions from a large staff.
2. Evaluate the loss
Many business owners want to jump right into rebuilding, but a thorough evaluation of the loss is required for most insurance claims. It's also helpful for future planning. What areas took on the most damage? How could the space have been better organized? Could any risks be mitigated?
Take the time to go through the facility and evaluate any systems failures or areas for improvement. Fully document all damage. During this process, all key stakeholders should be involved in evaluating and documenting losses.
Loss goes beyond the physical damage to the facility. Are there damaged data banks containing sensitive business information? Were research and development projects lost? Gathering feedback from all departments leads to better evaluation and future planning.
Check with your insurance company to find out what documentation is needed for your claim. There will likely be a number of inspectors and adjusters required to evaluate the facility. The damage will need to be observed and cataloged before gutting and demolition begins. Use this time to start brainstorming improvements to the facility and the disaster response plan.

3. Connect with local, state and federal agencies
The Federal Emergency Management Agency (FEMA), the Small Business Agency (SBA) and other federal, state and sometimes even local municipalities offer assistance to businesses after a catastrophic event. Available programs will vary locally and internationally, but FMs should familiarize themselves with the process of applying and any documentation and requirements needed to apply.
For federal resources, program information is available online year-round. Reviewing available programs should be part of any disaster recovery planning process, and the time to start exploring programs is before an event happens.
Los Angeles County, a municipality that deals with extreme catastrophic risks from earthquakes, wildfires and flooding, has put together a list of low-interest loan programs available through the SBA and the U.S. Department of Agriculture. There are others, but this list provides a good overview.
After a catastrophic event, agencies will host town hall meetings and workshops for residents and business owners. Announcements of these events will appear on social media and agency websites, as well as local news media. Keep watch for FEMA and SBA workshops where representatives will help with applications and program questions.
4. Begin demolition and cleanup
Once the new plans are in place and required inspections have been done, it's time to start gutting. Contractors, construction workers, dumpsters, portable toilets and temporary site services are going to be in short supply. Some FMs may choose to schedule dumpsters, fencing and other services before demolition begins, so they know they'll receive products by the time crews are ready to work.
If the contractor is scheduling site services, ensure they'll have them delivered by the time demolition starts. It's not uncommon for the wait for local dumpsters to be weeks or months after major catastrophic events. Dumpsters and other site services can be trucked in from other states, so be aware of the logistics of city-wide demolition after a disaster.
Experienced contractors and national waste service companies will have the experience and connections to find and deliver solutions. Reach out as early as possible to avoid weeks or months of waiting for local dumpsters to be available.
5. Rebuild for the future
When rebuilding the facility, incorporate the lessons learned from the evaluation. This may seem obvious, but sometimes business owners will want to recreate what they had before as quickly as possible.
Take the time to ensure any risk mitigation updates have been incorporated into the new design. Find out if building codes are changing as a result of the event (sometimes they do). Often city inspectors will notify FMs and construction managers in advance, but that's not a given.
Catastrophic events may happen only once or twice in a facility's lifetime. But when they do, it helps to be prepared beforehand to ensure everyone can return to normalcy as soon and seamlessly as possible.
Planning for Disaster
Take these steps before disaster strikes.
Make sure the company's emergency contact list is updated quarterly.
Have rebuilding vendors and contractors in mind and keep their contact information handy.
Revisit the emergency and business continuity plans annually or biannually.
Train all staff on emergency preparedness and business continuity plans.
Implement any hazard mitigation strategies applicable to the facility. For example, retrofits or new technologies that may lessen the effects of catastrophic events.
Resources
American Planning Association: Planning for Post-Disaster Recovery
https://www.planning.org/research/postdisaster
FEMA Hazard Mitigation Planning Resources
https://www.fema.gov/media-library/assets/documents/131310
FEMA Recovery Resources
https://www.fema.gov/recovery-resources
HUD Exchange: CDBG-DR Toolkit
https://www.hudexchange.info/programs/cdbg-dr/toolkits/program-launch
Los Angeles County Consumer and Business Affairs
https://dcba.lacounty.gov/newsroom/rebuild-or-reevaluate-your-business-plans-after-a-disaster/
About the author

Chad Farley is vice president of ZTERS Waste Solutions. ZTERS helps facility managers schedule temporary services, including dumpsters, portable toilets, mobile offices, storage containers and more across the U.S. From recovery to renovation, ZTERS provides full-service temporary site solutions. Reach him at chad@zters.com.