by Stephanie J. Fanger, FMP, M.S., LEED AP BD+C, EDAC, IIDA — As the name implies, coworking involves the shared use of a working environment, typically in an open office configuration. However, unlike a typical office environment which is comprised of employees from the same company, coworking is a bit more organic in that it brings together work-at-home professionals, independent contractors and consultants, mobile workers and start-up companies.
But what exactly differentiates coworking from other types of non-traditional working concepts?
Coworking offers an alternative to people who lack a traditional office setting and yearn for a sense of community but who do not want to work in a truly public space such as a coffee shop or hotel lobby. For a daily or monthly fee, workers are provided with a space to work, Internet access, shared amenities and essential office supplies. But the magnetism that exists in coworking spaces comes from the sense of community which gives workers the social and emotional benefits of meeting people with similar work ethics and professional goals.
Benefits of the coworking structure
The sense of community that defines the experience of coworking can be compared to the "swarm intelligence" of social insects like honeybees and ants. Without the constraints of the complex human social hierarchy, these insects exhibit collective behavior and make use of their numbers to build nests and forage for food. Similarly, coworking presents the opportunity for symbiotic relationships, as no acknowledged leader exists to manage the activities of the group. Individuals treat one another as equals and are allotted the same amount of square footage as their residing neighbors. As workers in a coworking setting are all trying to accomplish their own goals and meet their own deadlines, there is a common understanding among resident workers. Coworkers are able to benefit from the varied experiences of fellow occupants without the emotional discomfort that can accompany intra-company discussions.
In addition to the social benefits, coworking has proven advantageous for worker morale. Deskmag, a publication on coworking, found that 90 percent of coworkers (when compared to workers in traditional office environments) said they got a self-confidence boost, likely due to spaces filled with supportive communities that enable constant collaboration. This improvement in morale may also impact the way workers view their physical health, as both are imperative to a more healthful lifestyle. According to Fast Company, 70 percent of coworkers feel healthier than they did working in a traditional office. With these types of statistics, it is hard to ignore the benefits of the coworking movement.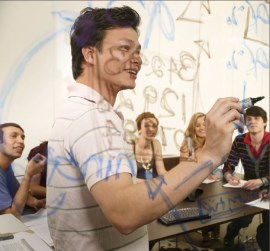 Coworking is also less expensive than operating in a traditional office environment. According to Deskmag, "In the United States, a coworker pays an average of US$365 a month for a desk with normal office infrastructure and 24-hour access. Comparatively, a desk in a typical office costs US$733 on average." Additionally, coworking is a more affordable option than for individuals to work solely from home, as independent workers must pay for electricity, water, heating/cooling, Internet connection and office supply costs. In a café, there is the price of food or beverages to consider, as most cafés expect mobile workers to buy regular items in exchange for utilizing their space. Deskmag calculated the cost of buying several cups of coffee every day and found that membership of a coworking space is usually a less expensive option. Additionally, most coworking spaces provide free coffee, eliminating the cost of re-caffeinating. Public spaces can provide an escape from the central office, but tend to cause workers to focus more on individual task work than on building a professional community with those around them. Many prefer coworking to other public locations because of the thrill of leaving their central office as well as the serendipitous occasions for collaboration.
So, what does a typical coworker look like?
Deskmag states that "Most coworkers are in their mid 20s to late 30s, with an average age of 34. Two thirds are men, one third are women." Coworkers are well acquainted with technology, usually possessing multiple mobile devices. The idea of coworking 24/7 is appealing to this cohort, as they tend to gravitate toward working when it is convenient for them, not necessarily during traditional business operating hours.
The typical coworking space is an open plan with a mix of desks, collaboration spaces and meeting rooms. Some of these spaces are renovated warehouses or located within mixed-use occupancy buildings. The most interesting aspect of coworking is that privacy can still be successfully achieved within an open and active environment, as people are surrounded by others that they do not know and therefore are not forced to talk to. Additionally, circling back to the "swarm intelligence" concept, those in coworking arrangements tend to be more satisfied with their morale and physical health because of the sense of community without competition. The anxious feeling of being micro managed is all but eliminated.
Major corporations are starting to implement elements of coworking into their facilities and headquarters as a way to collectively engage their employees, while also incubating local start-up businesses. In March of 2012, Google opened a technology quarter in their London campus, known simply as "Campus." It is situated in an area known as Tech City, as large start-up technology companies reside there as well. The goal of this campus was to provide cheap real estate for start ups, especially since the cost of renting in London is quite expensive. The campus occupies seven floors and includes a café, rooftop terrace, events on strengthening the local community and education sessions to improve member knowledge and collaboration. This space can host more than 100 start-up companies under the same roof, enabling resident Google employees to mingle with entrepreneurs.
The concept of coworking is on a path to continued growth. Furniture manufacturer Herman Miller states, "In five years there could be up to 22,000 coworking spaces in the U.S. For context, today there are 11,000 Starbucks' in the U.S." Extrapolating these kinds of numbers to fit the global movement indicates that coworking across the world should increase exponentially in the next decade.

Another company that has promoted coworking ideals is Zappos. Their new campus sought to establish a whole mini-city community, encouraging employees to live, work and play in the same area as their office. Tony Hsieh, the CEO of Zappos, plans to invest US$100 million into purchasing land and building acquisitions of Zappos' new headquarters, which will be situated in downtown Las Vegas, Nev., USA. Additionally, Hsieh plans on spending an added US$100 million on residential development nearby, US$50 million dollars toward tech startups to recruit to the area, US$50 million attracting new local small businesses like bakeries, yoga studios and book stores, and another US$50 million toward advancing schooling systems. Once these entities are established, Hsieh will encourage his employees to work out of any of the nearby facilities and surrounding communities. He believes that a change of scenery will allow his employees to think differently and get through the challenges of working in the same location daily. Furthermore, this business model helps replenish an under-utilized downtown setting through avoiding urban sprawl, while giving back to the local community. As demonstrated by Zappos, coworking can be applied on both micro and macro levels.
Challenges
The challenges with coworking should be acknowledged, as dispersing workers away from their peers can reduce opportunities for unscheduled intra-organizational collaboration and idea sharing. With employees away from the office, less face-to- face time naturally occurs, which means that projects can be misconstrued and/or delayed. Body language cannot be viewed via phone calls or emails, so messages may get lost in translation. According to Forbes, "84 percent of traveling executives and managers report that they cannot work effectively on collaborative projects." Other complications of not being present in the home-base office can include: missing what is going on in the office, social connection to one's peers, not being involved in impromptu lunches and happy hours, and difficulty in reaching people over the phone. Coworking may be beneficial for a start-up company, but for a major corporation with a large employee population the hindrances may outweigh the advantages.
Moreover, people who consider themselves introverts may not enjoy the open style of coworking, as it has the potential to cause distractions when periods of deep focus are needed. Also, the concept of coworking is to share and promote one another's ideas, and if an individual does not feel comfortable with open collaboration with strangers, the coworking environment may seem overwhelming. Coworking ultimately translates to sharing of all spaces and amenities, including restrooms, refrigerators, break rooms and conference spaces. For individuals who tend to be territorial with space allocation, coworking may not be the best option for accomplishing tasks.
Implementation
Facility managers must be cognizant, both of the benefits and challenges posed by the coworking movement, and how they will affect the future of office design. Corporate offices will evolve to resemble coworking offices, specifically reflecting the need to house more mobile workers. Enticements such as free lunches or entertainment during breaks will help encourage employees to stay in their home base office rather than work from home or an alternative space. Business working hours may shift, as employees will have the flexibility to work half the time in the office and half the time at home. There may never be a true traditional nine-to-five working day again.
Facility managers need to be aware of the coworking benefits, as the common theme of community will remain important, regardless of the population size of a given space. Coworking can bring together mass amounts of people, as well as smaller, more unified clusters, and dictates a 24/7 focus on operations and constant utilization of utilities.
Internal change management may need to take place to help ensure that managers have enough of a hands-off approach to allow the organic development of a "swarm intelligence." Areas of collaboration will be a priority, and facility managers will need to accommodate these trends to conform to the employees' habits and needs. This may physically take the form of cafés, arcade rooms, huddle spaces, learning labs, happy hour lounges, atriums or a myriad of other spaces. When facility professionals are seeking to upgrade the space they manage for the future, collaborative coworking spaces should take precedence over individual work stations and private offices.
References
www.deskmag.com
www.fastcompany.com/3004788/future-coworkingand-why-it-will-give-your-business-huge-edge
www.campuslondon.com

Author biography
Stephanie J. Fanger, FMP, M.S., LEED AP BD+C, EDAC, IIDA, is a workplace strategist at Goodmans Interior Structures in Phoenix, Ariz., USA. In this position, Fanger focuses on improving office interior environments through educating customers about new design paradigms focused on the human experience. Concentrating on the trends of technology, collaboration, productivity, flexibility and experience she forecasts what the future of the workplace will resemble. Additionally, she is a faculty associate at Arizona State University, instructing a fourth-year interior design studio focused on workplace environments.
Fanger serves as the treasurer to the IFMA Phoenix Student Chapter and as a representative on IFMA's 2013-2014 board of directors. She was awarded the 2011 Emerging Leader Award at IFMA's World Workplace Conference & Expo in Phoenix, Ariz., USA. She can be contacted at sfanger@goodmans.info.