by Russell Womer — Over the last several decades, for better or worse, the work environment has become the new center of the average American's adult life. The average working American spends almost nine hours of his or her day on work and related activities, more than sleeping and all other waking activities. While the time Americans spend at the workplace may not come as much of a surprise, the effect the work environment can have on employee health and productivity, environmental performance and the financial bottom line often does.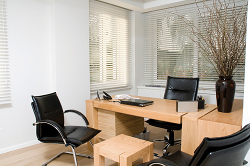 A growing body of research shows that many of these impacts are interrelated, and that intelligent environmental design, combined with operational and procedural changes in the workplace environment, can have substantial cumulative effects on organizational performance. By making environmentally beneficial changes to an office through changes in materials and practice, workplace administrators can leverage these positive feedback mechanisms to increase performance and value.
IEQ impact
A workplace's indoor environmental quality (IEQ) is impacted by a number of factors, such as indoor air quality (IAQ), thermal comfort, lighting quality and ergonomics. These factors sometimes are overlooked in design and construction, and have significant effects on workplace performance. Poor indoor air quality, for example, affects employee absenteeism and reduces productivity on typical office tasks by as much as 6 to 9 percent1,2, impacting employees by exacerbating respiratory allergies, asthma, headaches and other medical conditions.
Lighting can impact an organization more directly. Typical office lighting accounts for 15 to 25 percent of energy costs for the organization, and inefficient and low quality lighting fixtures can directly inflate these energy costs as well as detrimentally affect employee productivity and satisfaction3. By taking a holistic, environmentally conscious approach to workplace design, simple interventions can help eliminate a number of these potential problems while additionally saving an organization money.
Strategies for change
Knowledge is power when talking about environmental performance. One of the most important changes an organization can make is to begin tracking the performance of their workspaces over time, and to assess and manage the need for environmental interventions. There are a number of solutions available for assessing and tracking environmental quality depending on the level of commitment an organization is willing to make.
Organizations looking for a lower investment solution may choose to contract an IAQ audit, which can be used to look for problems with air circulation, humidity, CO2 levels and air contaminants that may impact the workspaces' IEQ.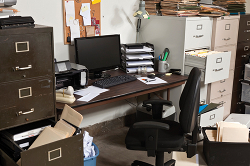 For organizations looking to make longer-term investments, a more comprehensive indoor environmental monitoring system can be utilized. These IEQ monitoring systems provide real time visibility and responsiveness into ventilation rates, thermal conditions and air contaminants such as volatile organic compounds (VOCs), CO2 and mold throughout an organization. In addition, these systems can help set organizational baselines and performance targets across facilities. When integrated with building automation systems (BAS) and integrated work space management (IWMS) systems, such solutions can facilitate automated demand response and intervention strategies, allowing organizations to achieve and maintain increased environmental performance over time.
Low-hanging fruit
Once an organization has committed to taking action about IEQ, there are a number of large return solutions for minimal organizational investment. The first of these strategies is a commitment to purchasing nontoxic cleaning products, equipment and furnishings.
A large percentage of contaminants found in the workplace come from the materials and products used to maintain them. Cleaning supplies and products comprise less than 4 percent of the typical operating costs for a facility, and janitorial services cost the typical organization around US$1.55/rentable square foot. By switching to environmentally benign cleaning products, organizations can significantly reduce indoor air pollutant levels of harmful VOCs, increase janitorial health and safety, and increase workplace performance for only a one-to-two cent/square foot (1 percent) increase in janitorial costs4. One way to ensure environmental performance is to look for reputable third-party certifications for cleaning and maintenance supplies, such as Green Seal and MBDC's Cradle to Cradle certification. These organizations provide useful information about product implementation and setting organizational policy.
The equipment and furnishings themselves often are an overlooked source of environmental contaminants. Common business services equipment such as copiers and laser printers are significant sources of VOCs and ozone emissions, and the materials and adhesives in workplace furniture and seating can contain harmful and irritating chemicals. The best way to minimize exposure to these chemicals is to put business services equipment in open areas with increased ventilation and source office furnishings and materials from environmentally committed suppliers.
Furniture providers such as Herman Miller, Steelcase and Knoll offer a range of environmentally responsible workplace furnishings utilizing nontoxic adhesives, low emitting materials, and low or nontoxic paints and finishes. Similar to maintenance supplies, there are a number of reliable third party environmental certification programs, such as Green Guard, that can help guide and inform environmentally responsible furniture procurement.
A second aspect of equipment and furnishings procurement with important impacts on employee productivity, health and satisfaction is facilitating proper workplace ergonomics, particularly in high repetition or low physical activity work environments. While your organization may not be able to effectively mandate a particular working style for its employees, research has shown that when provided with the proper materials—such as adjustable seating and education regarding its use—occupants are more likely to adopt more healthful and productive work strategies. Many ergonomic furnishings vendors offer educational materials and live tutorials on the proper use of equipment to better facilitate implementation and adoption with building occupants. An emphasis on these kinds of solutions can improve employee comfort and reduce fatigue as well as help employees avoid serious strain and repetitive stress injuries.
Investing in health
Organizations that already have taken advantage of lower-cost interventions and are looking to make longer-term investments in workplace health and satisfaction have many options. Passive solar lighting is a design choice that can be made during renovation and construction that can have significant benefits. In addition to offering a substantial reduction in utility costs by minimizing electrical lighting and heating, ventilation and air conditioning (HVAC) requirements when implemented correctly, naturally lit workspaces and windows have significant physiological and psychological effects on building occupants and consistently are rated as an important factor in workspace satisfaction. Any benefits received from such a strategy, however, are highly dependent on implementation and the negative effects of glare, thermal discomfort and perceived loss of privacy, and can more than overcome any social benefits received in a poor implementation. Simple design decisions such as controllable sun shades for windows, and utilizing indirect or diffused solar lighting, can go a long way in maximizing the social and financial effectiveness of such a solution.
Proper acoustical and noise control is another initiative that pays off in employee productivity. As open concept floor plans and shared workspace strategies become more prevalent, proper noise control becomes an increasingly important factor in workspace design. Simple considerations for acoustic performance, such as noise absorbing paneling or carpeting and acoustical privacy, can make the difference between a distracting workspace and a productive one.
The extra effort
At the end of the day, while indoor environmental quality may not seem like a top priority for many organizations, those that invest in their people and environment will see the greatest returns. When facility and real estate professionals make the effort to track and improve the IEQ of their workplaces, people and buildings perform better. In most cases, the decisions that help FMs accommodate these needs help organizations meet their financial goals. FMJ
References:
Wargocki, P., Wyon, D.P., Baik, Y.K., Clausen, G., Fanger, P.O. (1999a) "Perceived air quality, sick building syndrome (SBS) symptoms and productivity in an office with two different pollution loads", Indoor Air, 9(3),165-179.
Wyon, D. P. (2004), The effects of indoor air quality on performance and productivity. Indoor Air, 14: 92—101. doi: 10.1111/j.1600-0668.2004.00278.x
Hedge, A., Sims, W.R. and Becker, F.D. (1995) The effects of lensed-indirect uplighting and parabolic downlighting on the satisfaction and visual health of office workers, Ergonomics, 38, 260-280.
International Facility Management Association. (2010). Research Report #32: Operations and Maintenance Benchmarks. P.37
As a product manager for FM:Systems, Russell Womer works to understand the needs of customers and guide the direction of software development. He uses his background in facilities planning and corporate sustainability to help increase the financial, social and environmental value of facilities software for organizations around the globe.