This article originally appeared in the November/December 2019 issue of FMJ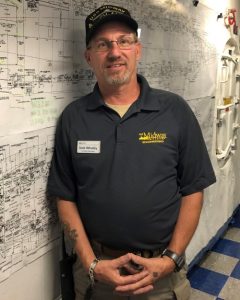 After 24 years in the Navy, IFMA member Scot Whaley's next challenge came when he became the FM for the USS Midway Museum in San Diego, California, USA. In service of the US Navy from 1945 to 1997, the Midway once held the title of as the largest ship in the world.
While in service, the Midway could hold a crew of up to 4,500 men and women and up to 100 aircraft. Decommissioned in 1997, the Midway was mothballed before reopening as a museum in 2004.
Under Whaley's watch, the Midway now welcomes 1.5 million visitors a year and ranks among the top 25 most popular museums in the world.
In this edition of FMJ's My Facility, Whaley talks about the unique challenges he faces as the FM of a museum that he has to keep afloat.
FMJ: Tell us a little bit about yourself.
Scot Whaley: I retired from the US Navy after 24 years. I got into FM after not really liking the shipyard industry. I've been on the Midway for six years. I'm an IFMA member and recently earned my CFM.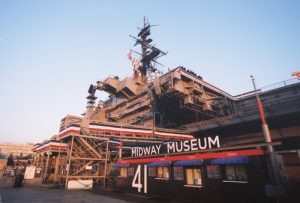 FMJ: What's the day-to-day life like on the ship?
Whaley: It's always busy because there is always something going on. Our mission is the preserve, inspire, educate and entertain. To do that, we have a facilities staff of 25-30 people who work around the clock to attend to every need of the ship. That would be any kind of daily operations duties to pipefitters, welders, painting staff, cleaning staff and event staff. In addition to welcoming 1.5 million visitors on board every year, the Midway also hosts 700 private events annually.
We do everything we can to put on the best experience for our visitors while keeping water out.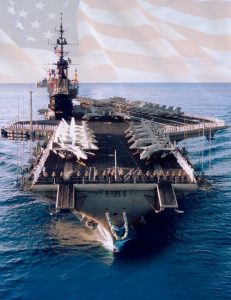 All of our staff goes through various safety training and my FM staff has been through OSHA 10 Marine, Hazardous Waste Operations and Emergency Response, Hazardous Waste and various other schools that the ship yard offers.
FMJ: What are those daily challenges like?
Whaley: We're very proud of this ship and we love the public coming out to see what the ship is all about. Nothing in this ship except for installed ventilation is brand new. The wiring is 1945 technology. Obviously because we are on the water, the ship can't be grounded. We've done some upgrades such as using LED lights and maintaining a 350-ton air conditioning unit. We have commercial electricians who can conform to Navy standards, so that is a big help.
We also have a few other projects going, such as retiling, installing new lagging and LED lights for a classroom. We also have to make sure we can fit in the technology, so IT comes in and plays a big role in that. When we establish a new tour route, we have to remove asbestos and lead before we can open that route.
Some of the projects are pretty big. We are working on a US$5 million contract for a new café. We also have $2 million for the hangar elevators. These elevators would haul cargo and planes to the top deck.
We also have various inspections – ACPD, California Air Resources Board and the San Diego Port Storm Water Quality Board. We also have six CHt tanks that send sewage to the pier and into the city's water system.
FMJ: How much space do you manage?
Whaley: It's the whole ship. The flight deck alone is four acres and the hangar bay is three acres.
FMJ: What do you like best about what you do?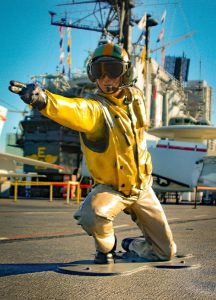 Whaley: I really love what I do. I have the best job on the ship and the best view. I also love working with the volunteers, and the staff. Our guests are a big hit for me. I walk at least 6-10 miles a day.
The job is so fun and exciting, being in charge of this massive ship, and its thousands of square footage, thousands of spaces, control of 250 tons of air conditioning – and adding 200 more by January.
We preserve the ship while inspiring, educating, and entertaining and ensuring that the museum is operating as it should from opening to closing, staffing for events, staffing for cleaning more than 100 tour route areas.
On top of that, we're planning and overseeing major renovations and new construction.
I love using what I have learned taking all my FM classes and putting it to use, bouncing ideas off of other FMs on and asking how they did something or what would they do. I can't wait to go to work in the morning.