by Nigel Ward — This article originally appeared in the July/August 2020 issue of FMJ
Over the last two years focus has centered more on fire protection in large buildings, meaning facility management professionals are increasingly expected to oversee fire safety regimes.
While a fire curtain is rightly regarded as a product the owners and occupiers of a building hope they will never see, its role in the broad fire safety provision of a building remains paramount.
The role of a fire curtain
A fire curtain is, in simple terms, a highly robust piece of fire-resistant material that remains discretely suspended from a ceiling, lobby or doorway, until it is lowered when the smoke or fire alarm within a building is triggered. At that point, the curtain becomes a barrier between the fire and the escape routes that building occupants are expected to use during an evacuation. In that respect, it is crucial for the compartmentation or prevention of flames spreading, either laterally or vertically, and putting people's lives at an increased risk.
One of the main benefits of fire curtains as part of a building's safety regime is that they can be, and generally are, located in several areas throughout a building. A fire curtain can be used to replace a non-load bearing wall and fire rated glazing, for example, which in turn allows open plan building designs to meet the relevant regulations. Similarly, elevators and lobbies can be protected by vertical curtains, which prevent the spread of smoke and flames through the shaft.
Fire curtains in action
As vital as a fire curtain can be in separating occupied spaces and evacuation areas from the blaze itself, the fact that it provides a physical barrier can, naturally, have certain drawbacks which must be considered from the outset.
One such limitation is that once the curtain has been deployed, occupants of a building and first responders can no longer see into the area in which the fire has broken out. When it comes to assessing whether people may be trapped in the area of highest risk, this can be a challenge.
Similarly, there may be times when first responders would benefit from seeing the extent and type of fire they are fighting. Having a fire curtain in place makes this difficult without breaching the curtain or temporarily elevating it from the floor. Despite these limitations, a building equipped with fire curtains is much safer than one without.
However, a see-through fire curtain nullifies the challenges posed by an opaque product by allowing building occupants and first responders to see through the curtain after it has been deployed – potentially saving precious time during a building evacuation.
A fire curtain with a vision panel is perfect for elevator openings and lobbies, as well as doorways and corridors along escape routes–and can be retrofitted to existing fire curtain installations.
Ongoing maintenance
It is important to follow global dedicated standards for the specification, installation and maintenance of fire curtains. Unfortunately, many are still unaware of standards, which leaves FMs who are tasked with overseeing the safe operation of their building at risk of being left out of their depth should a fire break out.
Published by the National Fire Protection Association, NFPA 80 is the standard used by designers and contractors for Fire Doors and Other Opening Protectives. The standard regulates the installation and ongoing maintenance of a fire curtain. The British Standard BS 8524 was first released in 2013 and comprises two parts: Part 1 for the specification of the fire curtain, and Part 2 for its installation and ongoing maintenance. In an ideal world, much greater awareness of these standards would ensure only the highest quality of products are installed and that a suitable maintenance regime is in place.
Both NFPA 80 and BS 8524 make the importance of ongoing maintenance very clear; however, as a product category which is the epitome of "out of sight, out of mind," most FMs hope that they will never see a fire curtain in action. Unfortunately, that mindset becomes flawed as soon as they realize that it contradicts best practice.
Planned inspections, testing and maintenance should be carried out annually to ensure that barrier assemblies are operating and performing effectively. BS 8524 requires they are carried out by a "competent person who is able to check and confirm that barrier assemblies are operating and performing effectively, when required" and that all such tests are accurately logged.
According to NFPA 80, these inspections must be performed by a qualified building owner or property manager. "Qualified person" is defined in NFPA 80 as "a person, who, by possession of a recognized degree, certificate, professional standing or skill, and who, by knowledge, training and experience, has demonstrated the ability to deal with the subject matter, the work or the project." It is also this person's responsibility to retain records for review.
So, what exactly do these maintenance requirements entail? NFPA 80 details the requirements for all aspects, from installation and testing through to "modification of opening protectives." As part of their regular risk assessments, building occupiers should ensure fire curtains are within required specifications. Other checks include any obstructions that might prevent the fire curtain from deploying.
BS 8524 states that building occupiers should check for obstructions that might prevent the fire curtain from deploying. They should also remember that changes to building layout or to the activities within it could impact on the installed fire safety systems. For instance, if a wall has been moved or removed, then the location of the curtain, and the protection it offers, may be affected.
The curtain should be operated no less than once a month, and weekly on escape routes. If it forms part of a smoke control system protecting a means of escape, the barrier assembly should be operated in conjunction with the smoke control system every three months at minimum.
General recommendations are that tests are undertaken at the same time each week so that all staff are familiar with the system's operation. BS 8524 advises that all maintenance staff should be fully trained by the manufacturer. No less than once a month, the building occupier should test self-closing devices and automatic release mechanisms via a test switch. They should also check that the sensory detection equipment and self-test facility is functioning correctly.
A fire curtain might be unseen and unspoken by many, but with the potential to play such a pivotal role in any building's fire safety regime, it is vital that facility managers invest in premium, fully compliant products, and support them with the ongoing maintenance needed to guarantee reliability should the worst happen.
About the author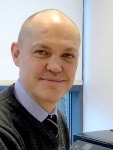 Nigel Ward is Managing Director of BLE Smoke and Fire Curtains based in the United Kingdom with responsibility for all the company's manufacturing and sal
es operations. He has wide experience across the construction sector and, in his five years at BLE, has particularly focused on developing the company's reputation and commercial position in the United States market.