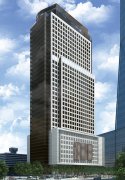 by Shane Henson — March 6, 2013—Foram Group, a provider of fiduciary real estate services to high-net-worth individuals who own large farm, ranch or timber properties in the southeastern United States, recently announced that its 600 Brickell at Brickell World Plaza office tower has received Leadership in Energy and Environmental Design (LEED) Platinum certification by the U.S. Green Building Council. LEED is an internationally recognized green building program that provides building owners and operators with a framework for identifying and implementing practical and measurable green building design, construction, operations and maintenance solutions.
Foram Group says the 40-story, 600,000-square-foot mixed-use commercial tower in the heart of Miami's financial district is the only building of its kind in Florida, and one of only a handful of its class and size in the world, to be so designated. The Class-A tower received the designation in the Core and Shell category, which applies to new construction, says Foram Group. The tower was recognized for its pioneering work in achieving efficiencies in energy, lighting, water and material use, as well as incorporating a variety of other sustainable strategies to reduce its carbon footprint.
"This is a monumental honor for us and rare for any developer," said Loretta Cockrum, Foram's founder, chairwoman and CEO. "We are gratified that the U.S. Green Building Council has recognized our team's creativity in setting a new standard for environmentally sustainable Class-A office towers."
According to Cockrum, every detail of the building was planned and examined before one shovel of dirt was ever turned. The $300-million eco-friendly, smart building features include central monitoring and control of air quality, temperature and lighting, resulting in a healthier, more comfortable and more secure working environment, and fully redundant electrical backup systems designed to eliminate tenants' business interruptions and technology worries in a 24/7 world.
The building also offers both public and secured WiFi and direct access to the world's Internet backbone through underground, redundant fiber-optic connections linking directly to the Network Access Point of the Americas less than one mile away. It is also the first "Class A" office building of this magnitude to be ISO 27001 Certified, the internationally accepted benchmark for information security, says the Foram Group.