by Johann Nacario — May 20, 2022 — Greenheck, a global manufacturer and distributor of air movement, control and conditioning equipment, announced in recent weeks two new models of industrial control dampers designed specifically for lab exhaust systems, an automatic balancing damper, and an outdoor mixed-flow fan. The products are highlighted below.
Industrial control dampers for lab exhaust systems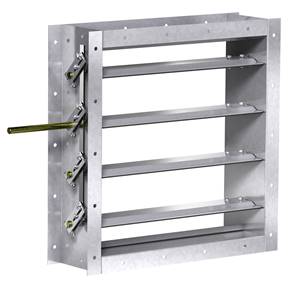 Greenheck has expanded its line of industrial control dampers with two new models specifically designed for lab exhaust systems. Models HCD-130LE and HCD-230LE are heavy-duty flanged-style frame industrial control dampers with fabricated airfoil blades designed to control airflow and provide shutoff in lab exhaust systems. The HCD-130LE has pressure velocity capabilities up to 8.5 in. wg (2.1 kPa) and 4000 fpm (20.3 m/s). The HCD-230LE has pressure velocity capabilities up to 15 in. wg (3.7 kPa) and up to 5000 fpm (25.4 m/s). Available with parallel or opposed blade action, these dampers can also be selected as replacements for existing lab exhaust units or as a new stand-alone damper in custom lab exhaust units.
Automatic balancing damper for zone register terminals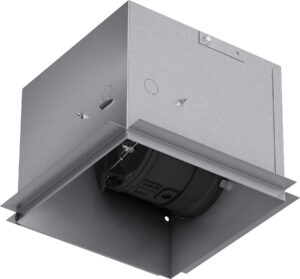 The ABD-Z2 is the latest addition to Greenheck's line of automatic balancing dampers that provide precise airflow regulation for energy efficient indoor air quality. The ABD-Z2 is an integrated automatic balancing damper (ABD) with an adjustable set point controlled by an electric actuator (24V or 120V). The unit can toggle between two pressure independent CFM setpoints; the low-flow setpoint maintains a constant minimum ventilation rate, while the high-flow setpoint provides boosted on-demand ventilation. The ABD-Z2 helps achieve the requirements of ASHRAE 62.2 for acceptable indoor air quality and can be ideal for use in apartments and condominiums, education buildings and dormitories, hospitals and clinics, hotels and motels, and nursing homes and assisted living facilities.
Outdoor mixed-flow square inline fan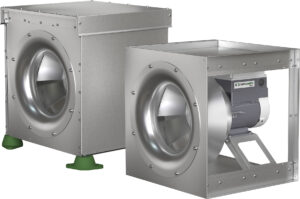 Greenheck's SQ mixed-flow fan line featuring a unique combination of high efficiency, low sound, and ease of installation in a square housing design now includes a new outdoor option along with additional accessories and sizes. The SQ mixed-flow fan can now be specified for ducted horizontal-mount outdoor applications when space constraints require a cost-effective rooftop-mounted unit. The outdoor option is base-mounted and includes a full cover over the unit to protect electrical components and prevent water entrainment.
New accessories include inlet and outlet guards to protect against intrusions; these guards remove easily for maintenance and inspection. The SQ mixed-flow fan's new filtration box provides a compact, clean air solution while eliminating the need for special remote filter box assemblies. Removable access panels on both sides of the filter section allow for easy access and maintenance. A variety of washable aluminum, MERV-8 and MERV-13 filters are available. These accessories allow installation of the SQ mixed-flow fan in a wide variety of inline applications.
With the addition of sizes 12 and 15, mixed-flow model SQ is now available in ten sizes, 12 through 33, with performance ranges up to 27,497 cfm and up to 3 in. wg. Model SQ is available with single-phase or three-phase direct drive Vari-Green motors up to 10 hp. Greenheck SQ mixed-flow fans are licensed to bear the AMCA Sound and Air Performance and Fan Energy Index (FEI) seals. FEI allows comparison of fan efficiencies to improve selections to meet code requirements and provide highly efficient performance in a smaller size fan. Greenheck SQ mixed-flow square inline fans are suitable for supply, exhaust, return, or make-up air systems in indoor and outdoor clean air applications where space is a prime consideration.
For 75 years, Greenheck has been committed to promoting the highest levels of indoor air quality by offering a wide range of ventilation products for commercial and institutional buildings, along with responsive customer service and its CAPS product selection tool and HVAC University product education series.