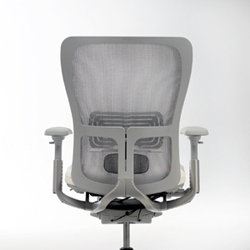 December 12, 2005—After earning Silver Best of NeoCon, a Gold Product Award at NeoCon Canada IIDEX and Gold Cradle to Cradle Product Certification from McDonough Braungart Design Chemistry, Haworth Inc. has announced that the companys newest chair, Zody, has won a 2005 Good Design Award. Zody is also Greenguard certified and has 16 patent pending innovations, says Haworth.
Founded in 1950 and presented by Chicago Athenaeum Museum of Architecture and Design, the Good Design award recognizes new and innovative product concepts. It is one of the oldest and most important design competitions worldwide. Zody was chosen for an award among hundreds of submissions ranging from an airplane to a paper clip – from all over the world.
Haworths internal design studio, in conjunction with ITO Design in Germany, created Zody with clean lines and smooth graphic character based on the T-connection of the back, says Haworth. The chair integrates North American and European design influences, resulting in a flowing functional form which balances ergonomic performance with international style. With its broad offering of upholstery, mesh, finishes and the ability to scale its configuration, Zody blends well in diverse environments. The chairs designed performance is evident in attention to detail, material quality and world class performance.
Zody also introduces PALT, a revolutionary asymmetrical lumbar support system, allowing the user to increase support to either side of the lower back independently, depending on preference. This system is a result of a joint study between Haworth and The Human Performance Institute of Western Michigan University, which found that 71 percent of study subjects self-selected asymmetrical lower back pressure to maximize comfort.
For more information, visit the Haworth Web site.