by By Kevin Butler, MS, CPE — Americans are feeling more cramped at work than ever before. Since the implementation of the office cubicle, the size of the average workspace has shrunk. In fact, in the short time frame from 1997 to 2001, the average amount of space allotted per employee went from 410 square feet to just 3551. Regardless of whether a company is growing or downsizing and looking to lease smaller space, more individuals are working in smaller workspaces.
Square footage continues to be expensive and companies are looking for ways to become more efficient in light of the weakening economy. Facility managers know that extra space can often be hard to find. They are continually challenged with finding ways to ensure employee satisfaction and comfort in their working environments.
Making your space work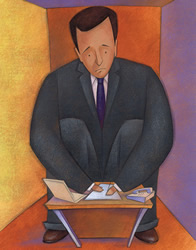 Ergonomics—the science of designing work environments to better fit the capabilities of the individuals using them—is an excellent way to proactively maximize the efficiency of a space without sacrificing an employee's well-being. A poorly-designed, small workspace has the potential to cause injury to workers, decrease productivity and overall job satisfaction. By implementing the principles of ergonomics into a workspace, businesses are able to optimize their space without sacrificing employee health, comfort or morale.
Cramped workspaces can cause unnecessary strain and pain to the body—leaving an individual at risk for serious injury, including musculoskeletal disorders like tendonitis and carpal tunnel syndrome. Proper ergonomics ensure that the body can achieve and maintain a neutral position throughout the day—alleviating the burden caused by the physical constraints of a small area.
If employees are forced to work in a smaller space, the least that should be done is grant control over that area and the ability to achieve a neutral posture. A neutral posture helps the body avoid the repetitive stress and bodily strain that can debilitate members of the workforce by creating new ailments or aggravating current ones. A simple addition of a back support to every employee chair or a keyboard tray to every desk helps take the guess work out of maintaining correct position throughout the day.
Tools for success
There are many ergonomic product solutions on the market designed to allow an individual to maintain a neutral posture while working throughout the day. By providing employees with the proper tools, facility managers can help companies save money spent on unnecessary worker's compensation claims, regain lost productivity and increase an employee's job satisfaction that can ultimately impact an individual's quality of life. The most effective products focus on the parts of the body most commonly affected by poor ergonomics. The following are some examples:
Palm support
A computer mouse often lacks sufficient ergonomic design elements, making a palm support a key tool for workplace injury prevention. A palm support encourages natural and healthy movement to avoid dangerous risk factors caused by awkward postures and contact stress.
Keyboard tray
The layout of a typical workspace makes the proper position of a keyboard below the desk to prevent shoulders from staying in a tense, fatiguing position throughout the day. A keyboard tray allows shoulders to be relaxed and elbows to stay at an employee's sides.
Back support
Designed to prevent slouching and to provide lumbar support, a good back support can prevent back pain and provide optimal working comfort.
Foot rocker
A common mistake employees make is sitting with their legs crossed or in an awkward position. A foot rocker can ensure thighs are approximately parallel to the floor while still encouraging movement to increase circulation while sitting.
In addition to these products, employees can implement ergonomic techniques into their daily routine—since few are aware of the potentially damaging habits they perpetuate at the office. To ensure health and comfort throughout the day, employees should remember a few key tips.
Eyes
Employees should be approximately an arm's length away from the computer monitor and the position of the top of the computer screen should be at, or slightly below, eye level. To allow the eyes to rest, mini breaks should be taken every 10 to 20 minutes by looking away from the computer monitor.
Shoulders
Shoulders need to be relaxed and in a neutral position throughout the day. Elbows should be close to the employee's sides while using the keyboard and mouse. By taking a moment every so often to roll the shoulders up and back, tension can be alleviated daily.
Hands and wrists
Wrists should be kept in a straight, neutral position. The bottom of the employee's elbows should be kept even with the keyboard height, not below.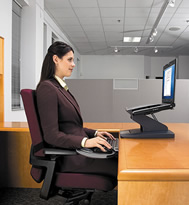 Proper ergonomics ensures the body can achieve and maintain a neutral position throughout the day, alleviating the burden caused by the physical constraints of a small area.
Back and legs
Chairs need to be adjusted so thighs are approximately parallel to the floor. Sitting back in the seat also allows the lower back to be supported firmly by the chair or support cushion. Employees should stretch their backs and legs at least every hour.
As the working environment continues to evolve, facility managers are often forced to shrink the individual office space for each employee. This trend signifies the importance of practicing ergonomic principles and implementing the right product solutions to maintain a healthy, comfortable and happy work environment.
1 International Facility Management Association, 2001

Kevin Butler is a board-certified professional ergonomist with extensive experience in creating healthy work environments. Butler has played an integral role in National Institute for Occupational Safety and Health research initiatives and has international product design experience. A member of the Industrial Engineering Honor Society, Butler has been a continuing education certified presenter for the International Interior Design Association, IFMA and the American Institute of Architects.