by By Elaine Aye, Sheila Sheridan — These days, green design, construction and operations reap so many benefits that building owners and facility managers everywhere are exploring options in this arena. Where costs once were a factor, integrated systems thinking, technological advancements, rising utility prices and lifecycle analysis have tipped the scale toward a favorable return on a wise investment. Moreover, buildings influence climate change, human health, the local ecology and greater environment—making sustainable practices critically important for quality of life. As owners and managers seek to minimize their buildings' impacts, many choose the U.S. Green Building Council's Leadership in Energy and Environmental Design (USGBC's LEED) rating system. LEED is not the only option to guide green facilities, but also provides a solid framework and third-party verification. However, navigating LEED is a complex endeavor. Creating a sustainable facility that works for your mission, goals and unique circumstances requires much more than filling out documentation and accruing points. According to Jeff Blosser, executive director of the Oregon Convention Center, having a dedicated LEED consultant on the team is extremely valuable.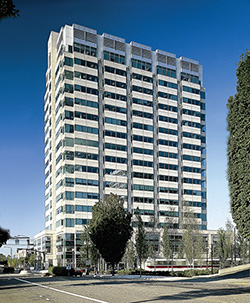 Liberty Centre: Liberty Centre, Portland, Ore.
Photo courtesy of: Ashforth Pacific
"LEED is a big process and you need someone who can assess your opportunities and identify what you shouldn't pursue. You need someone who can listen to the entire team, figure out what works and stay focused on managing the LEED process—that means someone who truly understands it and works with it everyday," he says.
Start with the right help
The Green Building Certification Institute (GBCI), which evolved from the USGBC, offers an accreditation program to recognize individuals' familiarity with LEED requirements and the certification process as well as knowledge of green building practices. A LEED Accredited Professional (LEED AP) is the designation for a person who has passed the GBCI's exam. Projects undertaking LEED certification receive one point for having a LEED AP on their team. At the end of 2008, there were 74,500 LEED APs in the United States alone.
Over time, the rating system has become much more sophisticated and now offers an array of different products—LEED for New Construction, LEED for Commercial Interiors, Healthcare, LEED for Retail, LEED for Existing Buildings: Operations and Maintenance, etc. As a result, the GBCI is creating a tiered platform for LEED credentials. Starting in 2009, becoming a LEED AP will be a two-part process that first involves passing a general exam to be a LEED Green Associate. Then, the candidate will take a second exam within a specialty track (such as Operations and Maintenance) to become a LEED AP.
Deciding you want to work with a LEED AP is only the beginning. When hiring a LEED consultant, certain qualities will help assure your success—not only in achieving the level of certification you desire, but also in continuing to operate and expand in sustainable ways.
Defining characteristics
Know what to look for before you interview. At a minimum, your LEED consultant should be an effective communicator with strong project management skills.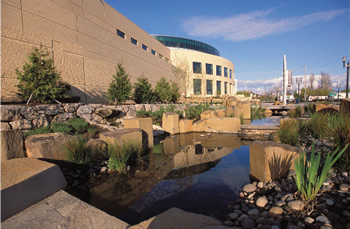 Oregon Convention Center: Oregon Convention Center, Portland, Ore.
Photo Courtesy of: Dan Tyrpak Photography
Relevant credentials
The design and construction of green buildings and existing buildings' operations are complex fields—one size does not fit all. Ensure your consultant has a practiced background in the built environment. Project management skills are important to orchestrate the process, but relevant experience in the building sciences such as an architect, engineer, interior designer or facility manager is key to understanding how a building functions.
Strategic thinking
Your ideal consultant will understand that a building is a living element. LEED certification is not a moment in time but rather the beginning of a journey that will need ongoing attention and proper upkeep to be maintained correctly.
While LEED certification levels are based upon meeting criteria in multiple categories, it's not intended as an isolated point-by-point system. Be sure your consultant has a solid grasp on what the USGBC is trying to accomplish beyond the details of the reference guide and can recognize the synergy between credits. They should be able to help you implement policies that address the framework as a whole and have a clear idea of what the cost implications are of those actions. Wade Lange, vice president of property management for Ashforth Pacific, says that the first LEED consultant they worked with originally took a piece-by-piece approach. "It was very frustrating to accomplish one request and then have the consultant give us a new list of points to meet every time we turned around," Lange explains. "The second consultant we hired knew how to collect information that met the overarching LEED goals. They provided detailed spreadsheets so we could just fill in the information. This is a time-consuming process, and I don't think we could've made it without that kind of support."
Relationships
In a process that requires many different players, a consultant needs to understand the varying agendas and be able to pull people together to focus on the common goal. Your consultant should be able to identify the nuances and cross relationships of people working within the building and be equipped to help your staff integrate the policies into their workplace. Empathy for the design professionals and facility managers—their objectives and the decisions they face—is critical, which is another reason why it is important for the consultant to come to the table with relevant experience in the built environment. Your consultant should also realize that the complex process requires a wealth of information, recognize the limitations of their expertise and be able to work with the specialists needed to reach the goal. Based on the culture of your company, there will be other characteristics you will want to identify up front to ensure a smooth process.
Deliverables
A LEED consultant has specific responsibilities and you need to be clear about each others' expectations. Be realistic about how much time you and your team can devote to this effort and decide which areas the consultant will cover. At the end of the process, what is your ultimate goal beyond certification? Mutually establish a schedule and write timeframe benchmarks into your contract to keep the process on track. Tough decisions will have to be made, and part of the consultant's job is to champion big-picture solutions that benefit your building beyond the LEED framework. LEED certification offers one means to make a facility greener, but the consultant should be able to offer suggestions and solutions that innovatively meet your sustainable goals outside the framework, such as corporate sustainability or attracting tenants into your building. The consultant will advocate for the owner, and balance individual needs with the larger project goals. They will bring sensitivity toward the impacts of decisions on the stakeholders, building operators and occupants as well as the environment.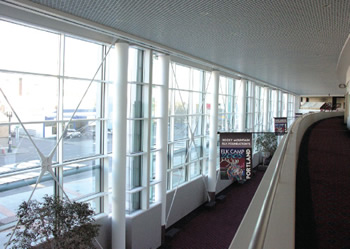 Oregon Convention Center daylighting: Oregon Convention Center daylighting interior
Facilitation
People often focus on the detailed task of providing the LEED documentation. While the consultant should be able to manage the appropriate documentation crucial to achieving certification, the right person will be first and foremost a facilitator. As the facilitator, the consultant will be able to explain the process in a way that's meaningful to a variety of constituents, including vendor contractors, employees and tenants. Team members are focused on their own work, and it is the consultant's responsibility to drive the process and hold the team accountable.
"You need to establish a strong rapport with your consultant, because a good one will be constantly contacting you to keep you focused and be sure you are on track," says Lange. There's a lot of science behind green building, and the consultant will be able to bring the right resources to the table for energy modeling, daylight modeling, commission ing, etc. The players they assemble will assist in both evaluating the immediate project and maintaining the long-term goals.
Money matters
The consultant will understand the consequences of value engineering and be able to provide insights into the process. Because they are helping you create integrated solutions, they recognize that decisions may affect the system synergies. For example, eliminating a cool roof during the value engineering process may impact the efficiency of the mechanical system. A LEED consultant should support you in getting tax and utility incentives to offset your costs and know which level of certification the incentives are tied to. They must carefully monitor project changes, as missing the necessary points to achieve the targeted certification level could cost you a lot of money.
Foundation for the future
Express upfront the nature of your longterm goals, and if you want the consultant to stay involved after certification is achieved. If your project started as a LEED for New Construction, the consultant should create a strategy for how operations and future capital improvements should proceed. If you are starting with LEED for Existing Buildings: Operations and Maintenance, they should help you create the tools and mechanisms to internally track and maintain sustainable operations well into the future. These practices will help create a better building, and bring value to your facility, its occupants and your bottom line long after your LEED certification and plaque are awarded.
Moving forward
It's important to develop the right infrastructure to ensure continued success. An effective consultant can help communicate to tenants, stakeholders and employees the importance of maintaining a sustainable facility. One way to accomplish this would be to develop the infrastructure, such as spreadsheets and software tracking systems, tailored to your management systems and overall maintenance and operations practices. LEED for Existing Buildings: Operations and Maintenance requires that you recertify your building at least once every five years, more often if possible. Developing a plan for the future can support your efforts in this area. "Our consultant left us with management tools that set in motion what we should think about in terms of budget for new capital projects, and a scorecard that tracks our purchasing, HVAC [heating, ventilation and air conditioning] system, water usage, etc.," says Blosser. "It's a dynamic environment so you need to monitor the process all the time."
Put your green policies into vendor contracts to guarantee that they continue to use environmentally responsible products, equipment and practices on your property. Ongoing education is also imperative. Facility staff turnover, new building tenants and employees, and changes in the scope of operations and maintenance present potential challenges to your commitment. Protect your investment by training staff and building occupants on your sustainable policies and procedures at regular intervals. Create a green guidebook that shows tenants and employees how the practices benefit them to encourage participation.
Establish checkpoints to assess your efforts. Revisit your plans every six months to see if you are achieving targeted goals. Make sure your staff is operating the systems correctly—using the specified cleaning and maintenance products, and following your waste management plan. Ask for feedback and suggestions, and make any necessary course corrections.
Greening your building and operations is a process that will serve your facility by reducing overall maintenance and operational costs, support the well-being of building occupants and reduce your overall environmental footprint. This, in turn, ensures long-term viability in a changing marketplace. With the right selection, a LEED consultant can help make the process more efficient, training you and your team to internalize optimal practices while working in the best interest of your building and operations both now and in the future.
Author Bios

Elaine Aye, IIDA, LEED AP, LEED Faculty, is a principal at Green Building Services Inc. She leads the firm's building management solutions team, which provides LEED project management and strategic building management services to building owners and facility managers throughout the United States. Aye can be reached at +1-866-743-4277 or elaine@greenbuildingservices.com.

Sheila Sheridan, CFM, CPM, LEED AP, LEED Faculty, IFMA Fellow, is the principal of the consulting firm Sheridan Associates. From 2002- 2004, Sheridan was IFMA chair. She also has served as vice-chair for the USGBC existing building committee. Sheridan can be reached at sheilasheridan@comcast.net.