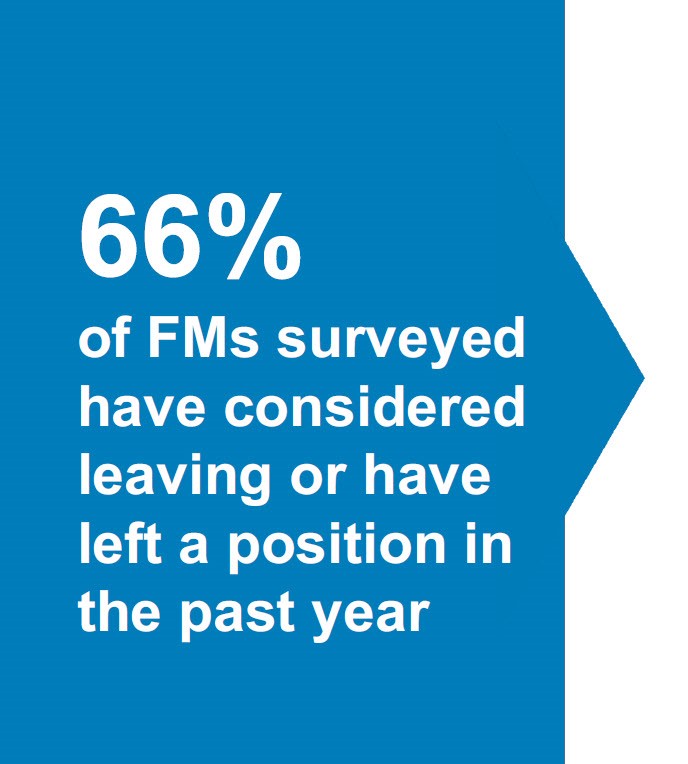 Presented by: Randy Olson and Eileen McMorrow — A common theme of discussion for any gathering of senior facilities managers is the urgent need for FM staff training and fully trained FM professionals — who can handle the workload for building operations and understand what it takes to provide services to employees in the workplace. Or anyplace they may be working.
If your FM department is in danger of losing its current FM team members, they need perks to demonstrate your commitment to their career advancement, encouraging them to stay.
This November 2022 panel discussion of industry experts at NFMT Remix, Las Vegas, addresses:
Understanding the impact FM training can have on staff retention
Identifying the 24 knowledge areas and skills that encompass the FM skill set
Contrasting the top training priorities of FM managers and staff; and
Discussing the implications of training.
Gain tips from the experts: Eileen McMorrow, editor-in-chief, The McMorrow Reports and FMLink; John Hajduk, ProFM, MBA, executive director, Facilities Operations, Sodexo; Jessica Bickel, FMP (working on her ProFM now), facilities coordinator, Reece Group USA; and Randy Olson, VP of development, ProFM Institute (not shown).
Jessica Bickel commented about her current position:
I did not apply for my current job. Someone came to me offering the role. By the time I accepted my position, I was in negotiations with three different companies in three different states. It was the first time in my career that I had companies almost competing to have me join their team. As FMs, we are used to being considered a cost center.
John Hajduk remarked about his team:
If you think about it, I have more time than I ever had in the past year. I have people performing the work I used to do, and they do it better. . .  Look at where you are spending your time and money . . . the most effective team is one where you have decisions being made at the lowest level and people feel empowered to make the decisions . . . but we need to give them the right tools . . . that includes equipment to training.
What knowledge and skills do FMs need?
In its survey, the ProFM Institute found that 95% of respondents indicated that the 24 areas of the ProFM Body of Knowledge were complete, defining the knowledge, skills and abilities of today's FMs.
Eileen McMorrow concluded:
Staff have different training needs now. FMs need to answer to real estate management about the structure of how and where people work. When people are in the office, their engagement has to be at such a very high level . . . what can we do about the physical space? You have to train your FM staff to be hyper-responsive . . . with a specialized, purpose-driven workplace.