Executive Summary
by Thomas Jackson and Michael Moran — Commercial cleaning contractors face unprecedented demands for new standards, revised methods and a more visible presence in the delivery of their services to commercial real estate, manufacturing and other large facilities. COVID-19's precise characteristics continue to be debated and may yet evolve further, but the economic distress caused globally by pandemic-related lockdowns have supercharged the appetite among building owners, corporate clients and public sector landlords for deeper, more thorough cleaning of facilities both to stem the risk of viral spread and to reassure people that the buildings in which they work, shop, live, and breathe are taking every step possible to safeguard their health. Sadly, the falloff in revenues many clients have experienced means these new demands often do not come along with additional funding. These changed expectations will persist well beyond the current pandemic period, meaning commercial cleaning contractors must revise time-honored assumptions on how to deliver their services, both for today's challenges and for the post-pandemic world. To meet these new demands, commercial cleaning must move from a territorial approach that assumes an after-hours, one-time pass through a given floorplan, to a targeted, data-driven metabolism that uses cleaning resources more dynamically and cleans based on usage and occupancy, demonstrating to clients and their occupants that post-COVID cleaning is more vigorous, responsive and effective.
Introduction
The COVID-19 pandemic, striking as it did without warning, left the Commercial Real Estate (CRE) sector and all of its varied service contractors, tenants and portfolio investors with little time to think strategically about how to react. With many offices, retail spaces and other facilities emptied of occupants by emergency lockdown orders aimed at containing the virus, a kind of triage took root throughout the CRE ecosystem.
Tenants scrambled to implement remote working technologies where possible, or to enact protocols aimed at keeping staff, customers and other occupants safe through social distancing or contract tracing protocols.
Landlords and portfolio managers struggled with demands for rent holidays and laws in some jurisdictions suspending evictions even as their own revenues and business models were under stress.
Retail and manufacturing firms wrestled with the fact that remote working offered little relief and that maximizing the number of workers who could safely remain at work has a direct correlation with corporate revenue.
Facilities Managers (FMs) grappled with the reality that expectations around cleanliness, occupant wellness and building configuration would be permanently raised and altered by the pandemic.
Commercial cleaning and other building management contractors, already locked into low margin contracts, faced new demands to provide reassurance to building occupants that every step possible was being taken to prevent the spread of the virus – all without any additional money or resources to do so.
Indeed, the economic disruption caused by lockdown orders and lingering public fears of the deadly virus meant few businesses had the luxury of directing new budget resources toward initiatives that would deal with these new challenges. By and large, CRE professionals were expected to redeploy existing resources, and in many case, do more with fewer resources because of the collapse of revenue brought on by lockdown mandates, defaults on lease payments and other economic distress.
For much of the first six months of the pandemic – whose onset in much of the developed world can be loosely pegged to the lockdown orders that began in the second week in March, 2020 – commercial office buildings and many facilities that would normally see high density occupancy like shopping malls, university and other school campuses, movie theaters, sports stadiums, train stations and other transit hubs – have looked like ghost towns.  This has deepened economic distress, with the 37 nations represented by the Organization of Economic Cooperation and Development (OECD), a club of industrialized nations, seeing GDP drop by an average of 9.8 percent in Q2 of 2020. For comparison's sake, the OECD's average GDP hit in Q1 2009, the worst quarter of the Great Recession, was a mere 2.3%.
The near complete shutdown of commercial and high-density spaces buffered the effect on the commercial cleaning industry, which in many cases could adopt a mothballing approach. This may have conserved budget and resources in the short run but it also left festering the question of how companies will to adapt to the so-called "New Normal."
Clean = Safe: Grappling with the 'New Normal'
In reality, no one yet knows for sure what this "New Normal" entails, whether it will mark a permanent shift in employment and leasing practices, and if a great upheaval in the CRE sector lurks ahead. Two things appear certain at this juncture, however:
The demands of the next phase of the COVID-19 pandemic – the Return to Work (RtW) phase – will fall heavily on Facilities Managers and on the commercial cleaning industry as owners and operators of commercial real estate assets seek to implement new policies to reassure occupants. With the industry under financial duress and bracing for new regulatory pressures, these new demands will not necessarily come with additional budget resources. In effect, the demand will be to clean more effectively with the same resources or less.
The priority accorded to cleaning, building wellness, and the safety of the people inside a facility will rise and this new emphasis will become a permanent feature of Facilities Management and commercial cleaning operations.
How should commercial cleaning firms react? The first step is in asking the right questions and attempting to fully understand the implications of the pandemic for commercial real estate. In some ways, the pandemic should elevate the value proposition of a well-designed, competently and competitively delivered cleaning service. That should be welcomed by all in the industry whose work too often takes place after working hours and thus has little visibility to staff, customers, or the facilities managers who pay their cleaning bill.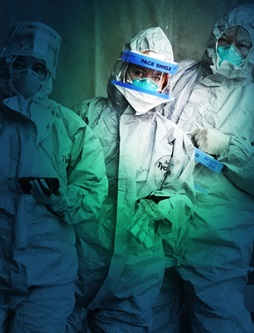 Facing the new realities is also key. COVID-19, whether it diminishes in the autumn and winter of 2020-2021 or spikes anew, has forever altered the attitudes of those who own and operate commercial buildings, from offices, to apartment blocks, to factories and warehouses. Cleanliness, and a visible, persistent effort to maintain it, may or may not play a role in actually deterring the spread of COVID-19 and similar coronaviruses, but it unquestionably prevents the spread of microbial and other types of infections. Perhaps as important as any of these scientific facts, manifesting an aggressive and professional effort to keep a facility clean now plays an important role in reassuring the people inside a facility that everything possible is being done to keep them safe and secure. Social distancing and reconfiguring spaces to minimize density will not assuage the apprehension of people who have seen hundreds of thousands perish during the pandemic. If staff, customers, and tenants are to reoccupy the Built World in earnest, they will need to see that factors like sanitation, ventilation, social distancing, and basic cleanliness are taken seriously.
What commercial cleaning firms need to ask themselves
At the tactical level, it will no longer be possible to satisfy the demands of quality CRE clients by pursuing undifferentiated cleaning schedules. The typical Commercial Cleaning Services company approaches a modern job the way a military force approaches war: by plotting out a plan of attack that manages to cover all the territory in question with the resources available within a given timeframe. A typical plan of attack matches cleaners to square footage. In an after-hours office environment, for instance, large clients of Microshare generally assumed a single cleaner can cover about 4,000 square feet an hour, barring special demands like bathrooms or kitchens, which take longer to clean. Nonetheless, this approach – call it the territorial mindset – simply will not do in the post-COVID world, and especially not in the Return to Work period. The fact is, cleaning a large facility the way Caesar conquered Gaul will waste time and leave heavily utilized areas underserved. What's more, it ignores a crucial fact of the new normal: Commercial cleaning is coming out of the shadows. Building owners, corporations, and facilities managers have every reason in this new environment to want occupants to witness cleaners in action, tending to precisely those spaces that require attention, precisely when the need for attention is evident.
This leads to a series of questions that commercial cleaners should be asking:
What was my pre-COVID level of cleaning resources, and do I still have that budget to work with to meet the current situation? Or have the COVID-related economic pressures reduced my budget?
What are my incremental cleaning requirements (in total hours) due to increased cleaning related to COVID-19?
What is my company's/client's re-occupancy plans (over the next six months)?
How will I meet the increased cleaning requirements with my current resources?
Do I need to change the way I have configured my staffing and shifts to meet the new and existing requirements?
The answers to those questions can begin to inform a transformation of commercial cleaning operations. This sounds easy but is not: too often, back-of-the-envelope calculations about how to redeploy resources wind up producing little change. Either that, or the exercise produces a raft of raw data and insights that firms struggle to turn into actionable insights.
This is why, for instance, Microshare has developed C3A – the COVID Cleaning Capacity Assessment – to help our clients rethink the deployment and configuration of cleaning assets in the context of the pandemic.
From conquering territory to data-driven, targeted operations
This innovative assessment – the C3A tool – is designed is to take cleaning operations smoothly to the next level – a place informed by real-time data, and operating at maximum efficiency with minimal disruption. We call this "Incremental COVID Cleaning" and it implies a much greater use of data to make more precise decisions on what is cleaned, and how frequently.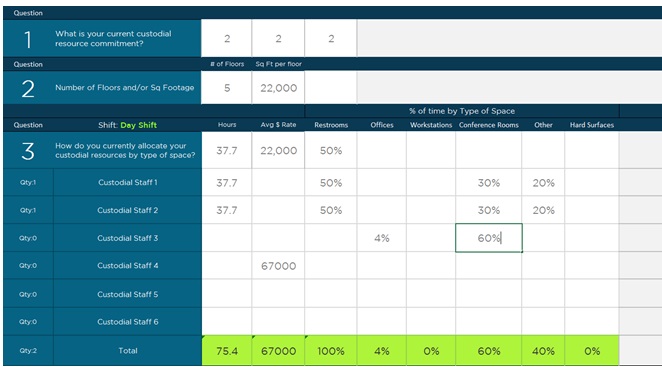 This transition was already beginning before the pandemic took hold; COVID-19, in some ways, is acting as an accelerant for changes that many in the commercial cleaning industry were already anticipating. One way to understand this transformation is through an analogy with the evolution of modern warfare. Where once it was enough to send a crew of three or four cleaners on a rotation through a given floorplan – akin the old military strategy of conquering territory – today's realities require a more targeted approach. This is made possible with the use of Internet of Things (IoT) occupancy sensors; simple, cost-effective devices that will provide real-time data on whether a given space was used lightly, heavily, or not at all during a given period. Just as sensors and guidance systems enable "smart weapons" and guided missiles on the battlefield, IoT sensors produce the data that informs the new, demand-driven approach to facilities cleaning. In effect, carpet bombing is out, precision targeting in. In commercial cleaning terms, this means certain areas – heavily used conference rooms or toilets – are cleaned multiple times during a given shift, while some offices or other spaces can be left untouched for the day.
Microshare, for instance, deploys an Occupancy Monitoring solution along with Predictive Cleaning and other sensors to enable this kind of intelligence. We believe these capabilities go a long way toward enabling the change in mindset required for progressive FM managers to meet the current and future challenges.
Check us out on the web:
Our site:
Clean=Safe Solutions:
https://www.microshare.io/cleansafe-suite-overview/
Smart Facilities Solutions
https://www.microshare.io/smart-facilities-dashboards-and-solutions/
eBook
https://www.microshare.io/2020/08/03/manifest-density-getting-your-workforce-and-facilities-back-into-production/
video:
https://www.microshare.io/2020/06/18/animation-how-universal-contact-tracing-works/
About Microshare
Microshare™ provides Digital Twinning solutions for the Commercial Real Estate, Health Care and Infrastructure sectors and the Facilities Management and REIT industries.  Our Data-as-a-Service approach leverages IoT metrics across multiple platforms, providing actionable insights with privacy, security, audit and confidentiality so that our clients can save money, rationalize strategic spending decisions and create new data sharing revenue streams. More at www.microshare.io.
In North America, contact Michael Kallmeyer
Tel +1-610-322-3641 | mkallmeyer@microshare.io
In Europe, MENA, Africa and Asia, contact Alex Ainley
Tel +44 118 384 2173 | aainley@microshare.io