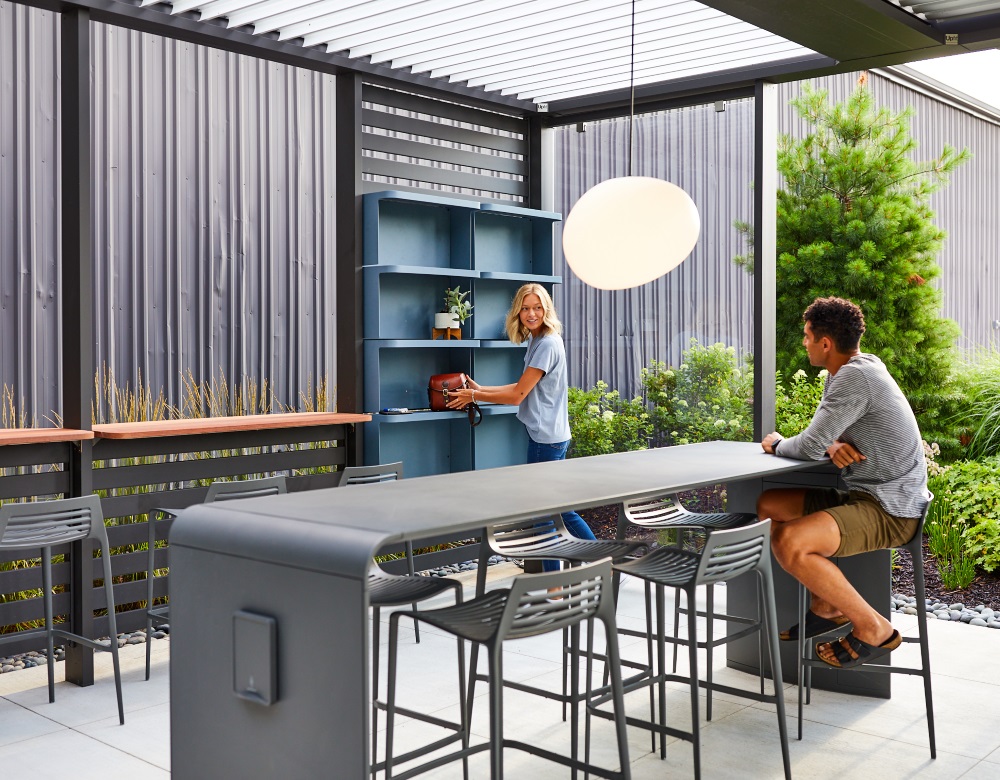 Chances are that some time in recent months you have dusted off that old bike in the garage, put on your walking shoes a little more regularly, or enjoyed other outdoor activities that are normally outside of your daily routine. This seems to be a pretty universal phenomenon that, as we are faced with the uncertainty and stress of our current situation, we turn to outdoor experiences for comfort and relief.
We know being outside makes us feel better, but does it make us actually be better? Can access to outdoor spaces drive larger positive public health outcomes? How do we use this knowledge to make our facilities safer, more enjoyable, and more productive to their constituents both in the immediate now and looking toward the future?
This paper draws on Landscape Forms' 51 years of experience activating outdoor spaces to describe the new research behind the outdoors and their health implications, the untapped potential found in underutilized outdoor spaces, new approaches to outdoor space design in light of COVID-19 concerns, and what aspects of product design are key to most safely and effectively activating these spaces.
Understanding the science behind health and the outdoors
The connection between time spent outdoors and benefits to physical and mental health may seem instinctive to many, but only rather recently has it become a topic of a substantial scientific research. According to Dr. Sara Warber, Clinical Professor Emerita of Family Medicine at University of Michigan, the connection is clear—our health is deeply connected to outdoor spaces and the environment.
"While it's something that we intuitively understand as humans, studies continually prove the health benefits of spending time outside. The emotional benefits of being outdoors are the best studied and most well-known—when outdoors, people's reported mental wellbeing is generally improved, positive emotions are enhanced, perceived stress is down, and feelings of depression are down," says Dr. Warber.
"But what I find even more fascinating is how the environment can actually change our physiology. There is more and more budding research that suggests when in nature, our immune system changes, our endocrine system changes, and our heart rate variability changes into a more nurturant state rather than an anxiety-stress state."
Dr. Warber finally points to the more abstract, philosophical benefits as the last component of her "bio-psycho-social-spiritual model" for analyzing the benefits of regular time spent outdoors. "Nature provides a context for us to get into the reflective mindset that we need as individuals to put our lives in order," says Dr. Warber. "Some of our research has focused on spiritual well-being, and while not everyone is comfortable with this concept, I think a focus on the transcendent experiences some people feel in nature is quite important."
Combining Dr. Warber's work with information from the CDC that says outdoor settings, because of better ventilation and ease of distancing, reduce the risk of viral spread, we see how access to quality outdoor spaces impacts humans in a very holistic way. It touches on the many different facets of health to make people happier, more physically healthy, more confident, more focused, and more productive.
Utilizing outdoor spaces to address current health concerns
Dr. Warber makes a case for the individual benefits of access to outdoor spaces, but how can these benefits be translated to the culture, productivity, and value of a facility?
Outdoor spaces are some of the least expensive to create and can pay some of the highest returns on investment—in terms of workplace culture, health and wellness, but also in terms of property value, and attraction and retention of the best talent.
Despite this, outdoor spaces often do not receive the same attention and financial support that their interior counterparts do. We often calculate the square-foot dollar value of buildings and interiors but don't do the same for a square foot outdoors, so it can be helpful to conceptualize these as pass-through spaces not separate or distinct from the facility, but as additional usable square footage in which to invest.
Activating these overlooked spaces marks a unique opportunity to both increase the value of a facility while providing tangible physical and cultural benefits for its users. Outdoor spaces begin just on the other side of the door, so there is a compelling need for innovative solutions that enhance the spaces adjacent to and in between buildings, innovative design solutions that address current health concerns while also providing the settings and relevant amenities that enable people to be more productive. 
Balancing physical and social health by design
Wellness is natural, but it won't occur without intentionality. And while distancing is a crucial part of curbing the spread of COVID-19, it doesn't have to come at the cost of our social well-being.
We are fundamentally social beings, and removing ourselves completely from our social networks and the outdoor environment can carry significant psychological consequences. This creates an important opportunity for designers and managers of built environments to thoughtfully balance these two fundamental aspects of human wellness.
In making these design decisions, it may be helpful to reframe the concept of social distancing as "physical distancing"—a recognition that we have the tools to create spaces that prioritize both physical distance and human mental health and wellness. From this insight comes new ways for facilities to sustain workplace culture and support a sense of confidence and morale in their users while navigating the significant and necessary societal changes at hand.
A focus on reducing physical contact, while maintaining—to the extent possible—the social connections that help people thrive and stay healthy is key to preserving the collective wellbeing of our communities and workforce.
Read Landscape Forms' new space planning guide for detailed solutions. 
Products and solutions for the now and for the future
As employees return to offices, students to campuses, and the public to social venues, the need for safe and confidence-inspiring natural spaces that facilitate responsible collaboration, connection, and social interaction is more important than ever. With the current urgency to enable social distancing and safer public interactions, many companies are introducing new solutions specifically designed for a new era of outdoor-centric, open-air living.
Among these solutions, certain features stand out as key to make facilities safer and healthier for the immediate future. Some of these features include:
Clear and concise visual cues to denote appropriate distancing
Modular panels and barriers to direct the pedestrian flow
Structural elements that elegantly define safe spaces for small groups
Solutions and settings that clearly yet respectfully communicate the desire for distance
Now is a time of great change but also of great opportunity. It is crucial to stay nimble and implement the relevant changes to help people stay safe and well in the current moment, but also to think about how these changes can help people lead better, more productive lives in the future. As the movement to transition more aspects of daily life outdoors persists, it is important these spaces have the qualities, amenities and architectural features that enable people to feel comfortable, safe and empowered to live, learn, work, care, play, eat and travel outdoors. Some of these qualities, amenities and features include:
Modularity, adaptability, and scalability to enable a structure to be tailored to a specific site
Methods to control natural disturbances like rain, wind, sun and glare
Structural elements that delineate space and can provide privacy when needed
Access to power for mobile devices
Access to lighting when needed
Surfaces and seating that prioritize comfort and productivity
Secure storage for personal belongings
Integrating unique outdoor experiences into commercial and public facilities will continue to play a key role in elevating the quality of life for those who inhabit them.  As new products, structures and solutions emerge as effective answers to current public health concerns, they should also be considered as important investments in future-proofing public spaces and meeting the new expectations for community wellbeing that will endure and persist over time.
About Landscape Forms
Landscape Forms is North America's leading designer and manufacturer of high-design site furniture, structure, LED lighting, and accessories, with a reputation for exceptional products and service. Its clients include municipalities, transit centers, corporate, college and health care campuses; and familiar brand leaders such as Harvard University, Linked In, New York Central Park Conservancy, Bryant Park, Google, Coca Cola, Oculus, U.S. Tennis Association (USTA), Nike, National Museum of African American History (Washington, D.C.), Barclays Center, Adidas, Children's Hospital of Philadelphia, Microsoft, and Uber. Landscape Forms was recently named a Great Place to Work-Certified company, named by 269 MAGAZINE as one of Southwest Michigan's Wonderful Workplaces, and named by Fortune Magazine as one of the Best Workplaces in Manufacturing & Production for 2020.