by Brianna Crandall — July 1, 2015—In addition to Knoll's Gold Award and Editors' Choice Award winners in the Best of NeoCon Competition, the workplace and residential furniture and accessories manufacturer introduced several other new products at the recent NeoCon 2015 contract furnishings show, two of which are highlighted below.
Knoll demonstrated a range of adaptable furniture solutions that support technology and its dynamic role in connecting people in and across workplaces. The company's "office network" concept crystallizes the relationship between the evolving role of social networks in the workplace and the technology networks and on-demand power and data access that enable them.
New products presented at NeoCon 2015 include the following.
Horsepower: Horsepower by Antenna Design is a visually light technology channel, spirited in form and steady on its feet. The independent, cord-set module serves as an on-demand, mobile power source suited to a range of Activity Spaces. Optional seat cushions create an impromptu bench in community spaces, and video display, whiteboard and open storage options equip flexible, shared work areas. Configured Horsepower modules can also furnish dynamic open plan environments with hardwired, multi-circuit power, cable management, suspended storage, desk supports, modesty panels and privacy screens.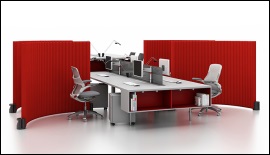 Pop Up: Pop Up by Antenna Design empowers users to shape their surroundings. The screens provide instantly adjustable space delineation, privacy and enclosure for primary and shared spaces. Used as an individual desk accessory, Pop Up allows users to create an ad hoc boundary when they desire focus or privacy. The screens can also be mounted to a worksurface, acting as a more flexible alternative to permanent screens. In addition, Pop Up provides adaptable space delineation and enclosure in shared Activity Spaces.
In addition, Knoll presented:
The Barber Osgerby Lounge Chair, embodying comfort and exceptional craftsmanship, with a unique silhouette and innovative aluminum structure, available in a range of fabric and leather coverings for residential and office settings;
Expanded offerings to Knoll's Anchorstorage collection to provide tailored solutions for open plan environments;
Additional elements in the popular k. lounge collection that plan in 90-degree configurations; and
Acoustic FilzFelt products by Architecture Research Office: wall, ceiling and space-dividing solutions to aid acoustic, aesthetic and privacy by combining standard components covered in 63 colorways of 100% wool design felt.