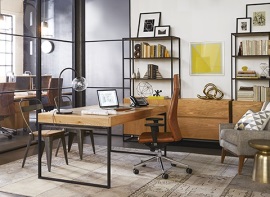 by Brianna Crandall — June 22, 2015—A recently announced collaboration between home furnishings retailer West Elm, a member of the Williams-Sonoma portfolio of brands, and office furniture designer and manufacturer Inscape Corporation garnered three awards for the partners in the Best of NeoCon Competition at last week's NeoCon 2015 contract furnishings show in Chicago. The jointly designed West Elm Workspace Bench Collection took home both a Gold Award and an Editors' Choice Award in the Furniture: Benching category, and an Editors' Choice Award in the Case Goods category.
The exclusive West Elm Workspace partnership capitalizes on the strengths of each company to reimagine the user experience in the commercial furniture market. The newly launched collection of more than 50 office products, designed by West Elm's in-house design team in collaboration with Inscape and available exclusively with Inscape, combines West Elm's exclusive designs, approachable price points and commitment to conscious business practices with Inscape's long and celebrated history (125 years) of creating functionally innovative products for the contract furniture industry.
The Gold-winning West Elm Workspace Private Office Collection provides function and many choices for personalization, supporting the partners' belief that offices (like homes) should value durability, simplicity and small pleasures. The Modern, Mid-Century and Industrial collections have an accessible approach to personal style. Building on West Elm's home expertise, the private office solutions merge style with smart design — from rich wood and fabric finishes that make work more welcoming, to modular storage systems that can be used as freestanding pieces or grouped together.
"There is an increasing desire for meaningful change in the way that offices are designed — and this doesn't just apply to businesses in the creative sector," said Jim Brett, President of West Elm. "The ability to truly personalize a workspace of any size based on needs like style, function, productivity and collaboration, is missing from the office furnishings market. Our partnership with Inscape and the forthcoming launch of West Elm Workspace will change this, giving businesses of all sizes the ability to design an ideal and differentiated workspace."
"We're very excited about this partnership with West Elm, which will allow us to bring a residential aesthetic to the office while maintaining the standards demanded for contract interiors," said Jim Stelter, CEO of Inscape. "We've gone beyond just creating new product collections and reimagined the entire process, from selection and visualization to specification and use of our designs."
Highlights of the collaboration:
Over 50 new products, designed by West Elm in collaboration with Inscape, in Modern, Mid-century and Industrial collections, launched in late spring. The new collections span benching, systems, private office, tables, task, guest, occasional and lounge seating, storage and accessories.
A fresh approach to distribution includes a distinct reseller program in the top 35 markets in North America and a new user experience utilizing West Elm's residential style.
An immersive visual and selection experience for customers and the design community simplifies and improves the design and purchasing process.
A sustainability program originates with merchandizing and continues through delivery, production, and use of the products.
Sit/stand options and ergonomic solutions help facilitate wellness in work environments.