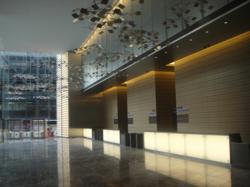 by Shane Henson — April 2, 2012—Eleven Times Square, dubbed as Midtown Manhattan's smartest, most techno-advanced office tower, just became even smarter with the recent installation of Smarter Security Inc.'s Fastlane Plus optical turnstiles that were chosen to provide more secure and efficient access throughout the 40-story, LEED (Leadership in Energy and Environmental Design) Gold-certified buildings.
Fastlane Plus is a sleek optical turnstile that uses metal barrier arms to deter and obstruct access, says Smarter Security. It is available in three models, including the 400MA, 30MA, and AS. The barriers combine with advanced Fastlane optical technology to produce high security with minimal false alarms. Smarter Security offers a variety of turnstile models with and without barriers and also works with customers on design customization.
SJP Properties, owner and developer of Eleven Times Square, installed nine lanes of Fastlane Plus at the building, with three lanes securing access to each of the tower's elevator banks. Building management took the advanced step of integrating elevator destination dispatch technology into the turnstiles to further speed access to offices and increase security, says the building's management. Smarter Security also customized the turnstiles to better complement the building's modern and elegant lobby design.
SJP Properties worked with its integrator, G4S, to install the destination dispatch technology in the turnstiles at Eleven Times Square and make them even more effective. ThyssenKrupp destination dispatch displays were embedded into the tops of the turnstiles to help direct users to the correct elevators. By adding the displays into the turnstiles, individuals only need to identify themselves once and do not need to stop at a second panel before proceeding to an elevator.
Barcode/proximity readers from G4S also are embedded in the turnstiles, which help simplify and streamline the entry process for visitors. Smarter Security worked closely with SJP Properties and its architect to customize the look of the turnstiles by making them longer, adding a non-directional metal finish, and fashioning harder edges. Creating a distinctive, customized look for the turnstiles was considered an important design element for the state-of-the-art building.