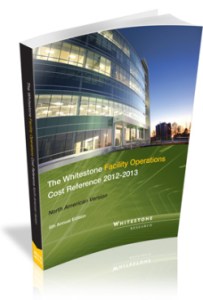 by Brianna Crandall — September 14, 2012—Whitestone Research has launched the 2012-13 versions of its facilities operations and maintenance and repair cost reference books, "the global standard in facility cost forecasting," as the company says. The new reference books, valuable for benchmarking, budgeting and life cycle cost planning, are completely revised, with new cities and models as well as updated cost items and labor rates.
Whitestone says its products provide unique operations and maintenance (O&M) cost data for all major building types and hundreds of locations around the world, and are used every year by many of the world's largest property owners and management firms and others responsible for anticipating and justifying building operations and maintenance costs.
The Whitestone Facility Maintenance & Repair Cost Reference 2012-13 (17th Ed.) is a comprehensive source of in-house and contract building maintenance and repair (M&R) cost statistics. It provides detailed M&R costs for 74 building types in over 400 North American and international areas. Data is included for over 1,700 building components, over 30 trades, and more than 4,900 maintenance tasks.
A companion to both versions of The Whitestone Facility Operations Cost Reference, it provides a collection of unique tools for answering such simple but important questions as:
How much does it cost to maintain an asset over its service lifetime?
How many trade labor hours are required?
What is the historic inflation rate of M&R construction cost?
How do M&R costs vary across different metropolitan areas?
What is the lifetime of specific asset components?
The Whitestone Facility Operations Cost Reference, 2012-13, North American Version (6th Ed.) profiles operations costs for 74 building and utility types in all major North American areas. Alternative levels of service and costs are estimated for custodial, energy, grounds, management, pest control, refuse, road clearance, security, telecommunications, and water and sewer. The updated version offers more cities and building types than the previous version.
The Whitestone Facility Operations Cost Reference, 2012-13, International Version (2nd Ed.) is the only source for international facilities costs, says Whitestone. This book provides detailed operation cost statistics for 74 asset types in over 150 areas around the globe. As with the North American Version, data is included for three levels of service for 11 operations, as mentioned above. Also included are unique national and local cost indexes.
Also available from the company is the Whitestone CostLab, the new online facilities cost tool. A two-minute video and free seven-day trial are available online. CostLab includes PDFs of all three Whitestone cost books. Users can store their entire facilities portfolio online, generate Cost Profiles from 74 Whitestone building models or from custom specs, search all Whitestone O&M Cost Libraries, and estimate M&R project costs.