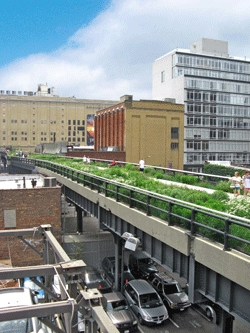 by Shane Henson — November 9, 2011—Green roofs and walls are fast becoming an innovative and aesthetically pleasing way to make buildings more sustainable, offering stormwater management, improved air quality, and spaces for new amenities as well as moderating the urban heat island effect. Leaders in the design and construction of these unique constructs were recently recognized through the Green Roofs for Healthy Cities (GRHC) 2011 Green Roof and Wall Awards of Excellence.
The awards will be presented at the CitiesAlive: 9th Annual Green Roof and Wall Conference at the Sheraton Philadelphia Downtown Hotel in Philadelphia, Pennsylvania on Friday, December 2.
The recipients are:
Green Wall Award for the Phoenix Convention Center in Phoenix, Arizona: In a quest to make the desert city of Phoenix more comfortable, sustainable, and in harmony with its natural environment, this project created a habitat garden that thrives on the urban structure that embraces it.

Green Roof—Intensive Industrial/Commercial Award for the Brooklyn Grange in New York: Combining a prolific rooftop farm, chicken coops and an apiary, the Brooklyn Grange has managed to be a pioneer of rooftop agriculture in the most urban of environments.

Green Roof—Extensive Institutional Award for Nathan Phillips Square in Toronto, Ontario by PLANT Architect Inc. & Perkins + Will Canada: This transformation of the roof of Toronto's City Hall has resulted in a beautiful and accessible public park space that will serve as a mecca for city celebrations for years to come.

Green Roof—Extensive Residential Award for Hood Canal (private residence) in Quilcene, Washington by Hadj Design: The green roof on this coastal residence is a perfect example of a small-scale project with an even smaller development impact.

Green Roof—Intensive Institutional Award for High Line in New York, New York by Kelco Construction: A public park built on a 1.45-mile-long elevated rail structure, this project has succeeded in integrating an industrial past with a vision of reclaimed nature. It is currently the longest green roof in the world.

Green Roof—Intensive Residential Award for Millennium Village in Vancouver, British Columbia by Durante Kreuk Ltd.: Built as the Athletes Village for the 2010 Winter Olympics, this project incorporates almost 200,000 square feet of green roof with rainwater harvesting, therapeutic considerations, and sophisticated landscaping.

Green Roof—Extensive Industrial/Commercial Award for EcoCenter in San Francisco for Habitat Gardens: Situated on San Francisco's first 100% off-grid building, the EcoCenter's green roof is an excellent example of a project that uses a closed-loop water system and is perfectly integrated into its natural surroundings.

Green Roof—Special Recognition for Central Avenue Constituent Services Center in Los Angeles by Paul Murdoch Architects: The green roof on the Central Avenue Constituent Services Center brings publicly accessible green space and excellent design to one of Los Angeles' most cement-filled areas.