by Shane Henson — December 26, 2012—OPEX Corporation, a company providing solutions for high-speed mailroom automation, document imaging, and material handling, has announced the launch of Perfect Pick, an automated, high-speed, goods-to-person picking solution that the company says dramatically improves the rate that goods move through a warehouse or distribution center.
Perfect Pick is engineered to simplify the complexity associated with other shuttle technologies in the market today, says OPEX. Perfect Pick's revolutionary "one-touch" design is based on a single component—the iBOT. According to OPEX, iBOTs are intelligent, wireless vehicles that have 100 percent access to the inventory in a single aisle. Unlike other shuttle systems that must rely on lifts, conveyors or transfers, iBOTs efficiently travel around inside the storage rack at rates of up to 1,000 dual-cycles per hour picking and stocking inventory simultaneously and delivering totes or trays directly to the picking station located at one or both ends of the aisle.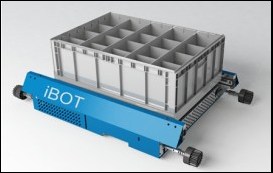 A redundant system, Perfect Pick has no single point of failure, making it a reliable picking solution ideal for manufacturing and order fulfillment operations, explains OPEX. Autonomous iBOTs can be quickly and easily extracted or introduced back into the system without any major disruption to ongoing operations.
Perfect Pick is also highly scalable in both size and speed. A single aisle system can be easily expanded by adding modules or more aisles. Additionally, iBOTs can be introduced or removed from the system in a matter of minutes, quickly adapting throughput rates to ever-changing business demands and cycles. And Perfect Pick has a low-cost entry point, which makes it a justifiable return on investment, adds OPEX.