by Brianna Crandall — October 1, 2021 — A new free guide from Planon Software explains how "hyperautomation" can help providers of facilities management (FM) services. Planon describes hyperautomation as a strategy to link several digitalized tasks into an automated end-to-end process, enabling FM service providers to reach their business goals with fewer errors and better overall performance. Planon says Gartner calls hyperautomation a defining trend for 2021.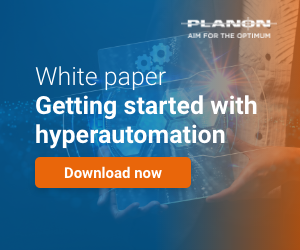 Applying a suitable hyperautomation strategy can help your FM services business be agile enough to quickly adapt to new ways of working, says the company. The technology to support a hyperautomation strategy is already available today and can be implemented to drive business growth.
Planon, a provider of digital workplace and smart building solutions in countries around the world, created the white paper in cooperation with multinational professional services network KPMG to explain the crucial role of hyperautomation for FM service providers today and how to implement a successful hyperautomation strategy in order to grow your business.
The company points out the disruptions of the past year and the uncertainty FM service providers are facing looking forward, with a growing list of challenges for acquiring, servicing, and keeping happy clients in 2021 and beyond.
A suitable hyperautomation strategy can reportedly help providers tackle these challenges head on, as it enables them to better respond to future disruption, meet customer expectations, and fulfill important business objectives in the years to come.
The Planon/KPMG white paper covers:
Current trends impacting the FM service provider market
How hyperautomation will benefit FM service providers
Insights from KPMG on the importance of process mining for hyperautomation
Best practices for getting started with hyperautomation
A free copy of the How to grow your business and improve customer satisfaction with hyperautomation white paper is available to download from the Planon Software website.