by By Sonal Mehta — Have you ever wondered what happened to your long lost college buddy? Wouldn't it be nice to reconnect at the click of a button? Besides finding friends from the past, social media opens the door to a whole new audience for your products and services.The challenge lies in convincing your employer of the medium's powerful networking and promotional potential.
Try checking your Facebook status while at work. Do you see an error message pop up warning you that access has been denied? Your employer might be one of the many companies blocking its employees from browsing Web 2.0 sites while on the job. While social media is transforming the way we work, some employers are still uncertain about the changes it brings. There are several steps that each of us can take to help our employers realize the power and value of social media. Grab your mouse and start clicking—you could create a new trend at your workplace.
Don't let the World Wide Web pass you by Companies are slowly embracing social media within their marketing and publicity strategies. But when does the use of these tools on the job become excessive? Some employers believe that the use of such sites leads to a decrease in productivity. However, when blocking these tools, companies might be overlooking the benefits that outweigh the risks.
"With social media tools there is a sense of camaraderie," said Tara Hunt, marketing, Intuit Partner Platform, who is also a marketing consultant, and author of the soon-to-be-released book on social media, The Whuffie Factor. "It's also quicker, simpler and more lightweight than e-mail. Communication doesn't get buried and it improves company morale at the same time." Social media not only benefits a company externally, but can also provide an outlet for internal communication. Rather than e-mail, many companies are resorting to tools such as Twitter, where employees can discuss topics and projects and even share files with one another.
"The specific tools vary greatly by industry, but the biggest perception shift that some organizations need to make is that social media can often be highly useful for people to use at work," said Rohit Bhargava, senior vice president at Ogilvy Public Relations and author of the book Personality Not Included. Facebook has even revamped its pages, which are primarily targeted at companies, organizations, politicians and other public figures. In an effort to make these pages more appealing, they have provided companies with the resources to update a status and keep their stakeholders involved. Mark Zuckerberg, founder and CEO of Facebook, states that with these new updates you can "find out that Oprah is reading a book backstage before a show, CNN posted a breaking story or U2 is working on a new song, just as you would see that your friend uploaded new photos from her trip to Europe."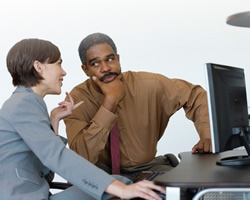 Social media sites are making their best effort to become part of people's everyday lives—providing seamless platforms and changing the way organizations and users do business.
These tools are not only for the young and restless. They are available to anyone— that is their biggest plus. From Africa to America and everywhere in between, social media sites are becoming the best way to connect an international audience. The fact is that more of your contacts and colleagues are probably on these tools than you may realize.
Establishing ground rules
Many social media advocates believe that restricting employees from these sites has a negative impact on an organization. According to them, doing so shows a lack of trust, which can often lead to a loss of company morale.
"I am always surprised at how many of the companies who block social media sites at work do it solely because of fear and not based on anything that employees are actually doing," said Bhargava. "This sends the wrong signal to your employees, as you are essentially telling them that you don't trust them enough to do their jobs and feel the need to block their access to be sure." Instead, Bhargava suggests that a better approach for most businesses is to clearly outline what type of behavior is acceptable during work hours and what isn't, and then follow up on the rules. That way, employees know what is expected, but also feel trusted enough to manage their own work load. Others suggest including social media in certain company policies. Promoting these tools and getting employees excited about them will increase the number of
connections a company gains
"Encouraging every one of the staff members to get involved with social media is step one," said Hunt. "Step two would be sharing links and 'retweeting.' If everyone is on these tools, there is a better way to get information to a mass audience."
There are several other tactics that companies can use to immerse themselves in the social media arena the right way. Employees should be informed about how these tools can help their job specifically. This way, they fulfill the company's needs and make personal connections at the same time.
"One thing I have often done is conduct training for employees at organizations on how to use social media strategically as part of their role. Ultimately, it comes down to offering the right training to employees, and then encouraging them to use social media to bring in new clients and work, as well as deliver their current projects more effectively," said Bhargava.
Going Web 2.0
Promoting social media within the corporate culture can be difficult for some. Yet there are many examples of companies that have embraced the idea of incorporating Web 2.0 into their business model.
"Zappos.com is a good example of this. Most of their staff is on Twitter, and with every person on the site, relationships are built. The brand follows soon after," said Hunt.
Zappos.com CEO Tony Hsieh is an avid Twitter user and doesn't limit his use in the social network. Quite often users will receive updates about Hsieh's personal life and daily activities through Twitter.
A large part of social media is transparency. It's not all business—it's about finding the right balance between professional and personal content. People like hearing from those they can relate to, and tools such as Twitter can provide a sense of comfort between two people who might be on opposite sides of the world, literally and figuratively. "My advice for a public relations or advertising agency is to be the voice of the company. True authenticity and personal connection comes from having real employees speaking freely," said Zappos.com Director of Business Development Aaron Magness.
Push the button
While there is a lot of hesitation that comes along with social media and its use, it is important to keep in mind that while your employees are making their own connections, they are not wasting time. Moving forward, buttons must be pushed. It can be said with confidence that social media tools are becoming essential for business success. These sites are growing exponentially daily and the corporate world must learn how to embrace and use them. "Companies that limit their employees to access the social sphere are limiting their opportunities to expand connections and relationships they will ultimately benefit from," said Hunt.
Encourage your employees to explore these sites. Choose a few yourself and click around. You'll learn to appreciate their value and who knows, soon enough you might be "tweeting" with your colleagues halfway across the globe.

Sonal Mehta is the new media and social networking specialist for IFMA. She may be reached at +1-713-623-4362 or via e-mail at sonal.mehta@ifma.org.