by Brianna Crandall — June 18, 2021 — For schools looking to upgrade their campuses this summer, Staging Concepts, a national provider of staging solutions and equipment, is offering free assessments to help administrators and facilities managers (FMs) optimize their performance and meeting spaces.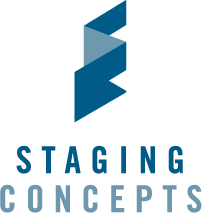 With more than 30 years of experience working with all types of venues — from theaters and convention centers to indoor and outdoor sports facilities — Staging Concepts and its performing arts partners can lend valuable expertise in spatial planning, along with creative, cost-effective solutions.
Cindy Albrecht, director of Sales and Marketing for Staging Concepts, a division of Trex Commercial Products, remarked:
Summer is an ideal time for schools to tackle repairs, renovations and upgrades, while students are away and campus activity is at a minimum. After so many years of working with great partners in the performing arts and educational sectors, we know that if we can't help, we have access to other great industry partners who would be happy to get involved.

In the spirit of being a true supplier partner, our team is available and willing to conduct site visits and collaborate with facility managers and school administrators to identify and suggest the most worthwhile investments, regardless of whether our products end up being part of the determined solutions.
Focus on flexibility
Among the most noteworthy trends that have emerged because of the Covid-19 pandemic is heightened interest in modular solutions. Historically used for temporary installations, portable platforms have been incorporated more commonly in permanent staging solutions to enhance flexibility and deliver long-term versatility.
Albrecht commented:
We've seen an increased demand for modular stage extensions in the educational segment. From accommodating student performances and campus meetings to hosting commencement ceremonies and keynote speakers, portable platforms offer a convenient and cost-effective way to expand any performance area.
In light of spatial concerns, venues also have sought flexible seating solutions to safely serve a variety of gatherings. Designed with versatility in mind, semi-permanent seating risers can be set up in numerous configurations using the same components, making them ideal for optimizing sightlines and complying with spacing requirements. These systems also enhance venue usability — and profitability — by enabling facilities to accommodate a range of different events and audiences.
For schools seeking to optimize stage acoustics, Staging Concepts offers products that are designed for easy setup and take down. Constructed with lightweight aluminum alloy frames, components can easily be moved and reconfigured to meet both the visual and acoustical needs of any event.
Opportunities for optimization
Albrecht further noted:
In tandem with building and facility managers across the educational facility sector, we are constantly re-thinking spatial planning with an eye for more optimization. Our team also brings foresight to help schools anticipate and plan for future changes that may be needed to ensure the comfort and safety of students and faculty.
Whether schools have received bond or grant funding, a generous donation or have earmarked budget for facility improvements, Staging Concepts can offer valuable insight during the design planning and pre-construction phase. In addition to understanding critical details such as load capacities, lateral stabilities and building codes, the Staging Concepts team consists of designers and engineers with backgrounds working in the performing arts and other live events. They speak the language and bring practical, behind-the-scenes experience and insight to the work they do.
For more information or to connect with your local sales manager, visit the Staging Concepts website. The Minneapolis-based company is a division of Trex Commercial Products, a subsidiary of Trex Company, and produces advanced modular, custom portable staging solutions for all types of venues, including performing arts spaces and production companies, sports facilities, worship venues, convention centers, hospitality settings and special events.