by Brian Bernstein — This article originally appeared in the September/October 2019 issue of FMJ
Like any typical day in your facility — the building is filled with busy employees, the hum of machinery, and you are on the move, checking in on production, maintenance, and projects-in-progress. While sitting in an afternoon meeting, an important email hits your inbox: it's a request to help establish more aggressive sustainability goals, along with a roadmap for success. What concrete steps can you put in place to help make this happen and, given all your other responsibilities, how can you do it as efficiently as possible?
Sustainability is a broad term that refers to a variety of earth-friendly efforts such as recycling programs, eco-friendly packaging, the reduction of a company's carbon footprint through energy conservation, renewable energy initiatives, and more. To become more sustainable, many companies opt to better manage and minimize usage of important utilities like water, air, gas, electricity, and steam (WAGES). However, because each utility is used in different ways throughout all types of facilities, it can be challenging to accurately assess usage, and frustrating to know that improvements could be made, if only you could better identify the opportunities.
The good news: you're not alone. Even organizations with the best intentions can struggle with sustainability initiatives. According to a 2018 survey report from Bain & Company, of 297 global companies surveyed, only 4 percent say they fully succeeded in achieving their sustainability goals, compared with 47 percent who say they failed.  Despite of the low success rate, 81 percent of respondents said sustainability is more important to their business today than it was five years ago, and 85 percent believe that it will be even more important in five years. That means that whether it's better (or different) tools, more (or better) data, or other factors, plenty of organizations need to reassess their sustainability strategy. So, what steps can you take to avoid joining the 47 percent?
With the Industrial IoT (IIoT), a variety of applications created through a network of smart sensors and connected devices, you can gain facility-wide visibility and identify opportunities to decrease utility usage. IIoT-compatible smart sensors and devices capture data trends and anomalies, then transmit the data across the network to secure, easy-to-use software applications where facility managers can customize data collection settings, create threshold-based alerts, analyze the findings, run and share reports, and more.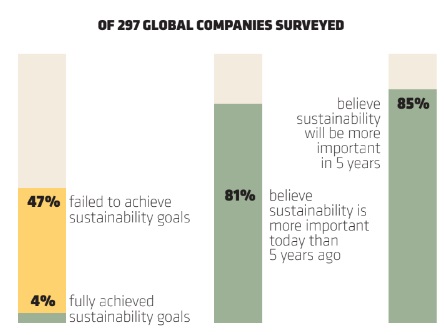 Recently, the IIoT has become so popular in businesses across the globe that by 2020, the discrete manufacturing, transportation and logistics, and utilities industries are forecasted to spend US$40B each on IIoT solutions. The real value in the IIoT is data, which can be used to monitor sustainability goal progress, uncover incidents of waste and overuse, and identify new opportunities to conserve utilities.
Three ways the IIoT can help to achieve your company's sustainability goals
Automate collection & verification of critical facility data
"If you can't measure it, you can't improve it," is one version of an oft-cited quote regarding business efficiency, attributed to author and business thought leader Peter Drucker. Most facility managers are on the right track with a method (or, more likely, several methods) to measure facility performance and track progress against every KPI, including sustainability goals. But are those methods efficient, and truly reliable? In many cases, measurement involves a member of the team walking around the facility with a clipboard or tablet to record the latest data by hand. Manually tracking your facility's utilities data can be a drain on productivity. At a glance, it may not seem like a big deal to spend 20 minutes a day on data collection but, over the course of a year, it adds up to 80 hours or two 40-hour work weeks. What else could an individual achieve or contribute in those two weeks? Manual tracking efforts also risk human error, and those errors can be as harmful as they are seemingly innocent; the daily routine of logging what appear to be, day after day, approximately the same numbers or readings can inspire shortcuts or assumptions that save time but, when something goes wrong, can cost a facility in any number of ways.
When smart sensors work in tandem with IIoT software, real-time and historical data can be automatically and accurately collected, verified, and stored in one centralized place in the cloud. The automated collection of critical facility data through smart sensors that are active at any time day or night removes the risk of inaccurate data due to human error, and eliminates man-hours squandered on rote, manual tasks. Instead, accurate, facility-wide data is available at any time (and, through mobile applications, from anywhere), whether you need to see temperature trends in the storage facility or compare how much electricity was used to run HVAC over the last year, last month, or last week. With the data in a central place, cross-functional identification of and collaboration on sustainability goals becomes much easier as team members can easily pull ad-hoc reports, track progress, and identify new opportunities to introduce savings and efficiencies.
Once you've leveraged the IIoT to smooth a path to consistent, reliable data collection, you can start thinking about how and where you might apply opportunities to collect that data.
Optimize utility use through monitoring and metering
When facilities span tens of thousands (or hundreds of thousands) square feet and, often times, a variety of environments and areas such as manufacturing, warehouses, and offices, it can be tough to document and report on the exact what, where, when, and why of utility usage and, especially, utility waste.
Smart sensors and IIoT software can help track virtually all utility usage no matter what pipe, tank, switch, or hose they run through. With IIoT-based monitoring and metering, utility waste can be identified and proactively investigated so that sustainability goals aren't thrown off course.
With real-time and historical reporting made possible through IIoT software applications, facility managers can more easily monitor and observe utility use across the entire building or site. Any deviation from an established trend or pre-identified benchmark can signal an issue worthy of investigation.
In one example, a facility manager might monitor daily water use through his IIoT dashboard, which populates and graphs data from strategically-placed sensors. Typically, production requires approximately 100 gallons of water each day, but this morning the dashboard shows that, in the last 24 hours, 130 gallons exited the primary water storage tank. With this information, a quick inspection of all workstations with hoses and the pipes leading to the water tanks, reveals that a crack is the problem. A replacement is quickly installed, and everything is back on track.
Without those smart sensors and the IIoT, that same, quickly-sourced leak may not have been revealed until the tank was entirely empty, or perhaps until there was noticeable damage to the tank or surrounding area; instead, the water loss is capped at 30 gallons.
Similarly, metering and especially submetering of utilities allows facility managers to not only track top-level or master utility consumption patterns, but also assign them to specific lines or areas. With submetering in place, the process to identify warning signs or opportunities to improve line-level performance that doesn't align with other, similar lines can be sped up significantly and therefore minimize waste that might otherwise compromise both production and sustainability goals.
Manage lighting-based energy costs
It's no secret that lighting can make up a meaningful portion of facility energy costs. Light is, of course, a non-negotiable requirement, for both safety and productivity. It is also, perhaps, the easiest area to address in pursuit of improved operational sustainability. If your facility has not yet transitioned to LED lighting, that update alone can generate in the neighborhood of 40 to 50 percent savings in lighting-based energy costs. LED lighting also offers the advantage of basic control, through simple occupancy sensors, as well as advanced control, through smart sensors and the IIoT. That means that you not only realize massive savings by virtue of converting fluorescents or HID lamps to more efficient LED fixtures (up to 90 percent in the case of intelligent, IIoT-based LED lighting control systems), but also gain the ability to customize and automate light settings that ultimately result in even greater energy efficiency as well as a safer, more productive facility.
With the proper perspective and an IIoT-friendly approach, lighting projects can often pay for itself in terms of both sustainability and, with some intelligent lighting networks and platforms, the opportunity for the introduction of additional, IIoT-based benefits to a facility without the need for an entirely new, different, or costly infrastructure.
You need only speak to a few people to understand that the path to a successful sustainability program is a challenging one, and that there is no single, one-size-fits-all solution. However, a good first step is, as Drucker suggests, to put in place the means to reliably measure what's happening within your facility. Through sensors, software, and the IIoT, you can do just that, and automate the collection of reliable data, identify performance benchmarks to inform both goals and anomalies, as well as monitor and manage activity in a way places sustainability goals within reach.
About the author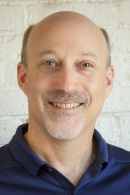 Brian Bernstein is VP Product for Digital Lumens, an Osram business, which designs energy-efficient Industrial Internet of Things (IIoT) applications for manufacturing, cold storage, food processing, and other industrial environments across the globe. He has previously held leadership positions in sales, marketing, and product groups at global companies ranging in size from startups to multi-billion dollar enterprises; in industries including power, textile, waste water, pulp and paper, lighting, semiconductor, electronics assembly; and for offerings including IoT, enterprise software, data and analytics, as well as complex hardware and software systems for applications from lighting to manufacturing automation.  Bernstein holds a BSE in Chemical Engineering from Princeton University.