by Kristin Moreno Westover, EIT, LEED AP O+M, SFP — Building owners are always searching for ways to reduce costs while looking for ways to attract tenants and maintain a healthy work environment. Green or "sustainable" practices can have a positive impact on these goals by creating more energy efficient systems, and if designed properly, extending the service life of building systems and components. Sustainable practices can have a positive impact on the bottom line while creating more attractive workplaces. One way that building owners are attempting to create more energy efficient buildings and improve the aesthetics of the building is to install a green roof. When most people hear the term "green roof", they think of roofs with vegetative media on the roof surface, creating an attractive space that improves the look and provides for an attractive gathering spot.
Building owners are often attracted to green roof options not only for the aesthetic value, but for the perceived energy savings. There is a common perception that green roofs are more energy efficient than traditional roofs. It is true that green roofs can create energy savings. However, if energy savings is the goal, choosing the correct "green" roof for your building is required. In today's design and construction environment, a green roof can mean either a vegetative roof or a cool roof. A cool roof has a light colored surface that reduces the absorption of heat, potentially leading to energy savings. A common misconception is that a cool roof provides energy savings for all buildings, regardless of building location or roof layout. Misconceptions regarding vegetative roofs include having an unlimited service life, having more insulating properties than a traditional roof, and requiring no maintenance. Although both types of green roofs can provide energy savings, it is important to consider the building location, roof layout and insulation, and maintenance practices. A balance should be achieved between the basic functions of the roof and extrinsic value of its characteristics.
The Business Side of Cool Roofs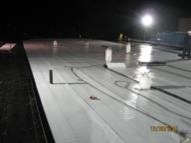 Although a traditional roof in concept, a cool roof is a type of green roof. A cool roof is a roof whose membrane is white or lighter in color. The purpose of a cool roof is to mitigate the heat island effect and reduce the amount of heat absorbed from the sun by the roof by reflecting the sun's rays. The heat island effect is absorption of heat from hardscapes and its radiation of heat to surrounding areas. Heat islands, especially in warmer climates, raise the temperature in urban areas due to the preponderance of dark surfaces in the built environment. Cool roofs reflect the sun's rays and reduce the amount of heat that is re-radiated back into the surrounding area. In warmer climates, where there are more days that the building needs to be cooled, cool roofs can help to reduce the cooling load and lead to energy savings. Less heat is absorbed by a cool roof and the chillers do not have to work as hard to cool the building. However, cool roofs are not necessarily the best option if energy reduction is the primary motivation. In cooler climates, it is actually beneficial for roofs to absorb some of the sun's rays to help heat the building. In the winter time, dark surfaced roofs can absorb some of the sun's heat, which can offset some of the energy that is used to heat the building. Ultimately, for a cool roof to be most efficient, the building needs to be located in a southern or warmer climate. The best way to determine if a cool roof is a viable option for energy savings is to compare whether there are more heating or cooling days per year. If there are more cooling days per year, then a cool roof is generally a good option to consider.
A case study was completed by Facility Engineering Associates, P.C. in 2013 comparing the energy savings associated with cool roofs on three similar buildings in various climates throughout the U.S. One building was located in Phoenix, Arizona (hot climate, mostly cooling load); one building was located in Philadelphia, Pennsylvania (colder climate, cooling load and high heating load); one building was Minneapolis, Minnesota (much colder climate, significant heating load). The difference in energy savings between Phoenix and Philadelphia was not significant; in fact, there was hardly a noticeable energy savings at all. The difference between Minneapolis and Phoenix was more pronounced, but still fairly small. Although the impacts of adding a cool roof to a building is highly publicized as achieving energy savings, the data from these three buildings does not support assertion that significant energy savings are possible based on the color of the membrane alone.
A separate case study was conducted by comparing similar buildings in similar climates, all with different insulating values for the roof. It was found that the roof with the least amount of insulation had the highest amount of energy loss within a building. The building with the most insulation had the greatest energy efficiency. This is intuitive, but also an indicator that the amount of roof insulation is most significant factor in controlling the energy efficiency in any climate.
Another aspect to bear in mind is the maintenance required to maintain a cool roof. In order to retain the reflective qualities of a roof, the roof needs to be cleaned regularly. According to LEED, white roofs are required to be cleaned at least every two years1 to maintain the reflective value. Dirt and other contaminants on the roof decrease the effectiveness of the surface to reflect sunlight. Cleaning the surface can be achieved by power washing; however, proper cleaning methods approved by the roof manufacturer should be employed in order to prevent membrane damage.
The Business Side of Vegetative Roofs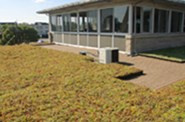 Vegetative roofs are generally comprised of growing mediums that include soils, peat, and other organic materials, gravel, and other aggregates, and plantings that are located on top of the roof membrane2. Interest in vegetative roofs has increased over recent years, particularly for building owners in urban locations where green space is limited. A vegetative roof allows for buildings to have a green space for tenants to relax, or it can create views of trees and flowers that otherwise may not exist. Before considering a vegetative roof, there are many factors to consider. The most important factor to consider is the load bearing capacity of the roof. Vegetative roofs are considerably heavier than traditional roof assemblies and can be up to 20 times heavier than a traditional roof system. Supplemental structural supports may have to be installed under the roof deck to support the load, which can be expensive, disruptive to tenants, and time consuming. A business decision to install the green roof will include whether the cost of strengthening the structural system will be worth the benefits.
Maintenance on a vegetative roof is completely different than that of a traditional roof. There is a general misconception that vegetative roofs are maintenance free. Once the vegetation is on the roof, maintenance is required to keep the plants thriving. The environment on the roof is far different than on the ground and plants need care in order to flourish. Typically installers provide about 2 years of maintenance after installation (about nine visits the first year, five visits the second year) to ensure that the plants are rooting and growing properly. Vegetative roofs typically need extra fertilizer for the first 5-10 years because there are no natural ways to have nutrients put back into the soil as you would find in a "ground" environment. Vegetative roof systems also need routine weeding and watering. Although some plants require more maintenance and care than others, it is important to choose plants that will work best for the level of care that the owner is planning on providing. Grasses and ground cover will require substantially less care than trees or shrubbery, but the vegetation choice will also need to reflect the intent of the roof. Grasses are easier to maintain, but are less aesthetically pleasing. Owners will have to make business decisions about what type of vegetation to install and whether it is cost effective to hire an outside company to maintain the vegetation, or whether the maintenance can be provided internally.
Vegetative roofs are generally thought to have higher energy savings in a building since there are soil and plantings on the roof in addition to a traditional roof insulation and membrane. However, the insulating value that soil and plantings provide is negligible. The main source of energy efficiency for a roof derives from the initial roof insulation and membrane that are installed prior to the soil and plantings. A roof with little or no insulation underneath the vegetation will be far less energy efficient than a roof with insulation and no vegetation. If a vegetative roof is to be installed on a roof surface, it is important to ensure that there is adequate insulation in the roof assembly prior to installation of vegetation.
Damage to the roof membrane beneath a vegetative roof is not be visible and may be extremely hard to locate and repair. If there is a leak or any sort of problem with the membrane that needs to be addressed, all of the vegetation will need to be removed in order to repair the problem. Addressing leak issues or other maintenance can be not only challenging but can also damage the vegetation. Another common misconception is that vegetative roofs' service life is far longer than that of a traditional roof. The service life of a vegetative roof is only as long as the membrane. The bottom line is that vegetative roofs are traditional roofs with plants on them; water infiltration, root damage, or deterioration of roof elements over time can be grounds for roof replacement. There have been vegetative roofs that have lasted longer than traditional roofs, but proper maintenance and installation is required to extend the service life. A business decision regarding the ability to provide the required maintenance will need to be considered prior to installation of a vegetative roof.
The Business Side of Energy Efficiency and Green Roofs
Employing sustainability practices into both everyday building practices and long-term capital investments is becoming more common. Energy efficiency and cost savings due to sustainable practices attract both building owners and tenants. Installing green roofs can create both energy savings and appeal for their buildings. Determining which green roof is most appropriate; including recognizing common misconceptions, is a business decision that can impact building operations and energy efficiency. Being knowledgeable about maintenance practices for both cool and vegetative roofs, location impacts for cool roofs, structural implications for vegetative roofs, and recognizing that the most significant energy savings come from the insulation of a roof, not whether the membrane is white or has vegetation on it, can all be useful knowledge in helping make the business decision to install a green roof.
Kristin is a civil engineer and is involved in repair and restoration of existing buildings for Facility Engineering Associates, P.C. She has consulting experience in building investigations ranging from condition assessments to sustainability audits, to roof replacements and façade assessments. She is also involved in many professional societies such as the Society of Women Engineers, USGBC, and ASCE.
1 Reference LEED 2009 for Existing Buildings: Operations & Maintenance Rating System
2 The roofs underneath vegetation generally have a root barrier or a robust membrane to deter roots from penetrating into the roof system.
3 Photograph 2: Firestone Building Products: SkyScape Vegetative Roof System, www.firestonebpco.com