by Brianna Crandall — May 7, 2021 — The desire for facility managers to upgrade their knowledge and skills is strong, but too often the funding is not available. In fact, 94% of facility managers say they would pursue an FM credential if they had the financial backing of their employer, according to the 2021 FM Training Outlook survey.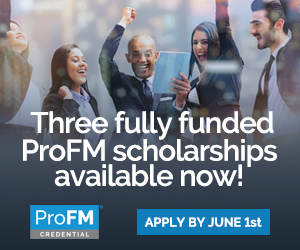 That's why, for the third year in a row, ProFMI is offering three fully funded ProFM scholarships through its Elevating the FM Profession Scholarship Program.
One scholarship will be awarded in each of three categories: Professionals, Students and Young Professionals, and U.S. Military Veterans, totaling over $5,000 in funding.