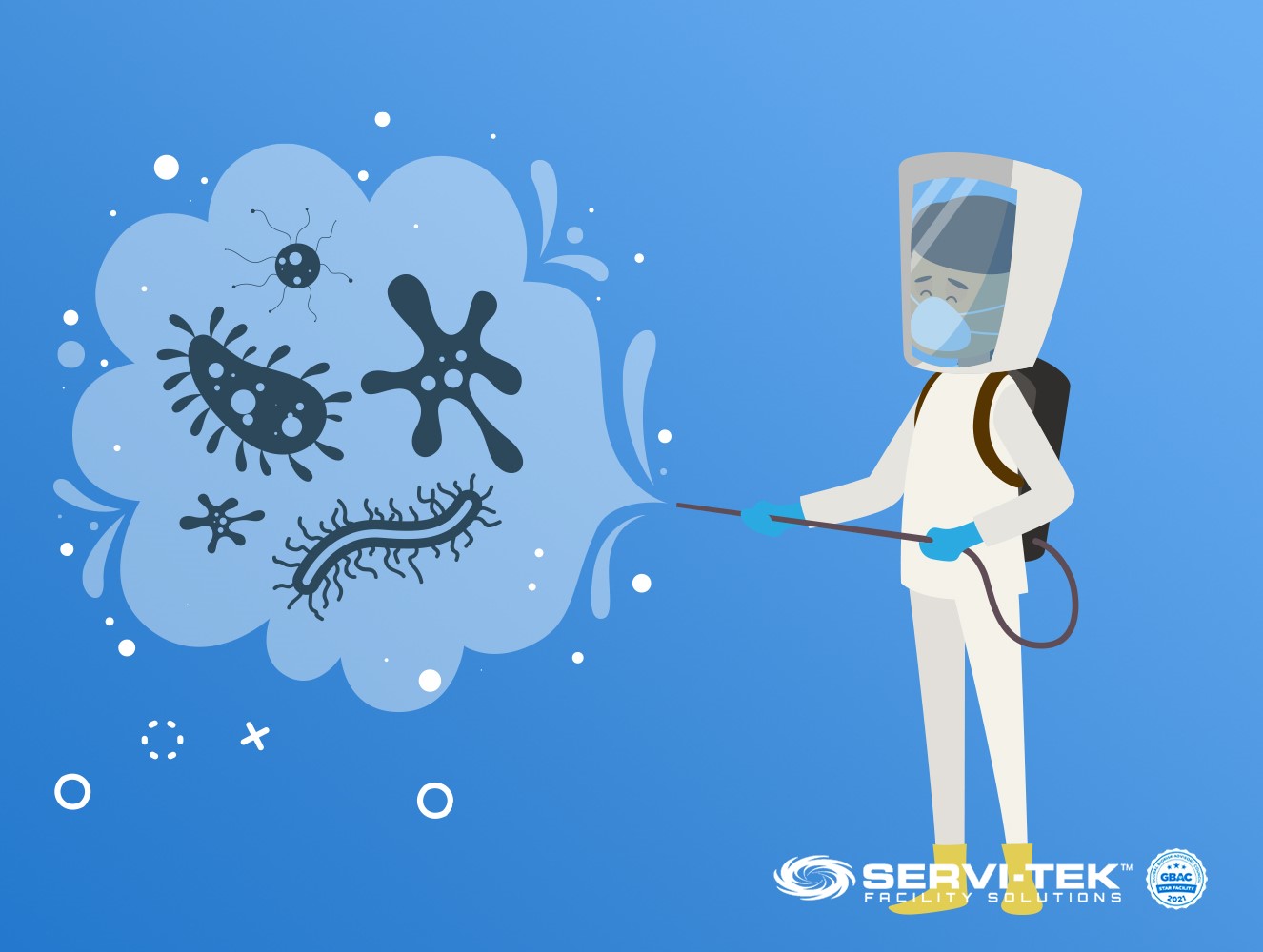 by Servi-Tek*--Maintaining a clean indoor environment is vital when you own or manage a commercial facility, such as offices, malls, retail showrooms, schools, hospitals, hotels and restaurants. Having a healthy environment is essential to both customers and staff. Large spaces have unique sets of challenges when it comes to cleaning.

This is particularly true for areas that have different types of surfaces and are difficult to disinfect. Regular and comprehensive disinfection using an electrostatic spray can reduce the spread of pathogens and other infections. More office buildings, hospitals, warehouses and factories among others are willing to switch to this revolutionary new technology for cleaning.

This white paper focuses on the needs of commercial building owners, facility managers and employers who want to learn about the right way to keep commercial facilities disinfected and germ-free, the different cleaning needs of different types of properties, and the role played by professional janitorial, cleaning and facility maintenance companies specializing in commercial building maintenance.
How does a professional janitorial cleaning company keep your space germ-free?
Professional janitorial contractors specialize in removing all types of contaminants and impurities from a workplace. Trained cleaners ensure that there is nothing infectious left behind once they are done removing dust, dirt, and daily clutter. High-performance cleaning substances used by commercial cleaners create an antiseptic environment. Harmful pathogens are unable to thrive or survive in this environment.

A neat and organized workspace can be difficult to maintain by an in-house cleaning crew. Cleaning tasks may spill over on your employees or other building occupants, thereby reducing productivity. Cleaning contractors with solid expertise can deal with monthly, daily, and weekly sanitation tasks and help save time. You can leave facility sterilization to the professionals and focus on other important aspects.
It is more work than meets the eye to keep an office clean. Professional cleaning contractors are highly proficient in dusting, sweeping, mopping, cleaning, and disinfecting the premises. It is recommended to have highly skilled workers provide sanitizing solutions since an untrained eye would likely miss them.
Premium cleanliness and disinfection are the top reasons for hiring a commercial cleaning service. Your commercial facility will have access to high-standard disinfection solutions for different electronic devices to prevent cross-contamination. In addition, the contractors will take extra care to remove any bacteria or viruses that are present on the carpets, walls, chairs, and any other fixtures.
How to maintain clean and hygienic common areas
These are key areas of focus for commercial janitorial companies to ensure that all common areas are kept clean and germ-free in your facility:
Building entryways
The building entryway is the first space any visitor notices, whether they are a potential or current client. You need to keep your entryway looking great. This requires polishing, vacuuming, dusting, and emptying the trash. You may want to have the entryways and lobbies cleaned and disinfected multiple times during the day if they get a lot of traffic. Don't forget to have the bathrooms cleaned regularly, particularly the ones in the waiting areas.
Elevators
You should have all hard surfaces inside the elevator disinfected, such as the handles, buttons, walls, mirrors, and doors. Electrostatic cleaning is a poignant way of keeping the area germ-free without damaging the electronics. A quick polishing and vacuuming may be necessary, too, during the day if the elevator gets a lot of visitors.
Doors, windows, and mirrors
These surfaces become grimy multiple times during a day. Day porters can be tasked with walking around and polishing any mirrors that appear smudged or touched. You should do the same with windows outside of offices and within doors. Commercial contractors will take care of window ledges too for a nice, clean look.
Conference rooms and offices
Conference rooms and offices will need to be polished, dusted and vacuumed to keep them looking ready for business. Commercial cleaners can be asked to wipe desk spaces, open tables, phones, door handles, chairs, and other office equipment multiple times a day. They will pick up trash and supplies left behind.
Restrooms
Office restrooms require daily attention. Restrooms on busy floors and lobby get a lot of use. Regular cleaning is essential in these. You can stay on top of disinfection and sanitization with commercial cleaners to prevent the spread of germs. You may want to ask the cleaners to empty waste bins frequently to prevent trash from spilling over. Floors should be picked up and mopped regularly to ensure the space appears fresh and orderly.
Break room
There is a wide array of furniture and appliances in break rooms. Spills and crumbs need to be wiped often for preventing a pest infestation. You should have the dishes washed multiple times during the day or at the end of the day to prevent a mess. Having a commercial cleaner take care of these chores will ensure that your workforce can focus on increasing productivity.
Regular HVAC maintenance can reduce germs
Commercial duct and HVAC cleaning can improve your business and help you reduce energy consumption. Improved indoor air quality can reduce the number of sick days by removing debris, dust, and dirt from the system. The first step in removing airborne contaminants and other allergens is to keep the ductwork clean.

Professional building maintenance providers can take care of these tasks and others in an affordable and cost-efficient manner. The cleaners will clean the entryway of the ducting system, all the way to the area where the air exits. This includes all registers, grills and vents. Commercial duct cleaning plays a major role in improving airflow. It allows the facility's HVAC system to run in an efficient manner and reduce the risk of fire.
This is particularly true in the case of manufacturing facilities where airborne dust can be combustible. Buildup of 0.42″ of dirt on the condenser or evaporator coil can decrease efficiency of an HVAC system by 21% as per the EPA. Dirty ductwork can clog filters more frequently, which causes more stress on the air handler. This can potentially lead to higher energy costs. Not to mention, such conditions may also shorten the lifespan of your HVAC unit.
Airflow can get restricted because of blockages in reheat coils, VAV boxes, mixing boxes, and other terminal boxes found in HVAC systems. Professional cleaning can improve the airflow and make the air you breathe clean and fresh. Ductwork is usually out of sight in commercial buildings. Your in-house crew may not be able to clean it.
Dirty ductwork is the perfect environment for mold, bacteria, mites, and viruses. The only way of having these pollutants removed completely is through routine commercial HVAC cleaning. Commercial contractors can make use of electrostatic spraying equipment for disinfecting the ductwork, too.
Janitorial requirements of different types of commercial buildings

Facility managers and building owners hire commercial facility cleaning experts because they know the importance of keeping a space clean and germ-free. The same type of cleaning method cannot be used for different commercial facilities. This is a general outline of the unique cleaning demands made by different facilities.
Office buildings
Office buildings should be cleaned regularly and frequently if you want to increase productivity and reduce sick days. Daily cleaning tasks include picking up debris, emptying trash, vacuuming floors, removing stains, organizing loose papers, and cleaning the reception areas besides the washrooms.
Hotel rooms
Good housekeeping is vital in the hospitality sector if you hope to attract new customers. Commercial cleaners can be trained to help the in-house housekeeping staff with more detailed chores. In the post-Covid times, all hotels have a greater responsibility to disinfect their bedding and other spaces.
Restaurants and cafes
The risk of cross-contamination is increased in unclean cafés and restaurants. This can result in the spread of food-borne illnesses. You may have to close shop if you are unable to clean and sanitize all counters and surfaces. Cafes also require sanitizing of built-in refrigerators and freezers. Bars and nightclubs have unique cleaning needs where all surfaces and counters must be cleaned before and after the end of the day.
Sports facilities
Sports facilities need to be kept clean to protect the health of athletes and anyone else using it. Commercial cleaners experienced in maintaining sports facilities, such as swimming pools and gyms know the right cleaning solutions to use. These chemicals may not be available locally. You can make sanitation sprays, wipes, and disinfectants mandatory. Based on this, you would still require a janitor to constantly disinfect surfaces and equipment for preventing cross-contamination.
Shopping malls and retail facilities
Shopping malls can have a daily footfall in the thousands. It's crucial to have a commercial contractor take care of the cleaning and other hygiene standards. Clean and germ-free malls allow shoppers and other visitors to have a good shopping experience. Retail store owners need to maintain an image. Commercial cleaning can help present a clean and tidy store that may leave a sunny impression on the shoppers.
Hospitals, nursing homes and medical centers
Healthcare facilities have sick people traipsing in throughout the day. It can be difficult for an in-house cleaning staff to stay on top of dirty floors and germ-ridden environment. Commercial cleaning contractors are well trained in following the proper cleaning protocols and disposing of waste.
Electrostatic disinfection
Viruses and bacteria, among other harmful pathogens, can survive on different surfaces for days. In the right conditions, these germs can potentially double in population. The largest problem in any commercial facility is cross-contamination. Traditional cleaning and disinfection can only do so much where cleaning is concerned. These techniques may prove to be effective when it comes to touch points. With that said, they fail in terms of reducing microbiological loads.
Electrostatic disinfection is a significantly more efficient technology for dispensing disinfectants and sanitizers as compared to conventional spray systems. You can ensure that all surfaces are coated evenly without leaving a trace or sticky residue. As per various studies and tests, the process of misting as performed by an electrostatic sprayer is 10 times more effective as compared to traditional spray systems in covering an object.
In addition to this, the efficiency of an electrostatic sprayer doesn't end at distribution. Conventional cleaning methods routinely miss hard-to-reach spots and places. These can be effectively disinfected through electrostatic spraying. Commercial janitors can access leg joints, cable grommets, and other nooks and crannies.
Get in touch with a trusted commercial maintenance and janitorial services provider
There are several aspects to cleaning a commercial facility. It requires a cleaning and maintenance contractor with the right tools, equipment, and updated industrial knowledge to ensure the space remains clean and germ-free. The team at Servi-Tek is experienced, highly trained, and professional. We can ensure that your facility remains clean, disinfected, and germ-free through advanced cleaning methods, such as electrostatic spraying. Schedule a consultation today by calling (866) 454-6185 or using our online contact form.
About Servi-Tek
Servi-Tek is more than just a company that specializes in commercial cleaning and facilities management services. We are a self-sustaining tribe of passionate, interdependent professionals dedicated to a shared sense of purpose that goes beyond shiny floors and sparkling surfaces.
Our collective desire to innovate and create meaningful results with every client interaction bonds us. Put simply: Our tribe is driven to continuously raise the bar on what property managers can expect from their commercial cleaning and facility maintenance service providers — and we rely on each other every step of the way to do it.
Servi-Tek's team consists of industry experts that leverage technology and focus their greatest efforts on its people and processes by investing heavily in training programs and constantly looking for opportunities to make improvements. Servi-Tek has experienced rapid growth over the years expanding to over 500 employees, working across multiple states. In 2016, the company formed Servi-Tek Engineering & Facility Solutions.