by Brianna Crandall — September 13, 2021 — Wooster Products, a provider of anti-slip stair treads and walkway products since 1921, celebrated some major company milestones in recent weeks.
100th Anniversary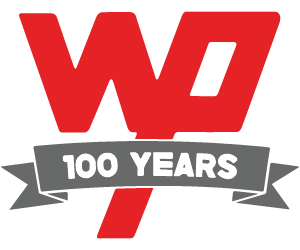 Congressman Anthony Gonzalez recently visited Wooster Products to help celebrate the company's 100th anniversary.  The congressman presented a Certificate of Special Congressional Recognition honoring the company for its centennial celebration.
"It's companies like this that built the country and employ our people," Gonzalez said during the visit. "It's survived a lot, and it needs to be recognized."  Throughout the tour, Gonzalez spoke to various workers, including production managers who explained the process in more detail.  "The facility reminded me a lot of my family's steel factory up in Cleveland where I had my first job," Gonzalez said after the tour. "It felt like home."
Despite their 100 years in business, the congressional visit was a first for Wooster.  "It is truly an honor to receive this recognition," said Wooster President Poonam Arora Harvey, who describes the family-run company as a hidden gem. "It means so much."
Although Wooster has a worldwide presence and employs many second- and third-generation employees who spend their entire careers there, the company has a low profile in its hometown.
"Most of our sales take place outside of town, and I'm sure a lot of people around the city of Wooster aren't aware of what we do here at Wooster Products, and what we've been doing for a long time," noted Wooster Products Sales and Marketing Manager Timothy Brennan.
Core Products: Representative for Oregon
In other company news, Wooster Products has appointed Core Products as its new representative for the state of Oregon.  Industry veteran Brad Couden, CDT, established Core Products, which is based in Hawaii, to support the regional construction industry.  Core Products will represent the full line of Wooster Products safety stair nosings and treads, anti-slip tapes, and coatings to architects, specifiers, engineers, contractors, owners, facility operators, original equipment manufacturers (OEMs), and end-users within the territory.
Brennan remarked:
Brad has done an outstanding job for us in Hawaii, so we're confident that he will serve our customers and prospects well in Oregon. He combines tremendous industry knowledge with attention to detail and supporting customers throughout the entire process.  These traits will serve our customers well.
Core Products President Brad Couden commented:
Wooster is THE name in the anti-slip stair treads market and has been for a century.  We're thrilled to work with them in Oregon and Hawaii.
Arcspec: Representative for Illinois, Wisconsin, Indiana
Wooster Products has also appointed Arcspec as its new representative to serve the states of Illinois, Wisconsin and northwest Indiana.  Industry veteran Barry Meyer leads a team of four outside consultants and three inside sales/support personnel.  Since 1994, the company has provided architects and contractors with product expertise and technical support for the architectural specialty products they represent. Arcspec will represent the full line of Wooster Products safety stair nosings and treads, anti-slip tapes, and coatings to architects, specifiers, contractors, OEMs and end-users within the territory.
In addition to Wooster Products, Arcspec represents leading manufacturers of products for building interior and exteriors including ARC, Plasterform, Swiss Pearl, Dizal, Stonewood, Parklex, Millenium Forms, Ceraclad, Construction Specialties, Kingspan, Petrarch and Strongirt.
Brennan pointed out:
Barry and his team are well known and well respected within the interior and exterior building products community, as are the companies that they represent. Their attention to detail and singular focus on their customers success will serve our customers well.
Arcspec President Barry Meyer stated:
For a century Wooster Products has been the leader in the anti-slip stair tread market. They are a great addition to our product lineup.   We look forward to bringing their world class products, innovative ideas, and uncompromising customer service to our customers and prospective customers.
Wooster Products has been manufacturing anti-slip products for new construction, renovation and OEM applications since 1921 from its Wooster, Ohio, facilities. The company's products include cast iron (Ferrogrit), cast aluminum (Alumogrit, extruded aluminum (Spectra, Supergrit, Stairmaster, and Flexmaster), pressure sensitive adhesive tape (Flex-Tred), and coatings (WP-70, Walk-A-Sured, and Safe-Stride), as well as photoluminescent (glow-in-the-dark) nosings and treads (NITEGLOW).
Wooster products are installed in schools and universities, public buildings, multifamily environments, sports stadiums and arenas of all sizes, transportation venues, restaurants and foodservice facilities, retail stores, shopping centers, residential, and more, including such high-profile installations as the World Trade Center complex, the Capitol Building, AT&T Stadium and other professional and college sports stadiums, the Rock & Roll Hall of Fame, the Statue of Liberty, and many more.