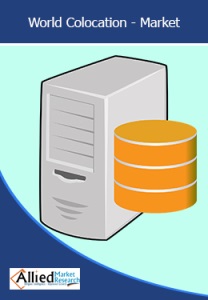 by Brianna Crandall — July 24, 2015—According to a new report published by Allied Market Research, the global market for data center colocation services is expected to reach $51.8 billion by 2020, registering a compound annual growth rate (CAGR) of 12.4% during 2015 – 2020. The global colocation market for the energy sector is expected to exhibit the highest CAGR of 14.3% during the forecast period.
North America has emerged as the most promising region, exhibiting a huge demand for colocation by adoption in the sectors of banking, telecom and information technology (IT) in order to manage their dedicated data servers. In 2014, the market for colocation in North America was valued at $11,779.9 million; it is expected to continue to consolidate its market position during the period 2015-2020.
Key factors such as shrinking IT budgets and the high cost associated with the development of dedicated data centers will largely drive the market by 2020, according to the report.
Based on space and power requirements for maintaining data servers, the market for colocation services is broadly segmented into two types: retail colocation and wholesale colocation, with the retail segment currently accounting for approximately two-thirds of the total market share.
The high demand for capacity requirement ranging from 100KW to 500KW power is driving the market for retail colocation. In order to secure the market position, wholesale colocation providers are now focusing on small and medium-sized enterprises in need of 500KW-1000KW. The wholesale colocation market is expected to register a CAGR of 13.7% during the period 2015 -2020.
Due to the increasing density of data servers, the colocation market earns a major share of its revenue from the telecom and IT sector, which is expected to continue to consolidate its position over the forecast period. Recent digitalization approaches adopted by the energy sector are expected to drive the colocation market, registering the highest CAGR of 14.2% during the forecast period 2015-2020.
Key findings:
The global colocation market will exhibit significant growth, largely supplemented by the growing necessity of physical security and the maintenance of data servers in organizations.
Small and medium-sized enterprises are realizing the value of colocation facilities with resilient power supply, dedicated cooling systems and remote monitoring services.
Wholesale colocation providers have broadened their facility range pertaining to power requirements, in order to competitively secure their market position.
The new report, titled World Colocation—Market Opportunities and Forecasts, 2014 – 2020, is available for purchase from the AMR Web site.