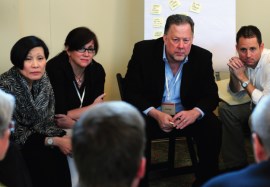 by EMMA ALVAREZ GIBSON — A Baby Boomer, a Millennial and a Gen Xer walk into a bar. The Baby Boomer says to the bartender, "Scotch on the rocks." The Millennial texted her order in beforehand; she's sipping it within seconds of her arrival. The Gen Xer, meanwhile, looked up the house specialties online earlier in the day, but wants to have a look at the labels before making a decision.
Finally, they sit down together to continue the planning and execution of their corporate real estate (CRE) firm's global success. And they live happily ever after.
Well, anyway, they live. Whether it's happily or otherwise will depend, to a large extent, on the foresight and flexibility of their organization. If you work in a multigenerational company — and chances are you do — you've no doubt become familiar with the perceived differences among Baby Boomers, Gen Xers and Millennials.
When asked about the ways in which the three generations approach their work, a number of CRE professionals tended to use the same core descriptors for each group: Millennials rely heavily on technology, have exceptional multitasking abilities, exist in a state of near-constant collaboration and value the creation of change. Gen Xers are adaptable, focused on work-life balance, respect loyalty and successfully maneuver both the tech-heavy Millennial space and the tradition-loving Baby Boomer world. Baby Boomers are good team players who prefer face-to-face contact, the phone over an email and are strongly customer-service focused.

By all accounts, it's the Baby Boomers and the Millennials who could most learn from one another. Cheryl O'Neil, Vice President of Workplace Strategy at Creative Office Pavilion, is a Baby Boomer who suggests that her generation would do well to embrace working in a more transparent environment.
"Millennials, on the other hand, can benefit from their co-workers' business communication skills and understanding how to manage relationships with clients and co-workers. Today there is still a formality around business communication; texting works sometimes, but not all of the time," she says.
Paul Eagle, Principal at Perkins + Will in New York and a Baby Boomer, would like to see his generation become more tech-savvy, as well as for Millennials to grow their client service and relationships using the time-tested methods his other colleagues have come to rely on.
"Boomers can learn the features and benefits of merged technology that will allow them to communicate more simply, effectively and more quickly than they may be comfortable with. Millennials can learn from Boomers who know from experience that your clients expect you to give them the wheat, don't care about the chaff, and are not expected to find it for themselves," he says.
Technology, says Eagle, has had a tremendous impact on the communication styles of these generations. "Millennials have grown up expressing ideas and opinions directly through technology. Words, graphics, pictures and video are all wellmerged in their modes of communication. Boomers generally communicate in a more verbal, narrative manner with pictures and graphics supporting core thoughts versus being part of the core. A response to the 'Give it to me in one page' request looks very different coming from a Boomer than it does from a Millennial," Eagle says.
The divergence in outlook is evident in subtler ways, as well. Eagle says that within his organization, Gen Xers and Baby Boomers arrive in the office earlier and leave earlier than do Millennials, who "tend to straggle in by mid-morning and work late."
Trevor Gray, an online specialist at Google and a Millennial himself, says that he has sometimes shifted styles in the workplace in order to better blend in with Gen Xers and Baby Boomers.
"I'm someone that appreciates efficiency in my workplace interactions — speedy meetings and email follow-ups typically get the job done for me," Gray says. "I've had to adjust my sometimes overly casual approach to workplace communications." That said, Gray allows that Millennials are sometimes unfairly pigeonholed.
"A couple of the biggest misconceptions are that we're overly confident and entitled; that by having grown up in a more comfortable environment, we are unaware of the level of work required to be successful. I think, as a trend, Millennials are liberated by our huge ambition — we're not afraid to [implement] change, be it a quirky tech business or an unconventional social movement," he says.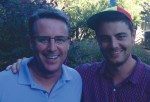 Boomers, of course, are subject to pigeonholing, as well. "They aren't cool, they employ technology but don't always understand it, they are risk-averse and are intentionally or unconsciously preparing to leave the workforce," says Trevor's father, David Gray, MCR.w, a senior vice president at Colliers International and a Baby Boomer. But, he says, "Boomers have wisdom and position. That's experience and powerful human networks."
Together with their habits and expectations, Millennials are taking the working world by storm, it seems, simply by virtue of their approach to life. A two-part article on tspuk.com, a CRE company in England, addresses the topic, noting with palpable alarm that the segment of the workforce born between 1980 and 2000 "value so much more than simply taking home a paycheck, they want to belong to a workplace where they can make an impact and become integral cogs in the businesses they've chosen to work in. And if organizations choose not to accommodate, Millennials' optimism in entrepreneurialism will only become stronger."
And perhaps that's fair enough, considering that until relatively recently, CRE was having trouble attracting younger people.

"The larger firms weren't hiring," says Greg Kraut, Principal at Avison Young in New York City. "People who were getting hired weren't staying, because most people are on commission the first couple of years. I think the CRE industry is slowly waking up to the realization that it has to embrace the work style of the Millennials. Whereas Baby Boomers are concerned with money, title and recognition, young people want to have a say in what's happening in the company they work for. They want to constantly move and feel like they're doing meaningful work. Avison Young's 'Young Guns' program was created because we were very conscious of what young people wanted and what we had to do to retain them."

End-User Viewpoint
Giovanni just joined the company. He is six feet tall, a fact that makes the team sometimes forget he's only 16. He's part of an apprentice program in Brazil that requires companies to reserve a certain number of job openings for young students. Giovanni, who is my daughter's age and a member of Generation Z, wants to contribute to a better world. He's already gaining experience.
As someone in my 40s, I'm still impressed with my 70-year-old father's energy. Very active and working at an oil and gas company, he travels 15 hours to one meeting and flies back home immediately after, spending two consecutive nights on an airplane.
Today, we see entire companies managed by 20-year-olds and employees who at the age of 24 have gathered more experience than many people in their 40s — international experience, multilingual proficiency and the ability to work and travel anywhere.
The same dynamic can be seen in companies that were born digital compared to traditional organizations that have suffered to become digital. Being up-to-speed in an evolving world is challenging for everyone. In the next couple of years we will have multiple generations working together, probably not as we see today in a traditional office space, but definitely connecting and interacting. New skills will be needed, some that we can't even imagine today. But I would bet that communication, flexibility and accountability will still be key.
The workplace has never been such a challenging environment. In addition to ever-changing technology, competing in a global marketplace and a proliferation of startups, today we all meet at the office (or via videoconference) as a mixture of ages, backgrounds, nationalities, genders and family arrangements. This rich environment brings with it a whole new set of paradigms for the corporate real estate (CRE) industry.
It's important not to stereotype; we must embrace differences and create even more workplace flexibility (in spaces, technology and schedules). In years to come, how you get to the office, where and what you eat, your health and exercise, your family and friends — will all be integrated into the workplace.
In Sao Paulo, one of the largest cities in the world, many people reject jobs depending on the company's location. To attract and retain talent from various generations, companies must offer a broader range of employee services, perks and flexible arrangements. But doing so will demand professionals to develop a whole new set of skills that go way beyond what we see today.

Amalia Franke is Vice President of CoreNet Global's Brazil chapter. A seasoned CRE executive and Gen Xer, Franke began her career as a HR analyst for Esso Brasileira de Petroleo, a branch of ExxonMobil.
As a whole, the industry has seen a similar shift over the last decade, according to O'Neil. This includes everything from an increase in mobile and flex work and greater emphasis on collaboration, to the creation of a variety of spaces that support multiple generations at work, in a sustainable environment.

"For Millennials, the workplace is less about status and reward, and more about having the right type of space to collaborate, innovate and get work done," says O'Neil. "We need to consider a workspace model that supports [both] individual work and collaborative work styles." The question, then, is how to create the cohesion needed in order for the workplace to engage and encourage all associates — and ideally one that maximizes everyone's potential in an organic way. It's a tall order, to be sure. Jill Zunshine, SLCR, Vice President, HP Global Real Estate, believes that an emphasis on work styles, rather than generations, is most helpful when it comes to a smoothly-running organization.
"In CRE, we are a community with different roles and activities. We have identified five types of work styles within CRE. All five styles are necessary to our growth, and any one person could fall into all, some, or one of the categories. HP's employees are critical to the success of HP's turnaround. Understanding that, our focus is providing a work environment for our employees that ensures their success, and encourages them to thrive," Zunshine says.
The five work styles as identified by HP are:
Agile — employees, such as engineers, that need to move and change their work environments to accommodate the development of new ideas.
Communicator — emphasize the value of sharing information internally or with our customers; tend to incorporate team brainstorms and collaboration to develop strategies, campaigns and new ideas. Business Relationship Managers and Service Delivery Managers are examples of this style.
Concentrator — focus on detailed information and require freedom from distractions. Data Analysts usually fall into this style.
Innovator — design and develop new products or improve existing products. This is not limited to engineers; we also see this in our Energy & Sustainability managers.
Traveler — meet with both internal and external customers, across HP sites. Construction Project Managers need to be onsite to oversee projects.
By taking the view that employees are individuals joining together to serve a larger purpose, organizations can put the focus back on production. As Eagle points out, it isn't a matter of developing a hyper-customized solution for each generation; it's about providing options and the freedom for each person to decide what's best for him or herself.
Other cross-generational issues to consider, says Kraut, are seclusion versus trust, respect and access.
"Access means having access to senior people in your industry. You have to have mentors. Isolation is not good. If people, especially Millennials, feel like they're involved in something bigger than themselves, it shows in their work," he says.
Overall, synergy stood out as the biggest benefit to multigenerational workplaces. The combination of experiences, skill sets and approaches to everything from problem-solving to communication provides a rich landscape from which to identify and execute the best possible strategies.
"The blending of generations supports a balanced perspective," says Eagle. "Mutual opportunities for learning from each other, whether it be a technical skill or a strategic viewpoint leads to a healthy, growing and balanced organization." And that's something everyone will toast to.
About the Author
Emma Alvarez Gibson is a Gen Xer. Adaptable
like the rest of her generation, she speaks Baby
Boomer and Millennial with equal aplomb.
Currently she is working on her first novel.