by John Michael and Ed Ludwigson — Today, facility managers and their companies are realizing that the link between office comfort and productivity shouldn't be underestimated. Accordingly, the role of ergonomics in the workplace is evolving from a nice-to-have to a more critical component of facility and office design.
In addition, as computers continue to shape the way people work, a major part of the ergonomic conversation centers on providing support for employees in a technology-driven environment. In fact, a recent survey by Staples Advantage found that one-third of respondents spend eight or more hours a day at their desk in front of a computer—more time than the average adult spends sleeping each night. And just like the quality of a mattress can affect a good night's sleep, the comfort level of office furniture and technology also can impact employee productivity and well-being.
Making positive ergonomic changes doesn't have to mean an overhaul. In fact, facility managers who work closely with organizations to implement simple and cost-effective ergonomic tweaks can foster a healthy, high performance and even happier work environment. According to the Staples Advantage data, with a more ergonomic workspace, nearly one in two office workers say they would be more productive, one in three would be a more pleasant person to work with and 35 percent would feel less stressed while at work.
Furniture and technology solutions
An important first step in providing an ergonomic workspace is selecting and adjusting optimal furniture and desktop technology solutions. The following are four ergonomic essentials and tips on how to use them to maximize comfort: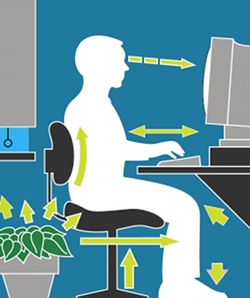 Chairs
A good chair can alleviate back pressure and promote good posture, keeping employees energetic and focused throughout the day. In fact, 54 percent of survey respondents said if they could make one change to improve the comfort of their workspace, it would be a more comfortable chair. Consider these tips in chair selection as well as no-cost ways to make the most of current chairs:
Think about the task: Different job functions may benefit from specific chair designs. For maximum versatility, consider multifunction chairs that can adapt to changing tasks.
One size may not fit all: To account for differences in employee size, weights and preferences, consider chairs that can conform to support various body types. Chairs with adjustable seat depth, back height, arm height, chair height and tilt tension can enhance comfort and productivity.
Prioritize posture: Good posture can prevent employees from developing the aches and pains associated with continually craning their necks or raising and lowering their shoulders. There's no cost to educating employees on how to sit properly, in a reclined posture of 100 to 110°, not an erect 90°. Additionally, seat height should be adjusted so feet are firmly on the floor and arm height is at computer level.
Keyboards
The use of ergonomic keyboards can promote proper wrist and finger positioning and often help reduce the risk of developing carpal tunnel syndrome and other repetitive stress injuries. "Fixed-split," a single keyboard with keys separated into two or three groups, and "adjustable-split," a keyboard split into several pieces, are popular ergonomic designs.
No matter what type of keyboard is used, the keyboard's placement and positioning are important factors in increasing comfort. Keyboards should be placed directly in front of employees and aligned with their monitors and desks. Employees also should ensure their wrists and hands are in line with their forearms when typing.
Pointing devices
In addition to the traditional mouse, there are a variety of other pointing devices available, including trackballs, touch pads and finger-tip joysticks. Regardless of the device used, employees should take care to use a light touch, rather than a firm grip, and relax their fingers periodically to alleviate hand and arm tension. Additionally, all pointing devices should be positioned on the same level as and near the side of the keyboard to avoid strain through twisting or reaching movements.
Monitors
Given the long hours spent in front of computers, making low- and no-cost tweaks to monitor settings can make employees more comfortable and help prevent eye strain.
Computer monitors should be positioned at eye level and an arm's length away, so employees are looking forward and slightly downward. Additionally, brightness, contrast and screen resolution can be customized for each employee. Non-glare screens and monitor stands that tilt and rotate can maximize comfortable viewing.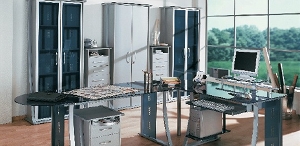 Additional tips for creating an ergonomic workspace
Incorporating ergonomic furniture and technology solutions is an important step in creating a more comfortable and productive work environment. At the same time, there are a variety of other factors that go into a well-implemented ergonomics program. The following are some simple ways facility managers can create a complete ergonomic environment:
Align ergonomic initiatives with core business functions: Different types of work require different computing needs and, consequently, different postures and positions. To achieve maximum benefits, ergonomic programs must be centered on core work functions. For example, prioritize keyboard and mouse position for word processing, mouse placement for graphic design and numeric keypad positioning for data entry.
Take a holistic approach: In addition to ergonomic equipment, it is important to consider environmental factors that can affect employee comfort, health and productivity. Ensure a quiet work environment to improve communications and concentration, optimize lighting to reduce monitor glare and prevent eye strain, and maintain a comfortable office temperature to maximize productivity.
Prioritize employee training: Ergonomic furniture and technology solutions will only be effective if employees use them correctly. Make sure employees are aware of the productivity and health benefits associated with ergonomics and are trained in furniture and equipment usage. For example, show them how to adjust their chairs to achieve proper posture and change monitor brightness for comfortable viewing. In addition, provide them with an overview of ergonomic best practices like the importance of shifting sitting positions every 15 minutes and taking several breaks throughout the day to rest their eyes.
Seek expert help: Consider working with ergonomic professionals who can assess office layout and workspace design, identify problem areas, and provide customized and cost-effective solutions that align with specific business needs.
Creating healthier work environments
The benefits of proper ergonomics are multifold—helping organizations maximize efficiencies, attract and retain employees, and even prevent strain and injuries among workers. Facility managers who incorporate ergonomic furniture and technology solutions, and follow a few simple best practices, can help create healthier work environments that improve employee morale and productivity. FMJ
John Michael is vice president and general manager of Business Interiors by Staples, and Ed Ludwigson is vice president and general manager of Staples Technology Solutions. These groups are both part of Staples Advantage, the business-to-business division of Staples, Inc., which provides comprehensive furniture, technology and workplace solutions that promote ergonomics and improve productivity.