by Brianna Crandall — May 13, 2022 — Global hygiene and health company Essity announced earlier this year that the company has acquired the U.S. professional wiping and cleaning company Legacy Converting, Inc. The company offers products within the categories of sanitizing and disinfecting wet-wipes, chemical-ready wipes and dry wipes. Essity is a major global supplier of products and services in the market for professional hygiene with its leading Tork brand.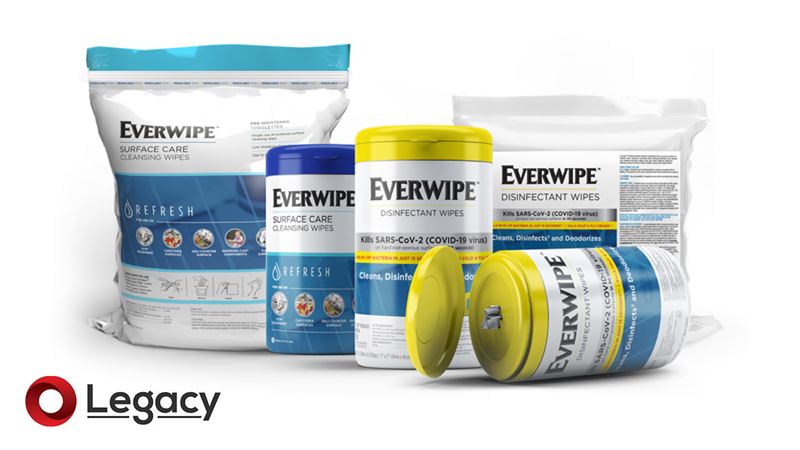 Legacy Converting manufactures the Everwipe brand of roll and folded wipes in a variety of formats, including pop-up canister, bucket and resealable packs. Customers are mainly found in the industrial and office supply, public interest, commercial and healthcare market segments. Founded in 2004 by trained physician Dr. Jason Slosberg, Legacy Converting moved its headquarters and operations to a brand new, state-of-the-art factory and warehouse in Bordentown, New Jersey, in late 2020 after experiencing sales growth amounting to 183%.
Legacy's 101075 and 10100 products (Everwipe Surface Disinfectant Wipes) are registered with the EPA as both a sanitizer and a disinfectant, and appear on EPA's List N. EPA expects products on List N to kill all strains and variants of the coronavirus SARS-CoV-2 (which causes Covid-19) when used according to the label directions.
Don Lewis, president, Professional Hygiene, Essity, stated:
As a leading global hygiene and health company, we are committed to offering innovative sustainable hygiene products and services. With the acquisition of Legacy Converting, Inc., we will expand our wiping and cleaning product offering and further strengthen our presence in key customer segments in the North American market.
Essity's Professional Hygiene business comprises complete hygiene solutions, including toilet paper, paper hand towels, napkins, hand soap, hand lotion, hand sanitizers, dispensers, wiping and cleaning products as well as service and maintenance under the global Tork brand. Essity also offers digital solutions, such as Internet of Things (IoT) sensor technology, enabling data-driven cleaning.
Customers consist of companies and office buildings, universities, healthcare facilities, industries, restaurants, hotels, stadiums and other public venues. Distribution channels for the products consist of distributors and online.