White Paper submitted by ABM
With over a decade of experience — and nearly 30,000 charging ports installed — ABM is the leading commercial installer of EV chargers in the U.S.
Download our expert EV answers ebook to learn more about our unique approach to creating custom electric vehicle (EV) solutions that improve driver satisfaction and get you closer to your sustainability goals.
Why trust ABM as an authority on EV infrastructure?
Answer: We've got more than a decade of experience — and over 28,000 installed EV charging ports to prove it.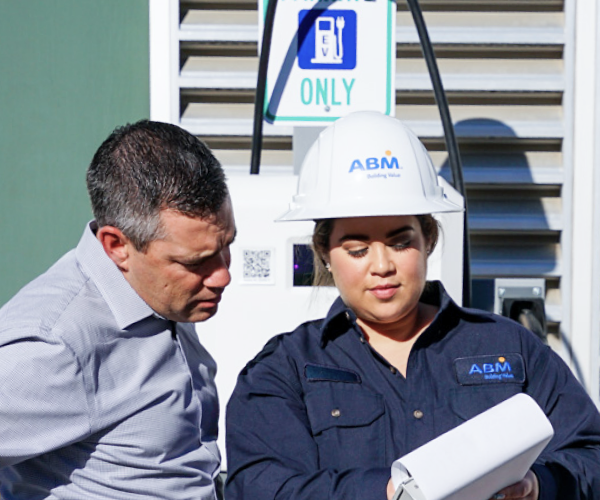 During our more than 110 years as a facility services provider and innovator, we've helped facilities evolve to meet tech demands — thousands of times. EV is the latest tech to be woven into the fabric of facilities, and our experts can answer any question about it.
With our extensive experience in parking management and energy-saving solutions, ABM helps your facility navigate the intersection of evolving technology, power requirements and operations that impact successful EV charging infrastructure. And our proven experience in eMobility means that we know how to expedite the implementation process and help you plan for your facility's future.
Facilities of all sizes partner with ABM. Our scale and breadth of expertise enable us to offer custom, cost-effective solutions that serve your drivers, your objectives and your bottom line. ABM is uniquely positioned to help you design and implement custom, innovative EV charging projects. Our teams self-perform installation, power distribution upgrades and cost-effective preventive maintenance, bundling the services you need to create a customized EV solution for your facility.
How do I prepare my facility for the EV revolution?
Answer: Here's your EV roadmap. We drew it just for you.
The right EV solution takes everything into account from the beginning. Financing and procuring for charging stations. Dynamic pricing models based on demand. Ongoing service and maintenance. All with an eye on long-term sustainability.
Here's how ABM builds your custom, scalable EV roadmap for implementing charging technology and capabilities at your facility.
Site consultation and analysis
Equipment and network system selection
Financing structure and incentives
Design, Installation and electrical testing
Ongoing service and maintenance
Continuous monitoring, analytics and reporting
Throughout it all, ABM is your single point of contact operating right by your side, answering every question and ensuring that you make the best choices today — while remaining flexible and ready for the future of EV.
How many EV charging stations, and which types, do I need?
Answer: It all depends on your goals, footprint and the investment you want to make in your facility's EV infrastructure. But, no matter which way you choose to go, ABM can get you there.
As electric vehicles continue to evolve, ABM can help you lead the charge by right-sizing your EV assets and maximizing their useful service life.
Here's a quick overview of the three main types of EV charging technology:
Level-1 Charging – Uses a standard 110/120-volt receptacle
Level-2 Charging – Uses the 208/240-volt SAE J1772 port for faster charging
Level-3 Charging (DC Fast Charging) – 480 volt, very fast charging for automobiles equipped with the Fast Charging option
No matter which type you need, ABM teams know how to design efficient, safe and dependable EV installations.
In summary, the best time to start investing in EV charging infrastructure was yesterday. The next best time is right now.