by Brianna Crandall —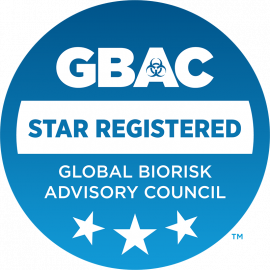 January 17, 2022 — The first organizations have achieved the GBAC STAR Registered Technology & Registered Programs designation from the Global Biorisk Advisory Council (GBAC), a Division of ISSA, the worldwide cleaning industry association. These products and programs have been recognized as meeting a high standard of cleaning, disinfection, and infectious disease prevention.
The GBAC STAR Registered Seal promotes resilience and provides added assurance for facilities managers (FMs) and service provides who are dedicated to cleaning for health. Twenty additional companies are in the process of achieving the GBAC STAR Registered designation.
The technologies and programs that have achieved GBAC STAR Registered Technologies & Registered Programs designation are listed below:
AirV2 Clean Air Dispersion System from Germfree is an air filtration system designed to provide clean air in large indoor spaces.
AllClir Sensors from AllClir are disinfection testing devices that help cleaning professionals confirm whether a chemistry application has reached the recommended wetness levels, ensuring that disinfectants are applied correctly.
eWAVE Intelligent Fiber (i-fiber) from Creative Products International is a "revolutionary" intelligent fiber proven to remove 99.9% bacteria while 4D Cleaning hard surfaces.
Gene Count Q16/SARS-CoV-2 Direct Surface Kit from LuminUltra uses qPCR technology to test up to 16 samples for target microorganisms and identify total count.
KOLO Smart Monitoring System from GP PRO monitors whether chemical dispensers are stocked and fixtures are functional.
Onvation Smart Restroom System from Kimberly-Clark Professional is a software solution that monitors and analyzes restroom conditions, enabling facility staff to proactively control and optimize restroom servicing.
GBAC Executive Director Patricia Olinger stated:
The GBAC STAR Registered Technology & Registered Programs designation helps facility managers and building service contractors identify vetted technology and services to keep facilities safe and their visitors healthy. These newly registered offerings represent the best in cleaning and disinfection products and programs to help prevent the spread of COVID-19 and other illnesses.
GBAC STAR Registered Technology & Registered Programs Seal confirms that equipment, products or programs meet safety and health guidelines. Organizations that wish to receive the designation must provide a list of claims and a problem statement the offering is addressing, evidence that the offering contributes to preventing the spread of Covid-19 or any other diseases, and demonstrate an advantage in efficacy, cost, health and safety over existing products and services.
For more information about the GBAC STAR Registered Programs & Technology designation, visit the GBAC website.