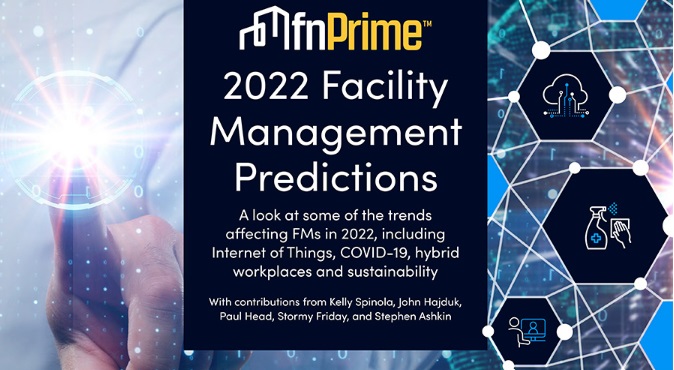 fnPrime offers a 27-page Facility Management Predictions report with contributions from five industry experts who identify key trends FMs are already handling in 2022. The FM Predictions report includes:
Advancements in Internet of Things (IoT)  technology and decreasing product costs will allow more facilities to take advantage of smart devices. And the timing for this adoption couldn't come at a better time. Health and wellness initiatives matter to occupants and smart technology allows facility managers to know and manage occupancy patterns. In addition, IoT technology can help FMs be more strategic in their energy use to help meet energy efficiency goals, including net zero energy.
Janitorial services continue to be of the utmost importance, especially as a way to prove to occupants that the building is safe to enter and work. But like so many other industries, janitorial faces a staffing shortage. Facilities will need to relook at their service providers to find those who are improving productivity.
As occupants return to the office, the workplace dynamics have changed. The pre-pandemic office is now a relic of the past and workplace user experience, worker privacy and balancing a reduced workplace footprint are factors to readdress and understand. These evolving workplace trends bring with them new metrics that will be used to judge building performance and the success (or failures) of facility managers.
Hybrid workplaces are a direct result of the pandemic and are here to stay. Facility managers need to learn how to manage their facility when more occupants are mixing virtual and in-person work. But not only that, FMs need to learn how they will manage their own staff in this same hybrid environment.
Another catastrophic wildfire season along with the wrath of Hurricane Ida reminded everyone of the perils of climate change and the need to embrace environmental initiatives. While not a new concept by any means, sustainability efforts will continue to matter, but maybe now more than ever.