September 7, 2022 — The Global Biorisk Advisory Council (GBAC), a Division of ISSA (the worldwide cleaning industry association), has just announced that Poppy's Biosafety Intelligence System and Epistemix's Infection Risk Forecasting Dashboard have achieved the GBAC STAR Registered Technology & Programs designation. These offerings were assessed by the GBAC Advisory Council Scientific Board for scientific validity, usability, practicality, safety and efficacy.
Poppy's Biosafety Intelligence System provides facilities with continuous, measurable insights needed to create infection-resistant buildings. Its diffusers release barcoded particles to safely scan and trace the paths that airborne pathogens would take if they were present. The system continuously monitors and detects these particles, as well as any microbes present, to deliver detailed insights on environmental system performance, cost savings and actions to increase safety.
Epistemix's Infection Risk Forecasting Dashboard combines advances in epidemiology and computer science to run realistic simulations of human populations. It simulates health outcomes and assesses which interventions can have the greatest impact to improve population health.
GBAC Executive Director Patricia Olinger stated:
These unique platforms offer high-tech solutions to very real problems. Covid-19 variants are still cropping up, and monkeypox concerns are growing. Having these technologies GBAC STAR Registered offers peace of mind to businesses looking for the best in preventative health and safety measures.
To achieve GBAC STAR Registered status, organizations must demonstrate that their product or service addresses real problems effectively and provide evidence that the offering will contribute to preventing the spread of COVID-19 or any other diseases. Companies also must show that their offerings improve efficacy, cost, health, and safety over existing offerings on the market.
Olinger added:
Facilities that implement these technologies are also one step closer to GBAC STAR Facility Accreditation, which would add another layer of trust for their employees and visitors. As the public navigates the post-pandemic climate, the need for effective cleaning technologies and programs remains top of mind.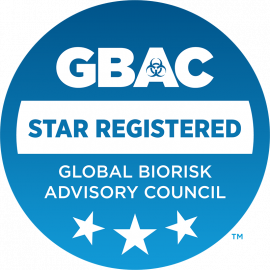 Learn more and apply for GBAC STAR Facility Accreditation, and find accredited technologies and those pursuing accreditation via the GBAC STAR Facility Directory, on the GBAC STAR website.
Composed of international leaders in the field of microbial-pathogenic threat analysis, mitigation, response, and recovery, the Global Biorisk Advisory Council (GBAC), a Division of ISSA, provides training, guidance, accreditation, certification, crisis management assistance and leadership to government, commercial, and private entities looking to mitigate, quickly address, and/or recover from biological threats and real-time crises. The organization's services include biorisk management program assessment and training, infectious disease and biological material response and remediation, the GBAC STAR Facility and Service Accreditation Programs, training and certification of individuals, and consulting for building owners and facilities managers.
With more than 10,500 members — including distributors, manufacturers, manufacturer representatives, wholesalers, building service contractors, in-house service providers, residential cleaners, and associated service members — ISSA is a worlwide trade association for the cleaning industry. The association is committed to changing the way the world views cleaning by providing its members with the business tools they need to promote cleaning as an investment in human health, the environment, and an improved bottom line. Headquartered in Rosemont, IL, USA, the association has regional offices in Milan, Italy; Whitby, Canada; Parramatta, Australia; Seoul, South Korea; and Shanghai, China.