White Paper submitted by ABM
Don't know what you don't know about getting EV for your facility?
Download our expert EV answers ebook to learn more about our unique approach to creating custom EV solutions that drive up occupant satisfaction and get you closer to your sustainability goals. With over a decade of experience — and more than 28,000 charging ports installed — ABM is the leading commercial installer of EV chargers in the U.S.
What's the easiest road to EV success for my facility?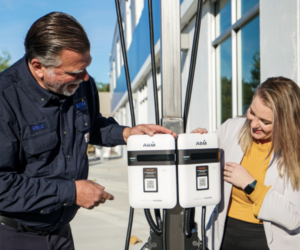 Answer: ABM solutions make EV charging infrastructure a key feature of your facility. And you get all of the power — with none of the hassle.
The journey to broad EV adoption in the U.S.
The number of electric vehicles on American roads is increasing daily — and it's elevating the nationwide demand for more public and private EV charging stations. Expert forecasts. estimate that by 2030, 28 million EVs will enter the American auto market. Meanwhile, the EPA has announced expected new emissions rules that will result in EVs attaining a roughly 60% market share of all vehicles by the same year. To power those, the U.S. will need 700,000 Level-2 chargers and 70,000 Level-3 chargers. That's an 8-fold increase in the country's EV charging infrastructure. In just 7 years.
To help make this possible, the federal government has allocated $5 billion over the next half-decade to increase EV charging infrastructure, promising to pay for the full installation of half a million chargers. In short, the nation's headed straight into an era of hyperspeed growth in the EV market, and your facility needs to be ready to support it.
Your on-ramp to easy EV implementation: ABM
Are you reading these figures and feeling overwhelmed, lost, confused or unsure of how or where to start? Like it'll be impossible for you to meet the demand? Let ABM draw you a map for how to best get EV infrastructure at your facility.
As daunting as the prospect of charger proliferation sounds, our EV experts have enabled thousands of physical locations spanning over 15 different industries to meet the current and forthcoming demands of EV charging.
As the nation's largest commercial installer of EV charging solutions, we are perfectly positioned to upgrade your systems and infrastructure to meet demand. We have the hardware, software, expertise and financing structures to support you every step of the way. Plus, we've got more than a decade of experience—and over 28,000 installed EV charging ports—to prove it.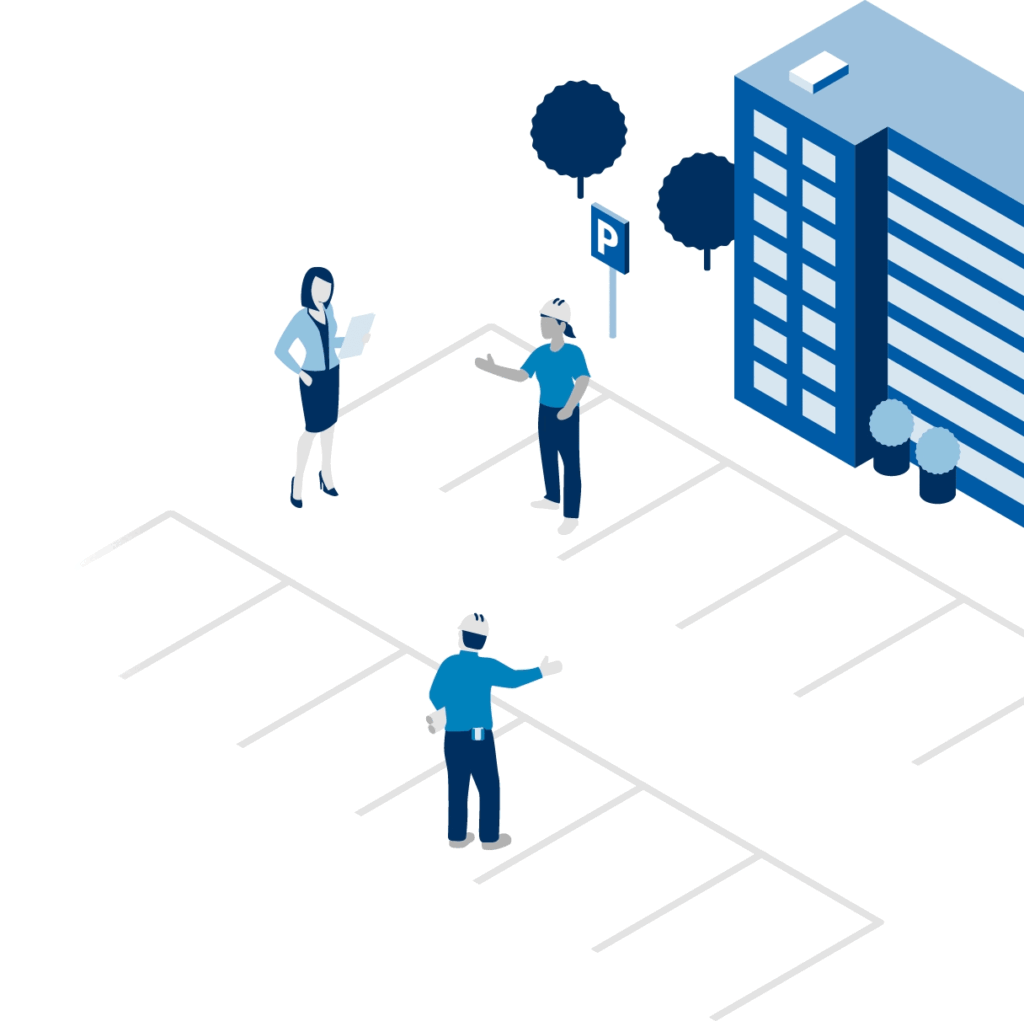 In short, if you've got EV questions, we've got EV answers.
Read this guide to get many of them right now. In it we address the four primary barriers to success head-on: Once you know what you're up against, we can start solving for it together, in a way that best benefits your facility and the people in it.
Barrier 1 – Where to begin and how to scale

Barrier 2 – The costs, financing options and financial structures

Barrier 3 – Finding the right solution for your specific facilities

Barrier 4 – Implementing in an uncertain economy
Once you know what you're up against, we can start solving for it together, in a way that best benefits your facility and the people in it.
What questions should I be asking about EV charging infrastructure?
Answer: If you're not sure where to start, don't worry — we've already asked and answered all the questions.
EV charging technology is just now becoming widely demanded, mandated and adopted. As a result, many facility owners and managers aren't completely familiar with the details, specs and requirements of implementing EV at their facilities. At the same time, they have reasonable concerns surrounding making a significant investment in EV charging infrastructure. They worry that the EV installation market is:
Not yet mature
Fragmented
Full of jargon
A sea of sameness
Highly focused on software-enabled charging ports
Furthermore, EV marketing often loses track of the primary beneficiaries of the technology: EV drivers, the environment and the client's business. Thus, facility owners and managers are uncertain on the best path forward, what sort of investment to expect and the ongoing costs and management requirements for maintaining the charging systems.
Beyond convenience, EV chargers are also helping facilities meet their green building initiatives and ESG goals, including improving air quality and reducing emissions. They're also supporting our nation's larger goals of creating a path to net-zero emissions by 2050 and positioning U.S. industries to lead these global efforts.
In summary, the best time to start investing in EV charging infrastructure was yesterday. The next best time is right now.