by Brianna Crandall —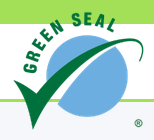 April 27, 2022 — On Earth Day 2022, global nonprofit ecolabel provider Green Seal released its 2022 Impact Report, which reflects the ever-increasing importance placed on healthy environments spurred on by the Covid-19 pandemic.
Key metrics reported include:
1.5 billion industry-grade 1-liter plastic bottles saved by Green Seal-certified professional cleaning products annually;
3.2 million metric tons of CO2 emissions saved by Green Seal-certified sanitary paper annually — the equivalent of taking 800,000 cars off the road;
7.9 million schoolchildren protected from toxic chemicals/asthma triggers in cleaning products last year; and
500,000 lbs. of organochlorine water contamination avoided by Green Seal-certified sanitary paper annually.
The report also highlights Green Seal's new partnerships with Google, Amazon, USGBC, the International WELL Building Institute and others.  Readers can find the link to the report at the end of this page, and a blog from Green Seal CEO Doug Gatlin and Board Chair Christina Martin below.
Announcing Green Seal's 2022 Impact Report
By Doug Gatlin, Green Seal CEO, and Christina Martin, Green Seal Board Chair
Over the past year, the topic of indoor air quality has captured our conversations in a way few would have dreamed of before the pandemic. As the world tries to find a new equilibrium, the health and safety profiles of the schools, offices, and public spaces we are returning to has never been more important.
This is a moment that was made for Green Seal, which has always applied science to help people navigate toward choices that promote healthy indoor environments. Over the past year, Green Seal launched standards, certifications, and resources to make it easier for everyone to find safer, healthier products and create spaces where people can thrive during the pandemic and beyond.
Among the most impactful of these initiatives is Green Seal's Healthy Green Schools & Colleges, the first national healthy-air standard for school facilities. With an accessible learn-as-you-go structure and a focus on low- and no-cost measures, this standard fills a critical gap to provide schools with the information and support they need to ensure the quality of learning environment that every student in America deserves.
To support a heightened focus on workplace health and wellness, Green Seal announced a new certification standard for paints and coatings that fully aligns with the latest version of the LEED® green building rating system and identifies the safest, greenest paint available on the market today.
And, with a growing body of evidence indicating that per- and polyfluoroalkyl substances (PFAS) are likely to have harmful health and environmental effects, Green Seal took a leadership position with an initiative to prohibit all approximately 12,000 PFAS chemicals in certified products.
Demonstrating that there is power in partnerships, our collaborative efforts with Amazon Climate Pledge Friendly, the U.S. Green Building Council, the International WELL Building Institute, Healthy Schools Campaign, and Health Product Declaration Collaborative are amplifying Green Seal's impact and accelerating the transition to safer, greener products and spaces.
As we cautiously and hopefully emerge from the worst of the pandemic, the twin pillars of health and environmental sustainability that Green Seal has stood for over the past 30-plus years are more in demand today than ever before. In the 2022 Impact Report, we are proud to highlight the impactful initiatives and partnerships that are making it simpler for consumers, parents, business owners and others to choose healthier, safer products and services with confidence.
Green Seal's 2022 Impact Report is available to view on the group's website.