by Luis D'Acosta — This article originally appeared in the March/April 2022 issue of FMJ
Environmental change is one of the greatest crises the world is facing. People and organizations are running out of time to limit the increase of the global temperature to 1.5 degrees above pre-industrial levels — a key goal think tanks, governmental agencies and scientists around the world say must be achieved to reduce the impact of climate change. Add the Covid-19 pandemic, and the goals become even more challenging.
As a result of these two seismic challenges, the workplace is evolving. To stay competitive as a building developer, owner and facility manager, meeting the challenges of individual consumers and society is crucial. Despite there being no one-size-fits-all approach, there are important steps that FMs can take as an industry to create more sustainable, healthy and flexible buildings.
Buildings play a significant role in limiting the devastating impact of climate change
All eyes are on the issue of global warming, but there is much more work to do. According to the United Nations Environmental Project's (UNEP) Emissions Gap Report 2020, "despite a brief dip in carbon dioxide emissions caused by the COVID19 pandemic, the world is still heading for a temperature rise in excess of 3 C this century — far beyond the Paris Agreement goals of limiting global warming to well below 2 C and pursuing 1.5 C."
While a drop in CO₂ emissions was the result of unsustainable conditions spurred on by the pandemic, it shows that reducing emissions (or at least preventing temperatures from rising further) is possible. The UNEP report's finding is certainly a wakeup call, but it is encouraging to see that they state "a low-carbon pandemic recovery could cut 25 percent off the greenhouse emissions expected in 2030, based on policies in place before Covid-19. Such a recovery would far outstrip savings foreseen with the implementation of unconditional Nationally Determined Contributions under the Paris Agreement, and put the world close to the 2 C pathway."
Some countries such as the United States have made additional commitments. Last year, the U.S. government announced a new target to achieve a 50-52 percent reduction from 2005 levels in economy-wide net greenhouse gas pollution in 2030. This builds upon the nation's already established goal to create a carbon pollution-free power sector by 2035 and net zero emissions economy by no later than 2050.
There is an incredible need for public and private sector in every industry to work together, and those in the facility management industry must understand the role they play in meeting these goals. Against the backdrop of rising populations, urbanization and globalization in developing nations, considerable growth in construction and real estate is expected. Already consuming 40 percent of global energy annually, the global building footprint is expected to double by 2060, with energy expenditure growing by 50 percent.
Creating cleaner, safer indoor spaces is (and will continue to be) of great importance
In March 2020, many workers went home and did not return to the workplace for more than a year. Some say they will never return. The office as it was has changed. Expect the office of the future to be transformed into new mixed-use buildings where flexible spaces retrofitted to meet new standards will become the norm.
In preparation for the return of employees, building and facility stakeholders have had to reexamine their strategies for improving ventilation and indoor air quality. Arc, the Center for Active Design and the International WELL Building Institute have all released guidelines for the greater good. Given the benefits and the spotlight cast on health and well-being, there will undoubtedly continue to be a new level of scrutiny and demand for health-centric building practices that did not exist prior to the pandemic.
Pulling together a game plan to meet sustainability and health safety goals
What should FMs be doing now to meet sustainability and health safety goals? To help make the process smoother, here are three factors to consider:
1. Embracing electrification. One of the biggest focuses in the building industry in the coming years will be on building electrification. Gas, oil and propane used for Heating is one of the largest producers of CO₂ and electrification is a cleaner alternative. As such, capturing the power of the all-digital, all-electric world is vital in the fight against climate change. According to Verdantix's 10 Predictions for Smart Building Technology in 2021 and Beyond, "building electrification will gain momentum, through corporate energy management strategies."
Federal governments have announced investing in electric buildings as a top priority. The U.S., for example, is supporting efficiency upgrades and electrification in buildings, wider use of heat pumps and induction stoves, and adoption of modern energy codes for new buildings to reach key targets. These governments will also invest in technologies to reduce emissions associated with construction, including for high-performance electrified buildings.
One of the benefits of electrified buildings is that sensors, metering and monitoring can help measure energy consumption, and software can be deployed to design, manage and automate energy use to reduce or eliminate waste. It can also create healthier working environments by ensuring proper air circulation and consistent humidity levels. Plus, the benefits of an electric building are not saved for new construction — upgrades can be made retroactively so current properties can better meet occupants' needs.
2. Partnerships and policy. Climate change is not something that can be fixed, but is an ongoing effort that needs to balance the desire to move forward as a society with the need to protect our environment and health. Stopping the impacts of climate change, however, cannot be achieved by the work of one person, company or country. It also requires the support of industry groups and governments.
Having policies at the highest level of government is critical, but often smaller, local government entities can enact change quicker. According to the aforementioned predictions from Verdantix, there is a trend toward building electrification "being driven by country-level carbon reduction targets, the rise of solar and EVs, and regulation in U.S. cities banning gas hook-ups in new construction. In 2021 the trend will gain new momentum, as firms accelerate programs to decarbonize their heating systems and look to benefit from the strong business case for using heat pumps to heat their buildings."
At a minimum, all required government standards must be met, but it is also important that organizations use the newest data to help drive voluntary changes. It is through this extra step that FMs can become better global citizens and create a healthier environment for occupants.
3. Vision to Impact. Making changes to long-standing practices is not easy and does not happen overnight. It requires commitment from the entire organization and a clear roadmap that incorporates a holistic approach and lays out concrete goals. While not comprehensive, fundamental steps from vision to impact include: defining success, setting targets, deploying a program and sustaining results. Another often overlooked best practice is having one person leading the charge when it comes to developing and leading sustainability and safety programs — it provides a level of accountability that is necessary to drive initiatives forward that otherwise can get lost among other business priorities.
Where we are, and where we want to go
Covid-19 and global warming — these two seismic challenges will undoubtedly continue to impact many parts of everyday life. This includes the way buildings are designed, built and operated. The good news is that the technology and resources are out there to create greener, healthier and smarter buildings of the future in a cost-effective manner. For many, however, the biggest hurdle is simply making these initiatives a priority.
Companies that make sustainability and safety a part of every decision will not only be doing their part to make the world a better place, they will also be creating a differentiator from their competitors and setting themselves up for long-term success.
About the author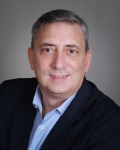 Luis D'Acosta leads the global digital energy line of business for Schneider Electric, responsible for reimagining the vision for buildings of the future and accelerating the digitalization of power distribution through the implementation of new technologies solutions such as IoT, software and cloud solutions for building management.
As the Vice President, Digital Energy for Schneider and an electrical engineer with more than 25 years of experience in the electric power industry, D'Acosta brings diverse knowledge and leadership expertise to his role. He is passionate about customer service, innovation and developing teams that deliver exceptional value.