by Maureen K. Roskoski, SFP, REPA, LEED AP O+M — Natural resource consumption reduction and cost savings are the primary components utilized when building the business case for sustainability. These are the tangible benefits everyone understands and have the most impact on decision makers. However, there is an even stronger case to be made with the operational improvements that are made when implementing sustainable facility management and taking on a challenge such as third party certification. After working on several US Green Building Council (USGBC) Leadership in Energy and Environmental Design (LEED) projects, it was clear that the certification does more than certify your building, it transforms your operations. The LEED for Existing Buildings rating system is not just a paper exercise. It is more than marking things off a checklist or implementing quick fixes. If approached in the right manner, it requires changing the way you think about the operations of your facility. Although that may sound daunting, it is actually a good thing. The certification process will not only transform your operations, it will create conversation and engage your company's employees and change the way you operate your facility.
Austin Convention Center's Journey
The Austin Convention Center (ACC) accomplished a significant achievement in becoming the first convention center in Texas, among only two convention centers in the country, to achieve Leadership in Energy and Environmental Design (LEED®) Gold Certification under the Existing Building rating system in November of 2011. This was not a short or easy journey, but rather a well-planned, methodical approach to energy management, sustainability, and ultimately LEED Certification. The journey began in 2007 when in addition to decreasing natural resource consumption and incorporating sustainability into the operational practices, the Austin Convention Center decided to pursue LEED Certification. In addition to making the Austin Convention Center more competitive in the national and regional convention market, the LEED certification would ensure maximum operation efficiency and financial savings for years to come. Mr. David Thomas, CFM, LEED AP O+M, Facility Manager of the Austin Convention Center Department knew that LEED certification could help them achieve operational excellence and build a successful operations program.
Over a period of one year, the team worked on implementing all of the necessary changes to operational practices, to the building systems, and to occupant behavior. Many changes involved improving operating procedures that have little or no cost associated with them. In areas where system or building upgrades were needed, our integrated approach allowed high benefits to be achieved at low costs because of synergies between areas of environmental protection and technologies.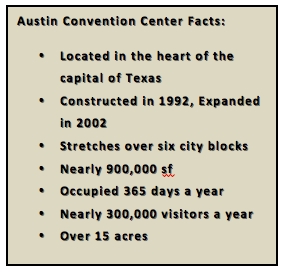 Cost Avoidance
Utility reduction and cost avoidance were core goals for the project. ACC conducted retrofitting of the areas that we knew could be improved. We conducted a lighting retrofit project that included the use of LED and fluorescent lighting to reduce energy consumption and mercury content where possible and to redirect exterior lighting to reduce light pollution. The schedule for the interior and the exterior lighting systems was modified to make sure that unnecessary light is turned off, and most offices and restrooms were equipped with motion detectors. FEA performed a comprehensive Retrocommissioning project which tested all major energy consuming equipment and helped get the building back to a baseline standard. We saw a 10% improvement in energy consumption in the first year (reference Figure 1). Further reductions however were very difficult to achieve. After decreasing energy consumption in 2010, energy use started to trend upwards in 2011. A few complicating factors influenced this, including weather and the fact that the majority of our consumption is based on client request (events at the center) rather than an internal matter that we can more easily control. We decided to dig a bit deeper into the rise in energy consumption by performing a cooling degree days (CDD) and heating degree days (HDD) analysis. Our analysis found that between 2010 and 2011, the number of CDD increased 24%, yet the total energy use of the building only increased 11%. When you add in rate increases, this results in approximately $450,000 in cost avoidance.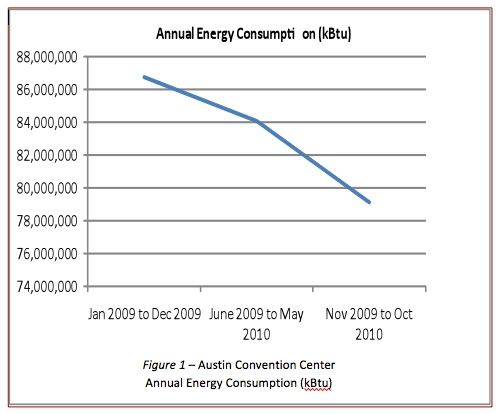 Operational Improvements
ACC is proud of their effort to not only achieve LEED Gold certification, but in their additional project achievements, including reducing indoor water usage by 32%, recycling 68% of their waste, decreasing their carbon footprint by 93%, and operating at an energy efficiency level 26% better than their peer-comparison baseline. These are the tangible metrics that are often highlighted when building the business case for sustainability. However, there is an even stronger case to be made with the operational improvements that are made when taking on a challenge such as LEED certification. The LEED process gave ACC a great opportunity to fully integrate sustainability in to their everyday business by setting up clear standards and requirements. The LEED required policies and plans forced ACC to create formal, written, documents of their practices. This is an integral part of sustainable facility management that is often overlooked.
Engaging Stakeholders
There is also an unexpected benefit of the certification process: a unified staff and an engaged population. The unique challenges the certification process brings can bond the team together. Even more exciting is how that the process can change the mind-set of building occupants. Many of the changes required affect the building occupants. Seemingly harmless changes, such as changing the type of office supplies purchased, changing the plates in the cafeteria, or changing the type of light bulbs in an individual's office can illicit drastic reactions, both positive and negative. While this may not by the desired result, all of these things begin a conversation about sustainability that allows the building occupants to become engaged in the process. According to Mr. Anthony Collier, FMP, SFP, Facility Service Coordinator, at the Austin Convention Center, "The process of pursuing certification encouraged the team and building occupants to become more mindful of daily operations and how those operations impacted the environment. As a result, this promoted a conscious effort on the part of everyone in the facility to operate and use the building in a more sustainable way."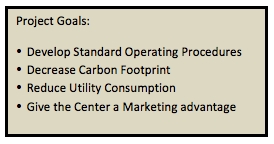 Achieving Operational Excellence
Although cumbersome at times, third party certification can help you build a successful operations program. Achieving certification through a third party, whether LEED or another rating system, gives Facility Managers a tangible way to quantify sustainability success in their field. Through this infusion of sustainability into facility management, the LEED rating system gave ACC the framework to achieve operational excellence. Can you achieve the same results without third party certification? Yes, and many organizations have successfully done this. Some organizations and departments, however, need the rigors and the timelines mandated by the certification process to set a clear path to incorporate sustainability throughout the entire organization. Often, those that approach third party certification in the manner that ACC did, where changing the way you operate is one of the main goals are able to transform their operations and fully integrate sustainability. This integration is what creates operational excellence in a facility. While it may not be the benefit first thought of, operational excellence is a benefit that should become part of the business case for sustainability.