Posted by Johann Nacario — May 2, 2023 — The global smart badge market is set to reach a valuation of US$ 50 billion by 2033, expanding rapidly at 9% CAGR over the next ten years. This report from Fact.MR explains what smart badges are and how they can be used in safety, security/access, tracking, desk occupancy and compliance applications for a variety of industries, particularly in government and healthcare facilities.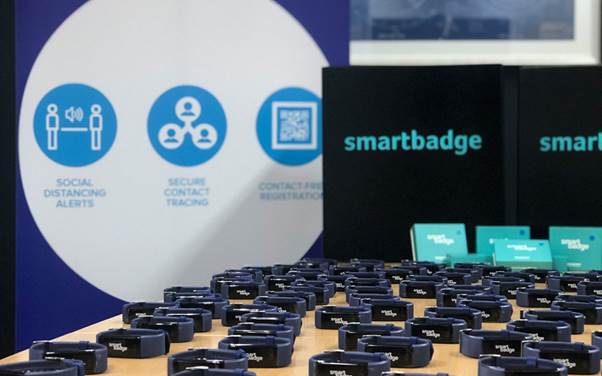 A smart badge is a transportable multi-mode tracker in the form of an ID card that contains embedded sensors that combine a Wi-Fi sniffer, GPS, BLE, low-power GPS, and LoRaWAN TDoA geolocation technologies to give precise and continuous geolocation. A smart badge is an excellent gadget for workforce safety and security tracking, zone notification, and surveillance. It is lightweight and simple to use, with a single button providing access to many features that can be customized to meet customers' requirements.
Smart badges are widely utilized in government and healthcare applications because they improve patient security and privacy, give secure access to emergency medical information, and prevent healthcare fraud. A smart badge also has a panic button to alert an emergency discreetly and the badge's position, which aids in tracking the individual in hospitals. Government entities often use smart badges to adhere to government regulations, as well as to confirm a person's identification and physically allow the badge holder to a facility.
Smart badges use cutting-edge machine learning and IoT technologies to improve security and enable new functionalities. Moreover, a smart badge offers information about who is accessing what, when, and where, eliminating the danger of a security breach due to negligence or oversight. As a result of these reasons, the demand for smart badges for government and healthcare applications is increasing, which is predicted to propel the global smart badges market during the forecast period.
Another major factor driving the global market is the growing demand for wearable devices.
Competitive landscape
Key players in the smart badges market are focused on technological advances and expansion to meet the increasing demand for smart badges. Furthermore, many start-ups are competing in the global market with their innovative offerings.
Spintly, a start-up based in the United States, provides cloud-based electronic identification-based access control systems. The start-up offers users smart access control technology, which allows them to turn smartphones into access cards. It has proximity-based access, offline support, and is compatible with a variety of locking methods. These products communicate with a companion application that is compatible with iOS and Android devices and allows users to control them remotely.
Bizzabo, an event management platform, acquired Klik, a wearable technology start-up based in Montreal. Klik's wearable goods, which appear to be standard badges or wristbands, include built-in technology that allows for the touchless transmission of contact information and tracking visitors' behavior, such as time spent in booths. They can also initiate recommendations, such as workshops or networking opportunities.
Regional analysis
North America is leading the worldwide market. The United States is providing the most revenue-generation opportunities in the regional market. However, the market for smart badges in Asia Pacific and Europe is witnessing significant demand growth.
More valuable insights on offer
Fact.MR, in its new offering, presents an unbiased analysis of the global smart badges market, presenting historical demand data (2018 to 2022) and forecast statistics for the period of 2023 to 2033.
The study divulges essential insights on the market on the basis of type (smart badges with display, smart badges without display), communication (contact badges, contactless badges), and application (corporate, retail & hospitality, government & healthcare, event & entertainment, other applications), across five major regions (North America, Europe, Asia Pacific, Latin America, and Middle East & Africa).
These insights are based on the Smart Badges Market report by Fact.MR.