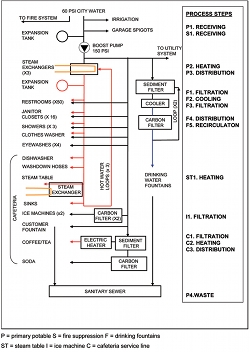 by Jerry Angelilli and Pat Guccione — ASHRAE (the American Society of Heating, Refrigeration and Air-conditioning Engineers) is the recognized competent professional organization for the HVAC and Refrigeration industries. The Cooling Technology Institute (CTI) is another recognized competent professional organization for individuals and organizations interested in evaporative heat transfer systems (EHTS), cooling towers and cooling technology.
While neither of these organizations are part of the federal or state governments, adherence to their standards could have a substantial impact on the extent of building owner liability in the case of any legal actions surrounding real or purported cases of Legionellosis that might be traced back to your property. Failure to adhere to these standards could multiply the amount of damages awarded if your property is found to be the source of the infection.
ASHRAE Standard 188P is titled "Prevention of Legionellosis Associated with Building Water Systems." Please note this standard will address all the water and plumbing systems in the building, not just the HVAC systems.
ASHRAE 188P is a comprehensive standard that requires nearly every publicly accessed property to conduct a "Risk Characterization." This is a process to determine the "qualitative estimation or approximation of the risk associated with a particular building based upon the characteristics of the building and its water systems." In practice this means "the building shall be surveyed to determine whether is it characterized by one or more of the following factors that relate to Legionellosis:
It includes multiple housing units with one or more centralized water heaters,
It is more than 10 stories high (including any levels that are below grade),
It is an inpatient healthcare facility,
Its occupants are primarily those over the age of 65 years or those receiving chemotherapy for cancer or bone marrow transplantation,
It has one or more whirlpools and/or spas either within it or located on its premises (i.e., adjacent to the building),
It has one or more water features or devices that, by design, release aerosols. This includes, but is not limited to certain types of ornamental fountains, misters (atomizers), air washers or humidifiers either within it or located on its premises, or
The total residual halogen concentration of the incoming potable water supply to the building is less than 0.5 mg/L (0.5 ppm) as Cl2.
The building shall be surveyed to determine whether it has one or more cooling towers and/or evaporative condensers that provide cooling and/or refrigeration for the HVAC&R system."1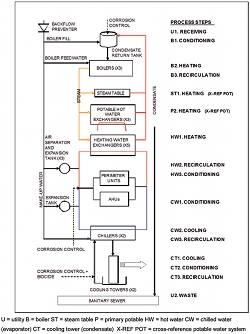 After the survey is complete, preventive measures are determined as described in the standard. From this phase the next step is the Hazard Analysis and Critical Control Point (HACCP) process and eventual development of a written plan. As stated in Standard 188P, "HACCP risk management shall be used to prevent Legionellosis associated with buildings. This approach to HACCP shall adhere to the seven principles of HACCP:
Conduct a hazard analysis.
Determine the Critical Control Points (CCP).
Establish critical limits for each CCP.
Establish a system to monitor control of the CCPs.
Establish the corrective action to be taken when monitoring indicates that a particular CCP is not under control.
Establish procedures for verification to confirm that the HACCP system is working effectively.
Establish documentation concerning all procedures and records appropriate to these principles and their application."1
Let's discuss what this means in practical terms. Nearly every publicly accessed building in the United States is going to meet one or more of the criteria for risk listed above. This means you will likely need to conduct a HACCP analysis and plan. To do this, you first must put together a team. In smaller buildings, this team might be one individual with a good working knowledge of the building's water systems. In larger properties, the team will likely be comprised of several individuals, possibly including the building engineer or lead plumber, the property manager and your water treatment consultant. At least one team member should be familiar with the HACCP process.
The team's job is to identify the critical control points in the building. A critical control point is any place or situation where a person might be exposed to water containing the bacteria. These could include decorative fountains, outdoor mist cooling systems, drinking fountains or cooling towers. Once the critical control points have been identified, the team needs to develop a plan to deal with minimizing the risk of exposure at each of these points. This plan will contain:
Names and titles of the HACCP team members
Process flow diagrams of both potable and utility water systems
Hazard analysis summaries
A monitoring schedule
An equipment device maintenance procedure
A validation summary
A verification schedule
Planned responses to disruptions in water service
In practical terms this means that for every HACCP the team must decide four things:
The critical control limits
The hazard control monitoring method
The hazard control frequency of monitoring
The corrective actions to be taken if the critical control limit is violated
For example, if your building has one or more cooling towers, these will be critical control points. The critical control limit may be non-detectable levels of Legionella bacteria in the water. The monitoring method might be regular water sampling with bacteria culturing. The corrective action might be increasing or modifying your biocide feed program until non-detectable levels are reached (see CTI-159 below). Section 8 of Standard 188P provides suggested monitoring methods and corrective actions.
When this process is completed by the team, they can move to the last steps:
Deciding how the team will confirm the plan is being implemented (verification).
Determining what evidence will be necessary to prove the plan's effectiveness (validation).
Preparing the planned responses to disruption of service.
The HACCP plan is now complete and implementation can begin. CTI Standard 159 is titled "Legionellosis Related Practices for Evaporative Cooling Water Systems." Its stated purpose is to provide the practices for the control of Legionella from evaporative cooling systems, specifically evaporative condensers, closed circuit cooling towers and open circuit cooling towers.
The striking difference between the two standards is the scope of water systems covered. While ASHRAE 188P applies to all water systems in a building or facility, the CTI standard only applies to evaporative cooling water systems. This considerably narrows the field of facilities impacted.
The CTI standard outlines specific environmental, operational and design practices that contribute to the control of Legionella pneumophila bacteria in the cooling water systems covered by it. First, a detailed description of the organism is presented; including where and how it grows. This is followed by a three step method of control of the organism with the goal being a "non-detectable level" of Legionella bacteria in the cooling water at all times:
Feeding biocides to the cooling water to keep total planktonic bacteria below 10,000 CFU (104 Colony Forming Units) per ml.
Regularly testing the water for both total planktonic and Legionella bacteria.
Specifying required control actions when these tests exceed the limits, followed by retesting to verify results.
Validation of a successful microbiological control program is required. There are two methods outlined in CTI 159. In both methods, the only acceptable result is non-detectable levels of Legionella bacteria.
In practical terms this means if you have any type of cooling tower, you must test it for Legionella bacteria. "This test must be performed by an accredited microbiology laboratory certified for Legionella testing in the CDC Environmental Laboratory Isolation and Technique Evaluation (ELITE) certification program. The only acceptable result is 'none detected.' If any positive result is obtained, system disinfection must be performed."2
All professionals involved with the treatment of water in commercial and institutional buildings will be impacted by the changing social, environmental and legal aspects of the new standards. These standards will help increase the safety and health of all humans working with or contacting water on a regular basis. By education and staying ahead of these measures, misconceptions and incorrect actions can be avoided; thereby enabling proper and efficient compliance.
Jerry Angelilli is manager of oxidative technology/senior engineer at Chem-Aqua. Pat Guccione is vice president of business development at Chem-Aqua.
Resources
Proposed New Standard 188, Prevention of Legionellosis Associated with Building Water Systems. American Society of Heating, Refrigeration and Air-conditioning Engineers, Inc. 1791 Tullie Circle, NE, Atlanta, GA 30329-2305 (Public Review Draft)
CTI STD-159 Legionellosis Related Practices for Evaporative Cooling Water Systems. Cooling Technology Institute, 2611 FM 1960 West, Suite A-101, Houston, TX 77068-3730 (Task Group Draft: CTI STD-159) December 2011
** Both figures are directly from the Second Public Review Draft (June 2011) of Proposed New Standard 188, Prevention of Legionellosis Associated with Building Water Systems (American Society of Heating, Refrigeration and Air-conditioning Engineers, Inc.), pages 20 and 21.