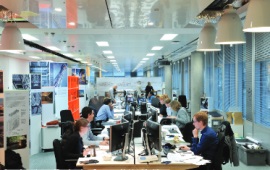 by Ann Marie Aguilar, Victoria Lockhart and Mallory Taub — Architects, designers and health professionals all agree that buildings and people should be well. But just how can we break the silos and ensure wellbeing infuses both the workplace environment and the employee experience? That's a task for the wellness integrator, a role that in coming decades, could be a staple in most workplaces.
A growing volume of research demonstrates the value in strategies that deliver healthy buildings and businesses. With staff salaries and benefits typically accounting for 90 percent of business operating costs,1 organizations are keen to do what they can to cultivate restorative environments. With innovative technologies transforming how people track health and building performance, individuals are empowered with the data to demand better environments. A duty of care is falling to building owners, designers and operators to deliver.
The challenge lies in extending the breadth of wellbeing initiatives into the totality of the workplace environment and employee experience. Our environments impact not only our physical health, but also our mental state and emotions: our spaces need to support tasks at hand, reinforce company values and brand, and facilitate healthier behaviours, ensuring that those that are best for us are also the easiest. The emergent need is for a Wellness Integrator to champion across traditional company silos, uniting HR, FM, IT and business in a holistic drive for wellbeing that infuses all aspects of the organization.
Role of the "Wellness integrator"
The role would vary based on the size and type of organization, but would generally lead initiatives that address both physical (environmental) and non-physical (operational) health and wellbeing. Currently, professionals with a background in sustainability are likely most qualified to start these interdisciplinary initiatives. However, to effectively understand health impacts, there is a need for further training in medical science research, or direct collaboration with health professionals. Projects will include embedding wellbeing principles and approaches into development briefs, fit-out guides, corporate sustainability guidelines and operational policies, or formulating long-sighted workplace strategies that fundamentally unite HR, corporate real estate solutions (CRES), business and individuals. The wellness integrator would identify project opportunities and secure funding to explore project-level implementation of measures, either through bespoke framework or using tools such as the WELL Building Standard®, the first building certification scheme focusing entirely on health and wellbeing.
The ultimate goal of the wellness integrator would be to focus on implementing evidence-based approaches aimed to improve the health and wellbeing of staff through synergistic initiatives for the built environment, employee benefits and organizational culture and practice. It comes down to addressing and quantifying the question, "how does my building impact my people?'"2
The World Green Building Council (WGBC) has suggested the initiatives could be tracked by correlating physical, perceptual and financial outcomes. Physical outcomes could be tracked through facilities management and real-time data from wearable and physical health records.
Surveys can track perception, asking staff for their self-evaluated physical and psychological health and productivity, alongside feelings about the office environment and organizational culture. To demonstrate the financial benefit of initiatives, the CFO could input to track before and after differences in absenteeism, staff turnover/ retention, medical costs and medical complaints. Relevant data likely already exists, but is in disparate parts of large organizations and not currently analyzed on a building-by-building level.
Approaches to Implementation: Corporate Sustainability
The London-based property investment company British Land has been quick to react to the growing agenda, augmenting its existing corporate sustainability executive with a new remit over wellbeing. This new sustainability and wellbeing executive has secured budget to support dedicated wellbeing research and development, and is proactively participating with industry events and research, such as Ecobuild and the WGBC healthy retail campaign. Matt Webster, one member of the team, keeps a watchful eye on the development pipeline to identify potential project opportunities, which serve as vehicles to review existing corporate documents — development briefs, fit-out guides and operations manuals — for potential wellbeing enhancements. It is as much a campaign of awareness and demonstrating value to internal teams as it is external markets, and the collaborative engagement with wider industry and thought leaders in the arena is key to staying abreast of the latest findings and opportunities.
Human Resources
Here at Arup, the wellbeing agenda historically resides with the HR team. Innovations in data insights developed through collaboration with healthcare provider AXA PPP have enabled targeted education, health screening and lifestyle support. In just two years, this has seen record-high employee engagement in the healthcare program alongside a drop in absenteeism and a significant reduction in longterm sickness. Head of Rewards at Arup, Evan Davidge, describes how the health and wellbeing discourse is entering a new era:"The key is enablement: providing the tools, resources and culture for people to thrive."
The opportunity now being explored is in the extension of wellbeing initiatives into our physical built environment. Working with our healthcare provider AXA PPP, we are developing tools to monitor the health of our staff across regions, and link this to building-level data on perceptions and asset performance.
Real Estate/Facilities Management
At the headquarters of Google in Mountain View, Calif., the [e] Team group is actively enhancing healthy built environments within their Real Estate and Workplace Services division, which works with "senior business leaders as well as design & engineering partners to translate design strategy into innovative work environments that align with Google's culture and help employees perform at their best every day." 3 Members of the team have collective expertise in healthy materials, knowledge management and interdisciplinary green architectural design, and collaborate closely with the Healthy Building Network, Bay Area Living Building Challenge Collaborative and Urban Land Institute.
While traditionally focused on green building initiatives across design, construction and operations, health is a fast-growing component of [e]Team initiatives, which include being a leader in healthy building materials and engaging in post-occupancy evaluation to assess the effectiveness of circadian lighting.
The way forward
Corporate organizations will increasingly discover the need for an internal point of contact for wellbeing who can develop strategies and metrics, and liaise with health professionals to maximize impact. Echoing the development of the interdisciplinary sustainability executive position over the past 20 years, this wellness integrator will develop and champion integrated health and wellness approaches to ensure buildings, employees and businesses are—and remain—healthy and well.
References
1. World Green Building Council (2014), Health, Wellbeing & Productivity in Offices. http://www.ukgbc.org/content/healthwellbeing-and-productivity-offices
2. World Green Building Council (2014), Health, Wellbeing & Productivity in Offices. http://www.ukgbc.org/content/healthwellbeing-and-productivity-offices
3. https://www.linkedin.com/in/mdavidge
Ann Marie Aguilar is an Associate Director at Arup Associates.
She was the fi rst WELL Accredited Professional (AP) from the
International Well Building Institute (IWBI) outside the U.S. and
is a passionate advocate of regenerative sustainability and the impact of
space design on human behavior and performance.
Victoria Lockhart is a Wellbeing and Sustainability Specialist in Arup
Associates. She is a LEED® AP, BREEAM AP, and provisional WELL
AP, bringing expertise in sustainable green building practices alongside
a passion for leveraging technology to enhance wellbeing and human
experience.
Mallory Taub is an Access, Wellbeing and Sustainability Specialist in Arup Associates. She champions triple-bottom line design values that combine environmental performance innovations with long-term, culturally appropriate and community-based design thinking to initiate social and economic change.