Introduction
by Diane Coles Levine — Recent HR studies show there is a new global war for talent and more companies are using workplace mobility as an employee attraction and retention tool. According to a survey of 1,400 CFO's by Robert Half "46% said telecommuting is second only to salary as the best way to attract top talent and 33% said tele-commuting was the top draw."
If this is the case, then why did Yahoo and Best Buy recently bring their mobile workers back into the office? If you ask Victor Lipman of Forbes Magazine, "the problem isn't distance — it's management." More than likely Yahoo and Best Buy's telecommuting programs were either not managed well or lacked sufficient training and data to prove success or both.
Telecommuting works, if it's planned, managed and implemented carefully and thoughtfully. Examples of successful programs can be found in the book Work on the Move published by the IFMA Foundation (www.ifmafoundation.org). This book was created for "boots on the ground" facility managers to help them understand workplace strategy and better manage the future workplace. With over 20 international case studies, the showcased companies demonstrate well-planned mobility programs, and have data to demonstrate their impact on employee attraction and retention, cost savings and sustainability.
When a new CEO enters a company, employees are often apprehensive and concerned about the future of their work-at-home programs. Will it stand the test of time and a major executive shake up? Is it managed well enough to survive a change in CEO? Is there a strong policy in place? Is there an effective training program? What data is being collected to show that the program works? And, how is it being measured?
Here are some elements to think about when implementing a mobility program at your organization.
Aligning with Business Partners
Leading a mobility program takes careful alignment with internal business partners. The important players are Human Resources (HR), Information Technology (IT), Risk Management, Legal, Marketing, and someone representing the business units to validate their readiness for the change. In Figure 1, the Project Management Office (PMO) played this role.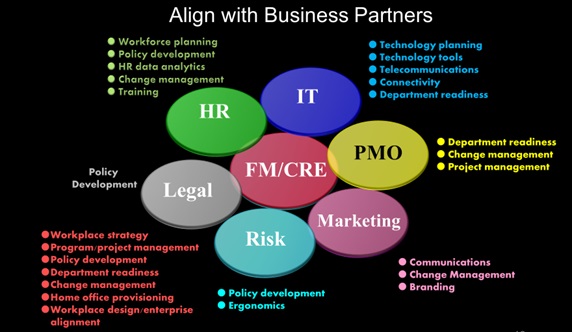 Facilities/Real Estate directs the project, provides workplace data, develops the workplace strategy and manages the implementation.
HR holds the workforce intelligence data needed to understand the number and location of current and future employees. HR develops the telecommuting policies, training programs and advises on change management.
IT plans and implements the technology infrastructure needed to work in a distributed environment and works with the business units to ensure they are prepared with the right tools to work remotely.
Legal and Risk Management participate in developing mobility policies and ensuring ergonomic considerations are met.
The Project Management office can play a critical role in representing the business units and managing the department readiness process.
Marketing and Communications can assist with communicating the change to staff.
Making the Case to the C-Suite
Money talks and data rules when presenting to senior executives. Gathering workplace and workforce intelligence can be time consuming but it pays off when making your case. There are several tools available to help calculate the return on investment for telecommuting programs. Most of them require time and effort to collect and input facilities, real estate, HR and IT data. And, it's well worth the time. The case studies in Work on the Move confirm this and show an average of 25% to 40% return on investment. Most of the cost savings are found in the reduction of real estate because an increase in mobility causes a decrease in real estate.
But let's not forget about HR and IT information available to track your mobility program. Employee attraction and retention data like turnover rate, revision/return rate, and employee satisfaction and engagement are all key indicators for success.
Figure 2 shows examples of real estate, facilities, HR and IT measures used to sell mobility programs. Separated into three categories; efficiency, effectiveness and expression, the left side measures, related to cost, are the easiest to measure and the right side, related to people, are the most difficult.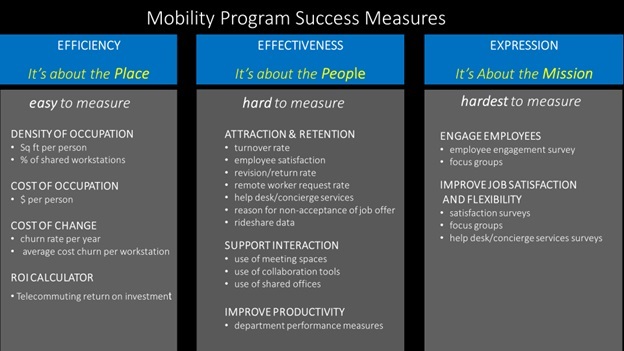 Many companies discover that their employees are already working remotely before they even embark on a formal program. There are many ways to substantiate this by examining other facilities and IT data to understand where and how the building and computer network are being used. Some of this data can be found in:
IT log in and remote access
Security system access
Meeting room reservations
Collaboration tool usage
Food service usage
Space utilization studies
Sensors
Collecting and monitoring workplace and workforce intelligence data will result in a better mobility program design. Continuous measurement allows for progress tracking to make any needed changes before they become a major management issue. Plus, when new executives enter the company the data is readily available to make your case for continuing.
Developing the Policy
A lot of businesses offer remote working but have no formal policy and telecommuting agreement. It is crucial to lay out the parameters for home office working to manage expectations and minimize human relations issues. HR, IT, Legal and Risk Management staff are essential in developing the policy. Some areas of consideration include:
Eligibility Standards — Who is eligible? How is eligibility determined? Is it voluntary or mandatory?
Home workplace requirements — What are requirements for the home office? Where is it located within the home? Is it adequate? What about child care?
Scheduled workweek — What are the hours worked? How is it tracked? How will you conform to any regulatory timekeeping requirements?
Reimbursement — Will employees be reimbursed for connectivity, phone, electricity, computer equipment, office equipment, furniture? If so, what is the method of reimbursement (i.e. stipend)?
Use of electronic media — How will existing electronic media policies be enforced?
Confidentiality and privacy — How will confidentiality and privacy policies be enforced?
Liability for injuries — Who is liable for injuries in the home?
Health and safety — How will you ensure health and safety in the home office?
Ergonomics — How will you ensure ergonomic practices are being followed?
Termination of agreement — What are the term and termination options of the telecommuting agreement?
Training — What are training requirements for home office workers?
Emergency conditions — What are the requirements for reporting to the office if power or internet is out at home? What are the downtime procedures if systems are down in the company office?
Home Office Provisioning — Will computer and office equipment, furniture, Internet connectivity, electricity and phone be provided?
Debating these considerations can take time. Issues like home office provisioning are no longer as prevalent as they were several years ago. Most companies provide a laptop and IP softphone. However, if the team decides to provide home office provisioning, there are some staffing, cost and timing considerations to think about. Outside vendors can provide this service but managing home office provisioning can be costly. It takes time and resources to coordinate furniture deliveries, internet connectivity and reconcile internet bills.
Helping Departments with Implementation
Before people are sent into the home office, careful planning should take place to prepare departments for the change. One way to do this is to create a department implementation plan. Getting departments ready to work remotely requires thorough coordination with Facilities, HR and IT. Department readiness depends on many factors including:
IT Infrastructure — Does the infrastructure support the business units' requirements to work from home? Will additional systems and hardware need to be purchased?
Telecommunications — Are there complex needs that require additional programming or hardware?
Space requirements — What are the office hours of the staff? How many spaces will be needed and where? Are there special needs like dual monitors?
Process workflow mapping

Gap analysis — What processes will change? How will this affect current workflows?
Sign-off from other departments affected by the change?
Programming/System changes required?
Downtime procedures —What are the downtime procedures when systems at home are not working? At what point do staff need to come into the office?
Risk assessment — What are the risks involved for the business unit?
Performance measurements and expectations — What are expectations? How will remote workers be measured?
Employee Engagement — How will department managers ensure remote workers are engaged in the company?
Performance measurements are essential in dispelling the myth often heard by executives about telecommuting – "How do I know that they are working if I can't see them?" For most companies these measurements can be found through compliance and regulatory requirements, the company business plan and individual department goals (see Figure 3).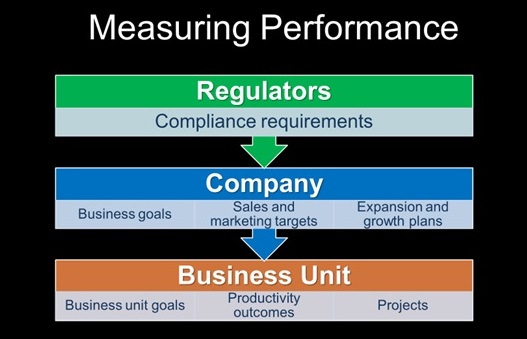 There are always challenges in measuring worker performance including lack of baseline data, distrust in self-reported data and some tasks are just difficult to measure. Computer generated performance data is more trusted than self-reported data. The call center industry is one of the more experienced in measuring and viewing remote worker performance online and in real time. And, more companies are entering the market with computer software products that measure mobile worker productivity.
Training Managers and Remote Workers
"Telework success depends on leaders who manage by objectives, not by observation, and this critical skill needs to be taught and learned." As mentioned in a recent WorldatWork Report, "Only 21% of employers train managers on how to implement and support flexible work arrangements." And, "only 17% train workers on how to be successful as an employee with a flexible work arrangement."
With so little training taking place, no wonder programs fail. Training is essential to create a work environment that will enable remote workers to produce expected results. It is important to discuss management approaches to ensure workers are contributing members of their team. Both managers and employees should be required to attend remote worker training. Some key elements of a training program include:
For Managers

How to manage remote workers
Performance based management
Effective remote meetings

For Employees

Communication
Self-leadership
Performance expectations
Effective remote meetings
Program requirements
Besides training, regular round table discussions or focus groups can be beneficial to managers and provide a venue to share ideas, issues and best practices for leading and engaging distributed workers.
Managing the Change
Even though there are good business reasons for changing the workplace, people often feel threatened by the process. Change management helps employees get back to work quickly and effectively, and lets people feel more satisfied with their new workspace.
Some considerations for a change management program include:
Pre and post surveys to monitor employee engagement and attitudes about the workplace.
Communication strategy to include communication methods, materials and messaging.
Communication methods like videos, presentations, blogs, emails, small and large group meetings, newsletters and bulletins, frequently asked questions, walkthroughs, briefings, Q&A sessions, roundtable conversations, brown bag lunches, etc.
Communication materials to include pertinent information about the workplace like

Overview of new office layout, building amenities, and area amenities
Benefits of the change (What's in it for me)
How to use collaboration tools
Personal tips on managing the change
What to expect on the first day
Communication messaging that is clear, concise and consistently communicated through various media and targeted for specific audiences.
Focus groups to understand how the workplace change is being received.
Post review to establish whether objectives were met to make recommendations for improvement.
Conclusion
The case studies in Work on the Move show the positive impacts of mobility on the triple bottom line: people, planet and profit. Besides saving money, increasing employee attraction and retention, and reducing the carbon footprint, there are other benefits of remote working like improved expansion into new market territories. Flexible working is here to stay. So, if you're going to do it, you may as well to do it right! Get the right players on the team to prepare workers and their managers for the change. Careful implementation and training is important for success. Collect data to monitor the program and make adjustments where needed. This data is influential when making your case to continue your mobility program in the event that there is a change in executive leadership.
Diane Coles Levine is the Executive Director of the IFMA Foundation. Previously, she was the founder and managing partner at Workplace Management Solutions. She served on the IFMA Board of Directors, is Past Chair of the IFMA Foundation and was named the 2015 IFMA Corporate Real Estate Council Distinguished Member. She is an international speaker and guest lecturer at Vienna University of Technology and MIT Professional Education Programs. Diane is co-editor and author of Work on the Move.