by Charles M. Thomas — Just starting out in your facility management career? Little to no experience in the field? You have a firm interest within this industry but don't really know where to start or know how to gain momentum toward the success you want? If so, this guidebook was made for you — the facility manager that is new to the industry but very eager to get started and ready to make an impression.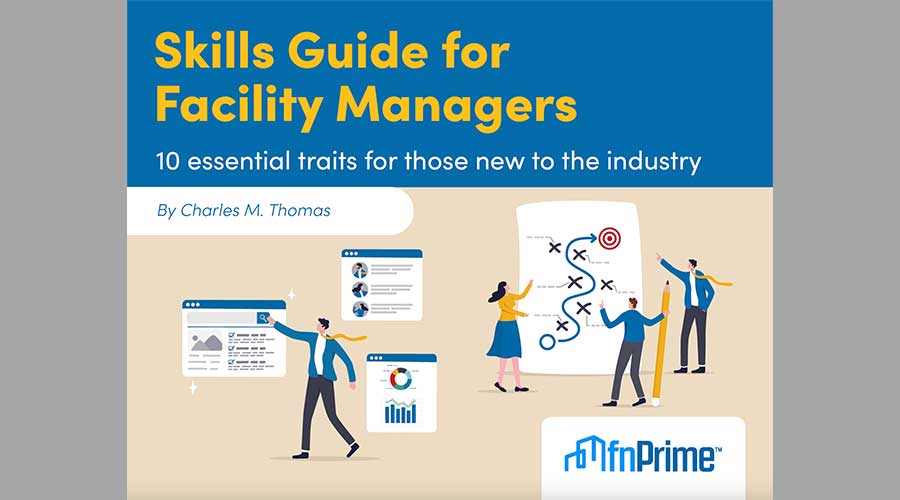 Many professionals fall into the facility management industry by accident. Unfortunately, there isn't too much information available tailored specifically to the new facility manager with no official experience. No descriptions on what to expect or how to achieve success. For many, being thrown into the fire and tossed to the sharks is the only approach. While this can be an effective strategy, it's not for everyone.
For those new to the industry, or even those who still feel new after years on the job, this is the guidebook for you. Through articles and videos, industry consultant Charles M. Thomas will detail 10 must-have skills to become a stand-out facility manager.
To be successful with adapting the information in this guidebook, the keyword to take full advantage of is "Application." With each chapter, readers should think about how the information coincides with their work life, jot down some notes, and put them to action when on site.
A summary of the 10 essential skills follows.
Skill1: Teamwork wins — How can you be an outstanding asset for the team you are now on?
Skill 2: Preparation — Preparation put in toward how your day looks makes the random and sometimes difficult "Murphy's Law" moments much easier to handle.
Skill 3: Warm-up — Arrive on time, get your mind right and set yourself up for a day of high performance.
Skill 4: Look up, look down — Notice in detail, and then pro-actively execute, what's needed to be done before any of the end users even notice what's going on.
Skill 5: Learning to care — The customer service experience a facility manager can give is something that end users will never forget, if done correctly.
Skill 6: Speak the language — By putting the effort into learning and speaking the FM language, working with vendors and others in the industry takes an immediate leap into a realm of high efficiency.
Skill 7: Adaptability — From you being the new facility manager on the team, to getting feedback from a superior, to reacting to an emergency; being able to think on your feet or adapt to any situation will be a big part of how any new FM proves themselves to be a great resource to the organization.
Skill 8: Be curious — Curiosity about any and everything involving facility and operations management is one of the biggest personal attributes an aspiring facility manager can have for a successful career.
Skill 9: Vendor relationships — From the sales rep to the technician that comes on site to conduct work, the key is to always strive to conduct good business, keep an open line of communication on expectations, and to give the vendor the respect you expect them to give you.
Skill 10: White collar meets blue — As a jack of all trades, a facilities manager must be knowledgeable in many areas, know how to speak with the experts of a specific area and communicate with all departments, and master being both white collar and blue collar at any given time, expecting each day to bring different challenges and experiences.