FREE RESEARCH DOWNLOAD:
62% of managers of FMs say credentials are more important now than in previous years;
86% would pursue a credential if employer helped to pay
With a multitude of readers participating from FMLink and The McMorrow Reports, this year's Facility Management (FM) Training Outlook Survey indicates the top challenges facing facility professionals and how organizations can improve retention and overcome staffing pressures.
Among the questions: Are professional credentials and qualifications as important in FM as in other professions? What value do they provide for FM staff and employers?
62% of FM managers say that credentials and qualifications are more important in 2023 than in previous years.
86% of FM professionals would pursue an FM credential if their employer supported them financially.
81% of FM managers say a credential or qualification is an influential factor in hiring or promoting FM staff.
81% of FM staff say FM training and credentials result in better credibility within the organization and with clients.
The top 3 ways for organizations to retain facility professionals are to provide:
Better work-life balance.
Opportunities for professional development.
Increased compensation or benefits.
Since 2019, the Professional Facility Management Institute (ProFMI) and Building Operating Management (BOM) magazine have been conducting the Facility Management (FM) Training Outlook Survey to determine the need for facility management training and credentials from both the management and staff points of view.
Download the full FM Training Outlook Survey Report for 2023.
---
BUY ESSENTIAL FM RESOURCES HERE:

FMLink's new collection of peer-reviewed titles from BNi Books has been curated by our editorial team to aid facilities, engineering and A&D professionals with quick and easy access to publications relating to their field. These books provide valuable knowledge about building design, construction, maintenance and operations to support buildings professionals and help them do their jobs.
The FMLink editorial team has organized the books by the following categories:
ADA / Accessibility
Architecture
Construction Management
Costbooks
Engineering
Green Building
Management Leadership
NFPA Codes
OSHA Safety
Plumbing / HVAC
Project Management
State & City Codes
Follow us on social media, subscribe to our FMLink News Digest e-newsletter, and watch for our "Book of the Week" features.
---
 SUBSCRIBE NOW AND GET FREE GUIDE:

Simpl-Est Square Foot is a complete estimating solution based on a historical cost database of nearly 2,000 actual projects.
Subscribe now for just $15.95 a month, and you'll get an immediate free download of the 2023 DCD Guide to Construction Costs (a $92.95 value).

With Simpl-Est Square Foot:
You get detailed square-foot cost breakdowns for all types of construction: schools, hospitals, municipal buildings, offices, multi-family housing, restaurants, retail stores and more!
You get powerful search tools that let you quickly drill down to find projects that closely match what you or your client is planning.
You can drill down on projects that match foundation types, roof types, interior and exterior wall types. You can also drill down on new projects, renovations, adaptive reuse projects and more!
You can compare the costs of different building types. Get a reality check on a bidder's estimate. Demonstrate the impact of a change order. Estimate with greater confidence than ever before!  With Simpl-Est Square Foot you will always be ready to answer the question, "How much will this cost to build?"
---
 FREE EBOOK: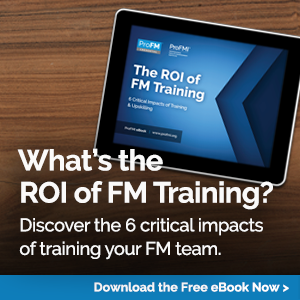 Employers across the globe are facing similar challenges as it relates to their facility management (FM) workforce. How can you recruit new team members and what if they're new to FM? What are the best strategies for retaining current team members? How can you elevate your FM teams with enhanced FM knowledge and skills?
The ROI of FM Training is an eBook from the Professional Facility Management Institute (ProFMI) that explores these challenges and the ways in which training and upskilling can help you meet your goals. See current research and real-world examples to illustrate the ROI of FM Training. Current FM Trends detailed include the talent shortage, FM skills gap, and shift in space management for hybrid work options.
The eBook's resources include the American Upskilling Study by Gallup in 2021 and the 2022 FM Training Outlook Survey by ProFMI. The value of FM training and upskilling is detailed with graphics, with data from both the manager and employer points of view.
The 14-page eBook details the 6 Critical Impacts of Training & Upskilling identified by ProFMI, each supported by real stories from ProFM customers.
See how ProFM has improved organizational outcomes in these six impact areas.
---
 SUBSCRIBE TO OUR eNEWSLETTERS: