by Eileen McMorrow — Updated July 12, 2022 — With a multitude of readers participating from FMLink and The McMorrow Reports, the Professional Facility Management Institute (ProFMI) has released the 2022 FM Training Outlook Survey results. The survey's questions considered the need for facilities management (FM) training and credentials from both management and staff points of view.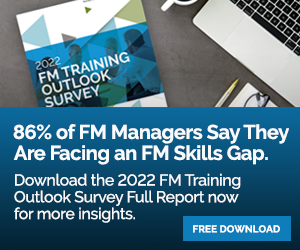 Facilities managers were asked how the "Great Resignation" impacted the FM profession and how employers attract and retain top talent to help meet their organization's strategic goals.
Respondents indicate that 66% of FM managers and staff have left or have considered leaving their job in the past year.
The results also reveal the top three ways for organizations to retain facility professionals:
Increase compensation or benefits
Provide opportunities for professional development or training
Offer opportunities for internal advancement
FM training has value, according to survey respondents. A full 86% of FM employers say there's a gap between the knowledge and skills their team has and what they need to excel. They believe training can make an impact, with 74% of FM employers saying that FM training and credentials result in better job performance. Further, 57% of FM employers are planning to implement FM training this year.
Click here to receive the 2022 ProFM Training Outlook Survey full report.