Posted by Johann Nacario — May 11, 2023 — The Institute for Market Transformation (IMT) and the U.S. Department of Energy's (DOE) Better Buildings Initiative recently announced the 2023 Green Lease Leaders at the Better Buildings, Better Plants Summit. Launched by IMT and DOE's Better Buildings Initiative in 2014, the Green Lease Leaders program sets the industry standard for what constitutes a green lease. Each year, the program recognizes landlords and tenants who modernize their leases to spur collaboration on energy efficiency, decarbonization, cost savings, health, and a range of other environmental and social issues.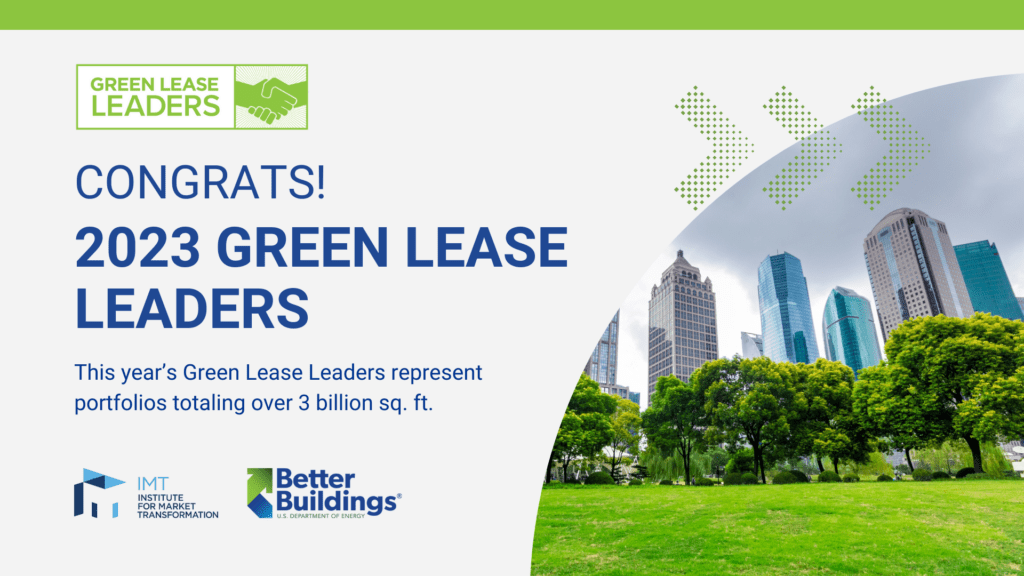 This year the program expanded by 31%, including 34 organizations receiving Green Lease Leaders recognition for the first time. Additionally, six companies earned Platinum-level recognition, and there was a 42% increase in Gold-level awardees. The overall program growth reflects a wide acceptance that green leases are a critical tool for improving buildings and meeting corporate environmental and social goals.
This year's Green Lease Leaders represent portfolios totaling three billion square feet (sq. ft.) and comprise a diverse range of buildings from large and small commercial offices to data centers and industrial and multifamily buildings. The cumulative floor area of all Green Lease Leaders is now more than 6.4 billion sq. ft. of building space.
Maria T. Vargas, senior program advisor at DOE and director of the Better Buildings Initiative,  stated:
Creating a way for landlords and tenants to work together to ensure lasting savings and improved spaces is the hallmark of this year's Green Lease Leaders. These organizations are leading the way with their commitment to successful strategies and better buildings.
Lotte Schlegel, executive director at IMT, remarked:
In leased buildings, it takes alignment and partnership between landlords and tenants to create high-performing buildings and improve our communities. Green leases promote strong relationships between landlords and tenants by creating shared understanding and interests to improve social and environmental outcomes.
IMT estimates that green leases can help reduce utility bills by up to approximately 50 cents per square foot (22 percent) in U.S. office buildings alone. If all leased office buildings executed green leases, the market could reap over $3 billion in annual cost savings.
The 2023 Green Lease Leaders
Platinum Recognition — Landlord
Lendlease Americas
SL Green Realty Corp.
Dream Industrial REIT
Dream Office REIT
Empire State Realty Trust
Platinum Recognition — Tenant
Team Transaction Recognition — Gold
Cushman & Wakefield & Capgemini
Kilroy Realty & Blue Shield of California
Team Transaction Recognition — Silver
Choice Properties REIT & Loblaw Companies Limited
Cushman & Wakefield & IBM
For the complete list of the Gold and Silver Recognition landlords and tenants, see the 2023 Green Lease Leaders Awards announcement.
Learn more about Green Lease Leaders